Move Over, Butternut Squash: This Roasted Delicata + Cauliflower Will Blow Your Mind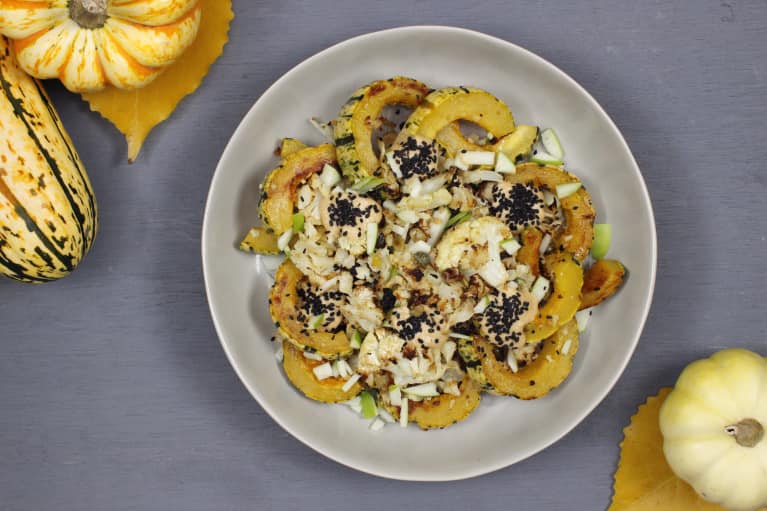 In the lead-up to Thanksgiving, we're sharing a mix of original recipes, entertaining advice, and seasonal dishes from our favorite bloggers to help you approach the holiday with a little more mindfulness and a lot of extra-delicious vegetables and fruits.
We're focusing on whole-food, plant-driven dishes to make your holiday table not only beautiful but more healthful, too—while still keeping the integral flavors of the season front and center.
This veggie side incorporates a lot of favorite ingredients into one memorable dish. One might almost think there is too much going on, but it all works very well together!
The spiciness from the sauce, combined with the sweetness of the squash and the earthiness of the cauliflower, creates a wonderful balance.
The pumpkin seeds and capers naturally add a level of crunch and saltiness that can't be beat. And the black sesame seeds add a layer of depth but also beauty.
For more delicious Thanksgiving recipes, click here.
Roasted Cauliflower + Delicata Squash with Chipotle-Tahini Sauce
¼ cup adobo sauce from the can of chipotles
5 tablespoons well-stirred tahini
4 shallots, halved and caramelized
Juice from one orange
¾ small Granny Smith apple (save ¼ for the below)
1 cup water
Preparation
Blend adobo, tahini, shallots, orange juice, apple, and water in a blender until smooth and creamy.
1 delicata squash, halved lengthwise, seeded, and cut into ¼-inch-thick slices
1 large head cauliflower, halved, thinly sliced with a mandoline
Olive oil
Salt
Juice from 1 lime, and zest from 2 limes
¼ remaining Granny Smith apple, cut into matchsticks and halved
Preparation
1. Preheat oven to 400°F. Coat both squash and cauliflower with thin layer of olive oil, and salt.
2. Roast both on 2 separate baking sheets in oven for 25 minutes. Make sure to check on veggies after 10 minutes and flip pieces over. Then combine both in a bowl; add Granny Smith apple.
2 tablespoons black sesame seeds, toasted
3 tablespoons pumpkin seeds, toasted
2 tablespoons capers
Preparation
1. To plate, right before serving add lime zest and lime juice and mix in capers and pumpkin seeds with the squash and cauliflower mix.
2. Place squash and cauliflower mixture on plate, and spoon dollops of the Chipotle-Tahini sauce throughout (and on top of veggies), and then sprinkle with toasted sesame seeds and lime zest.