Free Your Salad From The Bowl: 3 New Ways To Get Your Greens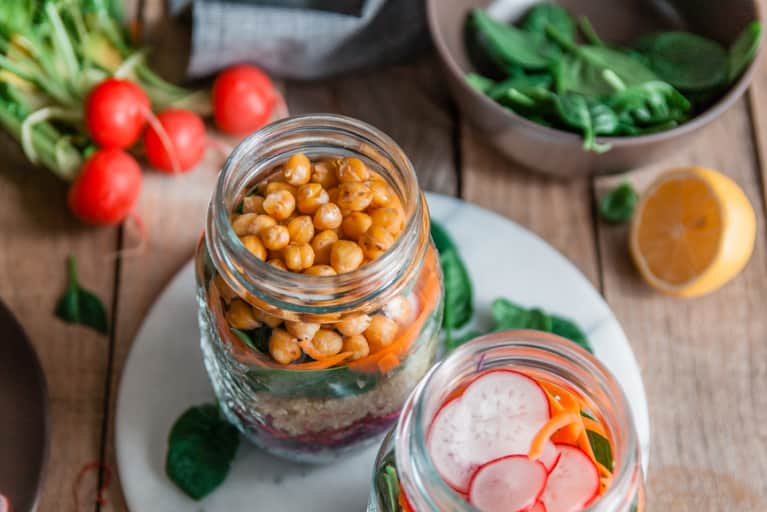 By definition a salad is a mixture of raw or cooked vegetables. Today, we generally associate salad with leafy greens and various toppings tossed in a vinaigrette or dressing.
Are you bored yet?
That's how the salad (and its description) makes most of us feel—bored, uninspired, meh.
Instead, think of a salad as a chameleon; we can change and adapt its flavors, components, arrangement, and appearance to keep lunchtime fresh and interesting.
A salad is more than a bowl of lettuce. Check out new versions of salad below:
Bowls everywhere feel left out. The Mason jar has proved to be as functional as it is hip. A salad jar is simply a salad that's stored, served, and eaten out of a Mason jar, but it's the presentation that makes all the difference.
A salad jar is best made in layers, with the heartier ingredients at the bottom and the more delicate at the top. The layering of salad fixins is impressive, and pulling a lovely Mason jar with a rainbow-esque appearance out of your lunch box is much more exciting and appetizing than the mismatched plastic Tupperware we're used to.
The other thing to bear in mind is to store the dressing or vinaigrette in a separate container and add it right before eating the salad.
It's simple:
Stack your salad (tough to wimpy).
Add dressing and cover.
Shake and chow down.
For example, stack these ingredients from bottom to top:
Almonds
Chickpeas
Brown rice
Shredded cabbage
Shaved carrot
Chopped broccoli
Arugula
The secret to an enjoyable salad jar experience is using a larger jar and not overstuffing it. You want to keep some room for the distribution of dressing and to allow for some good fork rummaging, this way you can mix your fork around and get a good bite, not just a forkful of lettuce.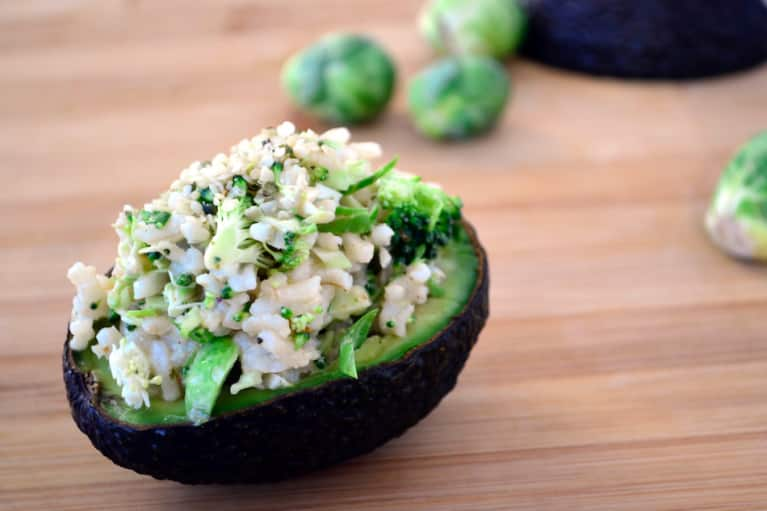 This is an impressive meal to serve but it's also an excellent lunch option, a bit messy but delicious.
Avocados are often left out of the lunch box because once chopped, the browning process begins pretty quickly. A little oxidization isn't an issue, but it can be unappetizing.
By keeping the avocado in its peel we can minimize this effect.
The idea is to use the avocado as your bowl. Simply cut the avo in half; keep the pit stuck in one side. Take the other half (the one without the pit) and stuff it with any bean or grain salad.
This can be as easy as mixing cooked quinoa with some fresh herbs and lemon juice or beans with your favorite salad dressing.
Stuffing an avocado is a great way to get healthy fat into your diet, and. let's be honest, what a fun way to eat your lunch!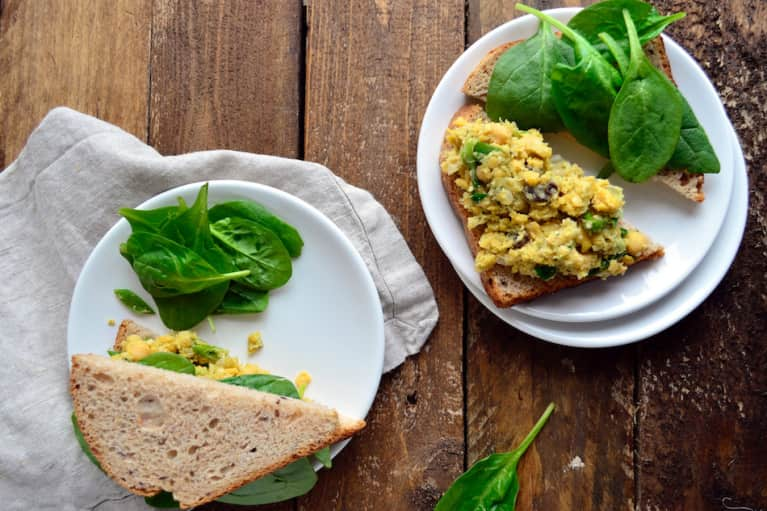 A salad on a sandwich is possible and can be done healthy if we toss in a little creativity instead of a boatload of mayonnaise. This salad sammy resembles a traditional chicken or tuna salad sandwich but is made with plant-based ingredients.
It's high in fiber and healthy monounsaturated and essential fatty acids, all while being vegan, gluten-free, and oil-free.
Ingredients
1 cup cooked chickpeas
¼ avocado
2 tablespoons hemp seeds
2 tablespoons raisins
2 scallions, thinly sliced
2 teaspoons lemon juice
1 tablespoon Dijon mustard
1 teaspoon hot sauce
1 teaspoon tamari
freshly cracked salt and pepper
Preparation
Using the back of a fork, mash the chickpeas in a bowl until no whole chickpeas remain. Add remaining ingredients and mash together until well-combined. Spread salad filling out on sprouted bread, top with lettuce, fresh tomato, and cucumber slices. Enjoy!
Other gluten-free "bread" alternatives include salad leaves, rice cakes, or sprouted/brown rice tortillas.
Here are a couple more tips to make lunch prep less of a pain in your rear:
Make lunch while you make dinner.
Waiting until before bed means you have to get the cutting boards and knives out again, mess up the kitchen again, clean up again. Be strategic and make your lunch while you're making dinner. Your after-dinner relief to have it all over with will be worth it.
Making your lunch while making or just after eating dinner saves time, stress, and ensures you actually make your lunch instead of deciding you're too lazy come 10 p.m.
Try to avoid making your lunch while hungry. This is like grocery shopping on an empty stomach; you end up choosing foods that you might not normally put in your cart.
Hunger speaks louder than your good judgment. Before you know it, you've got your kids' recess gummies or cupcakes for your midmorning snack.
So put your lunch together when your eyes aren't bigger than your belly.
This one is an oldie but a very, very goody. Making a little extra at dinnertime means you've got lunch the next day. Now, if you're like me, you go back for seconds. If it's extra delicious, I sometimes sneak back for thirds.
The key to having lunch the next day is to serve up your lunch portion the exact same time you're serving everyone else. Don't wait until the end of the meal to determine whether there is enough left for lunch; make sure there is enough!