What You Need To Know Before Attempting Your First Handstand
mbg Class Instructor & Yoga Teacher
By Caley Alyssa
mbg Class Instructor & Yoga Teacher
Caley Alyssa is a internationally renowned Los Angeles–based yoga teacher. She is a Certified Holistic Health Coach by the American Association of Drugless Practitioners, and has completed multiple yoga trainings, including Yoga Works 200-hour Teacher Training, Dharma Mittra 500-hour Teacher Training, and Yoga Tree 200-hour Teacher Training, among others.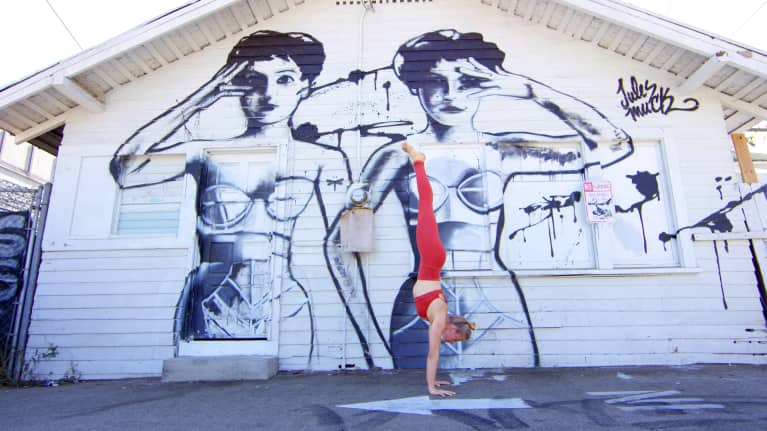 When it comes to getting upside down, there's a lot to think about. Most of the time I see my students just throwing their bodies around in hopes that their legs will get over their heads, and somehow they'll be able to stay up there.
Sorry, but this really never works.
I've been teaching yoga for nearly nine years now, and I've seen a lot of different bodies try to get upside down. The good news? You can make it happen, no matter who you are. There are just some things you should know before you try to get it to happen.
So I've compiled a list of five things you absolutely need to know before you try to get upside down.
1. It's all about stacking.
Head, shoulders, knees, and toes! Well, maybe it doesn't go quite like that. It's more like wrists, shoulders, hips, and legs. Once you've gotten the first three in alignment, your legs will magically fall into place. I promise!
2. Your triceps play a huge role here.
Your triceps are a critical component. When you can firm your outer upper arms (your triceps), and wrap your biceps forward, you will help create a solid platform for a handstand to build from.
3. Shake your moneymaker!
Your moneymaker is that special little spot at the base of your pelvic floor…CHA-CHING! I always tell my students, "Imagine I was going to give you a hundred dollar bill, and put it right between your upper inner thighs. You don't want to drop that hundo, so bring your inner thighs together and close up shop!"
4. Stay away from the turtle neck.
This is a phenomenon that happens with almost 100 percent of my students: When they kick up to handstands, their neck disappears. You have to get out of your shell! Keep your neck long; it's an extension of your spine. This will help you find your balance.
5. Don't hold your breath.
Oftentimes when we are in a challenging position, we forget to breathe. You need oxygen! Your inversion will be a whole lot stronger if you can supply your body with the breath it needs in order to support you.