Essential Oils Are All You Need To Make The Nontoxic Perfume You've Been Looking For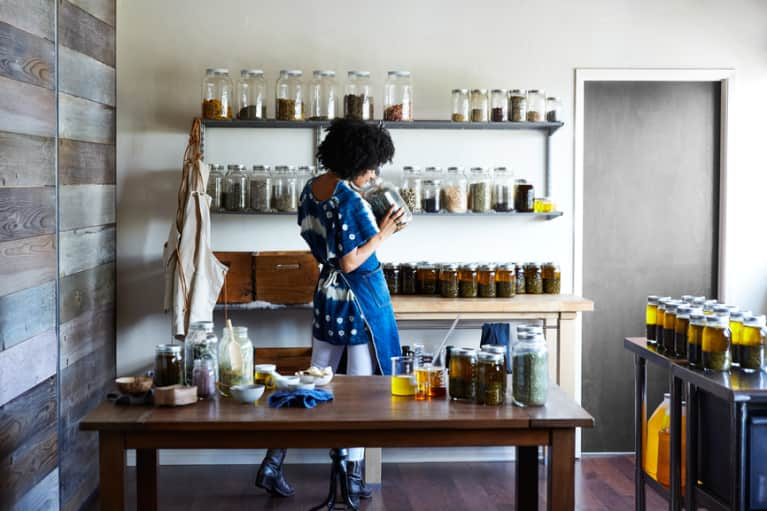 Our editors have independently chosen the products listed on this page. If you purchase something mentioned in this article, we may
earn a small commission
.
With all the synthetic additives and potentially toxic ingredients in commercial perfumes, it's no surprise many people are opting for the green, natural aromas of essential oils to create enchanting fragrances.
Still, aroma-blending with essential oils is an elusive exercise that requires a dash of both art and a science—there's definitely a method to creating the perfect fragrance. However, with a bit of DIY determination and aromatherapy know-how, you can create a clean perfume to complement your natural beauty!
Let's get started:
Perfumery is like music: it's all about the individual notes and how they are combined in chords. Quality perfumes require a chord constructed from a harmonious blend of base notes, middle notes, and top notes. You'll use these notes to create the "aroma chord" of your fragrance.
Top note: This is the first thing you'll notice in an aroma. It's the first impression—that first whiff­­­—and doesn't last very long. The top note is considered the characteristic element of the oil.
Middle (or heart) note: Middle notes are longer lasting than top notes, and can stay on a perfume-testing strip for a few hours. This is also called the "body" or "bouquet" of the aroma.
Base note (or fixative): Also called the "dry out note," this is the muscle behind your blend. Base notes, or fixatives, allow your blend to waft, linger and stick around. Blends that contain strong base notes are ideal for use in perfumes.
Choose Essential Oils You Love
Aromatherapy is personal. Your essential oil blend should be uniquely you. Before you start creating your perfume blend, choose two to three oils, but no more than five and ask yourself what aromas sing to you? Do you like florals like geranium or rose? Maybe you love rich, warm, earthy aromas like sandalwood or vetiver. Perhaps you enjoy the lighter, sharper citruses like lemon or lime? Connect to yourself and play to your heart's desire!
Formulate Your Fragrance Concentrate
This next step is all about experimentation and imagination…the fun part! It's time to create the aroma concentrate (or base) for your natural perfume.
First, create an aroma wand. Place a few drops of the oils you've selected on separate perfume testing strips. Fan out the strips and waft them in a circular motion in front of your nose and inhale.
You'll notice how the aromas play on one another. Is one aroma too overpowering? Is one undetectable? This is where you can experiment and adjust your ratio based on the aroma strength.Pro tip: While you're formulating, let yourself experience the aromas deeply.
Close your eyes, slow your breath, and relax. Ask yourself quietly:
What colors do you see?
What memories drift into your mind?
What physical sensations do you feel?
Blending is a great opportunity to practice mindfulness, so allow your olfactory senses to guide you to your next step. Next, base your perfume formula on 100 drops to help determine the ratio of oils in your blend. Once you've found the perfect ratio, you're ready to dilute and bottle your own delicious non-toxic perfume.
Bottle Your Natural Perfume
Take your aroma concentrate (essential oil blend) and add 10 drops to two teaspoons of alcohol, vodka, or Everclear (a type of grain alcohol). Blend in a spray bottle, preferably glass, and shake well. Next, mix your blend with two ounces of witch hazel or distilled, filtered water. Shake well. Test your blend by spraying upward into the air and walk beneath. If you want a stronger aroma, add more concentrate in five-drop increments and try again. And don't forget, essential oils make fantastic cleaning products. So if you're unhappy with your blend, just add it to your cleaning cabinet and try again.
Try a Pre-Formulated Blend
If you're "blending shy" or don't want to go through the whole process yourself, don't stress! Try these luxurious pre-blended perfume recipes:
Inspiring Floral Blend
Neroli oil: 45 drops
Jasmine sambac: 35 drops
Pink peppercorn oil: 20 drops
Rose damascena oil: 10 drops
The Naturalist Men's Fragrance Spray
Copaiba balsam oil: 50 drops
Black pepper oil: 50 drops
Sandalwood oil: 5 drops
Vetiver oil: 5 drops
Related reads: