7 Warming Spices To Keep You Happy & Healthy Throughout Fall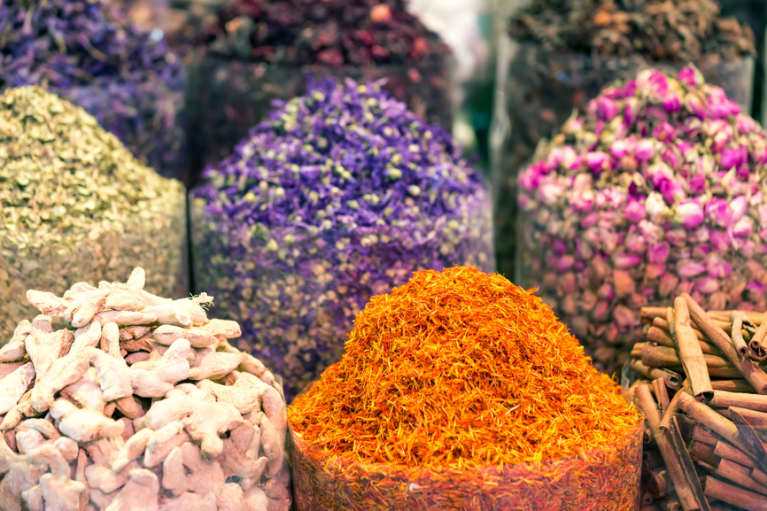 Depending on which half of the world you're in as you read this, fall has arrived, ushering in shorter, cooler days. Coats are slowly claiming the closet space again, as have knee-high boots.
Plants are getting ready for the season too. My chrysanthemum is throwing out flowers with abandon, and the cherry tree next to her is slowly balding. Just as I was taking all of this in, my neighbor said, "I love me a warm soup on a gray day like this!" That gave me a nudge to ask my inner muse what would make her happy on a wintry day. This is what I heard:
"It's gotta be spices. Delicious foods that love us back are always in season. Right? If you're looking for ingredients that will perk you up and flavor your cooking with minimal effort, cozily protecting you from the common cool-weather blues—it's got to be spices."
I've profiled seven of the most-loved warming spices to get you started with your own happiness kit for the cooler days ahead. Pick what agrees with your muse:
One of the most expensive spices after saffron and vanilla, cardamom can be used in both sweet and savory dishes. It's a pod with seeds inside, which are crushed or even ground in a mortar and pestle before using. This is a wonderful spice to wake up your senses and prep you on a groggy day.
It would make a lovely addition to chai or your morning oatmeal.
Aroma: Hints of eucalyptus, sweet, strong, and heady.
Taste: Somewhat lemony, bursting with camphor-like flavor, pleasantly warming and leaves you feeling fresh.
It is one of the most exquisite of spices both in its looks and aroma. It comes in shades of gorgeous red and yellow-orange. The former is the higher quality, and yellow ones are the second grade.
You need only one to five threads of saffron per cup of base, whatever yours may be. If you use it in milk, it needs to be warmed, and then add your saffron to color and flavor it. Its taste is so beautifully elevating that saffron milk is ritually served to newlywed couples in India.
Aroma: Very exotic, floral, somewhat sweet-smelling.
Taste: Fine as in delicate, mildly bitter, and pleasantly warming.
Cumin is a seed from the very delicately beautiful cumin plant, and it belongs to the parsley family. (Don't confuse it with black cumin, which is actually another name for nigella seeds and not a member of the curcumin family.)
For every one cup of cooked grains, adding a teaspoon of cumin can make a world of difference.
Aroma: Warm, richly spicy, may remind you of thyme.
Taste: Nutty, slightly pungent, with a hint of earthiness.
One of the most familiar of spices after black pepper is probably cinnamon. In other places like India, Latin America, and Middle Eastern countries, it's mostly favored in savory dishes.
It's important to note the difference between "true cinnamon" (cinnamomum verum) and "cassia cinnamon" (cinnamomum cassia). Cassia is the sweeter, cheaper version of the two and widely available in the United States. Please note, one is not necessarily better! It's best not to use more than ½ teaspoon for 1 serving.
Look for Ceylon cinnamon for the cinnamon taken from the inner bark of the tree.
Though the easiest way to include cinnamon may be in a warm drink, I'd also encourage you to try throwing in a small piece of a cinnamon stick when you saute your onions or veggies for any savory dish.
Aroma: Sweet and woody, with some hints of clove.
Taste: Warm, delicately spicy, and jibes fabulously with other spices or ingredients without sticking out.
Clove and orange pomander-making is one of the many delights of a holiday season.
Prized for its precious medicinal qualities, wars were fought during the 1600s to protect clove trees from the curious eyes of the world.
The fragrant clove comes in handy with desserts and savory preparations alike, even though it's hot in taste. In a dish, be sure to use the smallest amount required as it tends to be loud. Once the dish is made, you will want to remove the clove if you've used it whole.
The best tip to use cloves? Pair it with cinnamon. The complex flavors of the two blending in a dish is amazing.
Aroma: Strong camphor-like, warm, suggesting its potent heat-spiking abilities.
Taste: Instant numbing sensation followed by hot peppery taste.
This is very likely the most researched of spices, and it's extremely potent even in tiny culinary quantities.
To get the most benefits out of this spice, try using raw grated turmeric in dishes and generally cooking more with it (even the powdered kind).
Aroma: Fresh turmeric will likely remind you of ginger, whereas dried turmeric is beautifully earthy and woody at once.
Taste: The fresh turmeric has a gingery bite with hints of lemon, and the dried is bitter with a mild pungent note.
Did you know that pepper was once prized for its aphrodisiac properties? It was even used in perfumes. Black pepper (not to be confused with Szechuan or pink pepper, which are from different families) increases the bioavailability of many spices, including turmeric.
Aroma: Warm, fruitlike lemony pungent notes.
Taste: Sharp bite and gives a hot sensation on the tongue right away.
General guidelines for buying spices
Buy small quantities of the best-quality spices. Picking up larger quantities or looking for cheaper versions is not an economical thing to do when it comes to spices.
Always buy whole spices and process them as you need. Powdered ones do not keep well over long periods of time.