11 Things You Need To Know Today (October 19)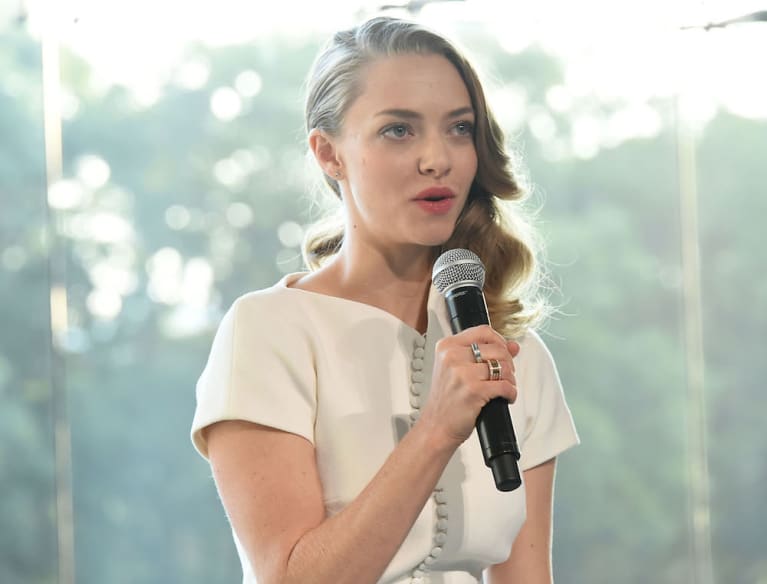 October 19, 2016 — 9:00 AM
1. Amanda Seyfried has some refreshingly honest words about mental health.
The actress got real about her struggle with OCD and anxiety in a recent interview with Allure. "A mental illness is a thing that people cast in a different category [from other illnesses], but I don't think it is. It should be taken as seriously as anything else," she said. (Allure)
2. Getting your kids to eat fruits and veggies may have just gotten easier.
A study that involved motivating kids (first- through sixth-graders) to eat fruits and veggies by paying them 25 cents per serving may well be a practice worth adopting in your own household. Researchers noticed that this approach had a positive and immediate result in the consumption of both. And on top of that, the more the kids ate them, the more they enjoyed them. Seems there's hope yet. (WSJ)
3. Millennials are more likely to dabble in veganism.
The oft-maligned generation makes up 42 percent of the vegan population in the United Kingdom—but why? It's most likely a combo of emerging research about processed meat, celebrity influence, and social media. Sounds about right. (Munchies)
4. History's mysteries could be solved with data.
A new and growing database called Seshat is aiming to separate facts from myths by analyzing centuries of historical and archaeological knowledge. By doing so, this could also help identify patterns that could predict our future. Pretty exciting stuff for history nerds everywhere. (New Scientist)
5. The negative effects of everyday chemicals are causing the U.S. quite a bit of money.
According to a new study, the chemicals used in plastics, makeup, and even in your furniture are causing a number of health problems that cost the United States $340 billion in treatment per year. Yep, it's definitely time to detoxify your home. (TIME)
6. We need to talk about breastfeeding in bed.
While there are tons of health benefits that come with breastfeeding, a mother sharing a bed with her baby poses a number of health risks. The two often go hand in hand, unfortunately, raising some concern among professionals. (WSJ)
7. Forget the heart; the sun is having a "total eclipse" pretty soon.
Scientists are predicting that the sun will totally disappear for 2.5 minutes on August 21, 2017. The celestial phenomenon will occur when the moon is positioned directly in between the Earth and the sun. (The Independent)
8. American doctors and nurses think bad things happen on a full moon.
In hospitals all over America, supposedly pragmatic professionals are unsettled. Convinced that full moons bring chaos to their emergency rooms and delivery wards, hospitals are bulking up on staff—and discouraging doctors from taking the day off—to prepare for wild nights. The problem: Multiple scientific studies shows there is no link between the full moon and hospital admissions. (WSJ)
9. Relationship issues can raise the risk of infections in mother and baby.
A new study suggests a bad relationship during pregnancy increases the risk of infection in both mother and newborn. "My study does not prove that the first thing leads to the second. But those who report that they are dissatisfied in their relationship more often report illnesses during pregnancy. Their children are also reported ill more often during their first year," said Roger Ekeberg Henriksen, who recently defended his Ph.D. thesis at the University of Bergen. (Science Daily)
10. Therapeutic poetry is helping children with autism expand their emotional and empathetic capacities.
A new therapy called the "Hunter Heartbeat Method" (the nomenclature is an ode to Shakespeare's iambic pentameter that is actually key to its success) is composed of theater games based on plot lines from The Tempest. Kids get to try on different personalities and practice skills that autism traditionally challenges, like maintaining eye contact, identifying emotion, and social cuing, which translates to improved function in their everyday lives and relationships. (Quartz)
11. Anti-inflammatory drugs used to treat arthritis or psoriasis may help people with depression.
Perhaps an even more compelling finding from the study was that antidepressive effects were felt whether or not the drugs (called anti-cytokines) helped with the physical illness. (And yes, they controlled for placebo effect.) This speaks to the role that inflammation may play in depression and is sparking additional study. (Scicasts)