What Food Activism Blogger Jodi Kay Eats In Day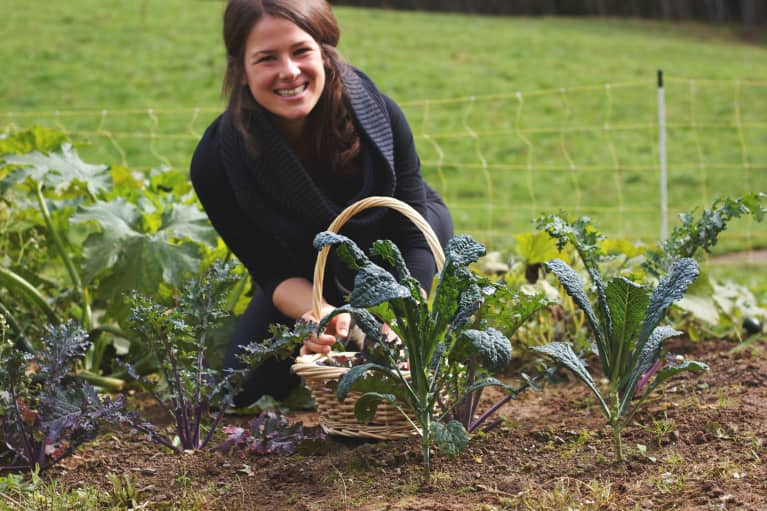 I spend most of my day dreaming about food. As soon as breakfast is over I'm looking forward to lunch. A big part of my food philosophy is to eat locally and in season, as cliché as that may sound—it's a choice I make daily and every time I go shopping. I buy a lot fewer bananas and avocados than I once did, and I'm more aware of and interested in where my food comes from.
I dream of one day sustaining my entire family's supply of vegetables from my own garden, but I'm not quite there yet. We are lucky to have an abundant supply of vegetables at our local farmers market, and having a weekly exchange with the people who grow my food makes be feel connected to this community in a big way.
Of course I still have my vices—chocolate and coffee make any good day even greater and I'm always stocked up on olive oil and tahini.
I have a few different jobs, so my routine will vary from day to day. Aside from the blog, I work at a health food store as well as for the Local Food Initiative, so I keep pretty busy, and being well-fueled with good food is important.
Water. I always drink a big glass of water before I do anything in the morning. Sometimes I put some lemon juice or apple cider vinegar in there if I've had a big meal the night before or I'm just feeling sluggish, but mostly it's just straight up H2O to get me going.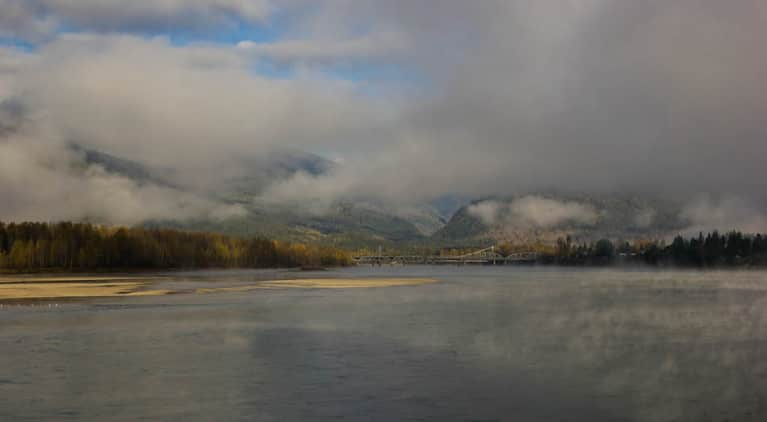 I don't go running every day, but I do try to do some exercise once a day. My favorite exercise of all is a good long hike, so I try to keep those for my days off and go for a short run or to a yoga class during the rest of the week.
I've got lots on the agenda for today, and a quick run outside helps to clear my head and energize my day. Plus the views aren't bad either.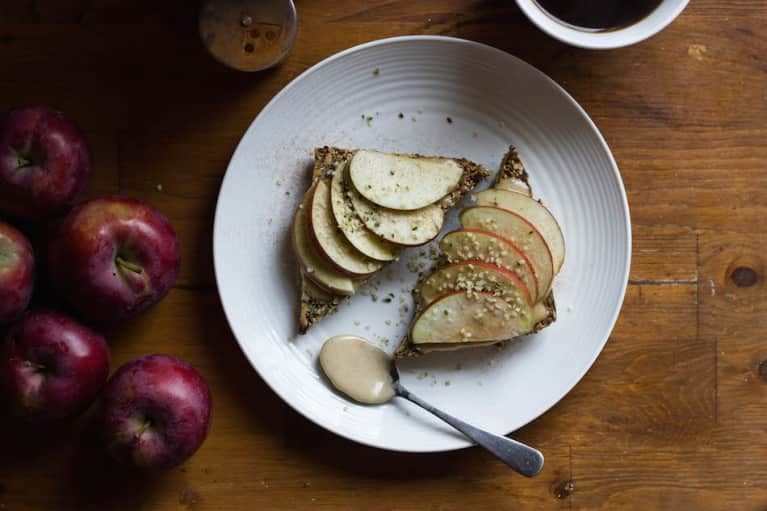 In the colder months breakfast will vary between something on toast or oats in some form or another.
Every so often I crave a savory breakfast, but for the most part it is a meal made up of oats, nuts, seeds, and some seasonal fruit. "Bird food," as my husband calls it.
This morning I made toast with two slices of birdseed bread (oats, nuts, and seeds stuck together with water and psyllium husks), a maple-tahini cinnamon spread, some fresh apple, and hemp seeds.
I make this tahini spread when I'm in a bind or can't bring myself to splurge on nut butters. I simply mix tahini with a touch of maple syrup and a dash of cinnamon and thin it out with a plant-based milk. Voilà.
Breakfast is served! A single black Americano on the side.
Between breakfast and lunch I drink lots of water and try to get most of my work done, as this is the part of my day when I feel most productive.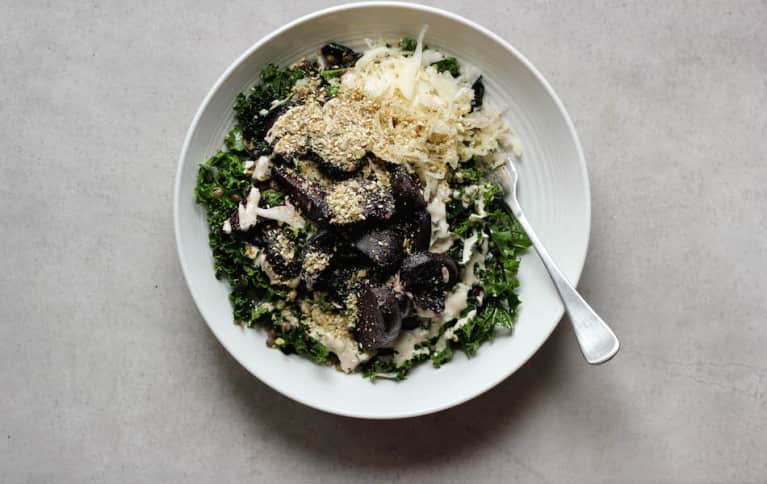 If I'm lucky, there will be some cooked grains and vegetables in the fridge for lunch. I almost always eat a salad or soup for lunch.
I'm a big believer in cooking in large batches so I only have to do the work once. I'll make double the servings of soup or stew and cook more than enough grains needed for dinners. This is the biggest tip I have for simple homemade meals.
Lunch today was a big bowl of black rice, kale, roasted beets, sauerkraut, dukkah, and a simple tahini dressing. I guess today was a big tahini day, as are most days really.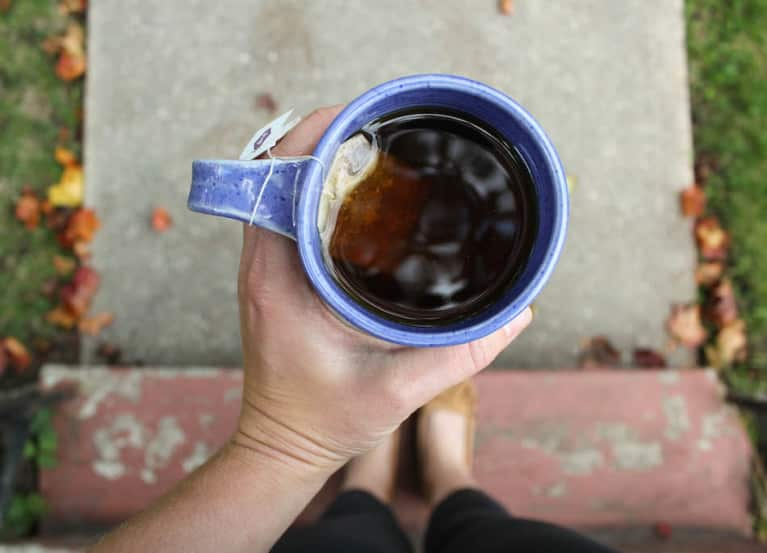 As much as I love coffee in the morning, I love tea in the afternoons. I've always believed that a hot cup of tea and a good cookie can turn your day around. I probably drink three to four cups of herbal tea a day.
My favorites right now are an Earl Grey rooibos and a Holy basil chai, but I will forever love the simplicity of a good peppermint tea. Like my coffee, I drink teas as they are, no milk or sweetener added. It's like a big warm hug in a mug. And if there happens to be a cookie around, well then things are looking up.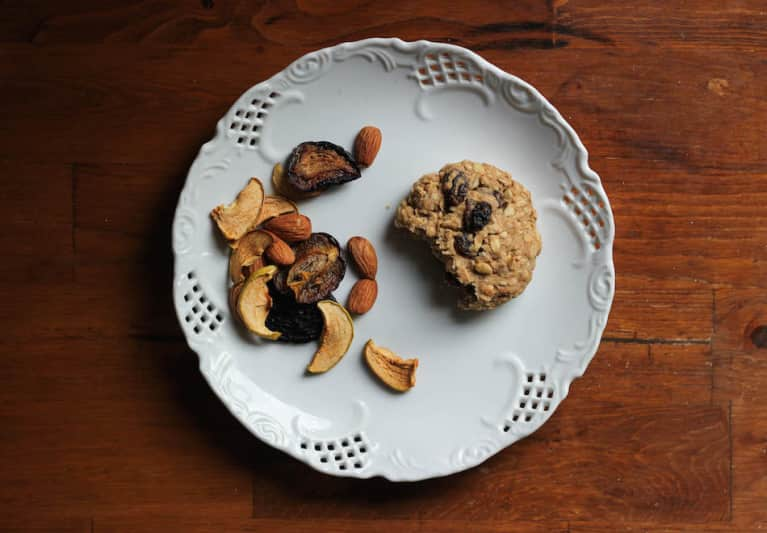 Today was one of those good days, as I'm working on a vegan oatmeal cookie recipe with chai spices and raisins. On other days I like to snack on some nuts and homemade dried fruit.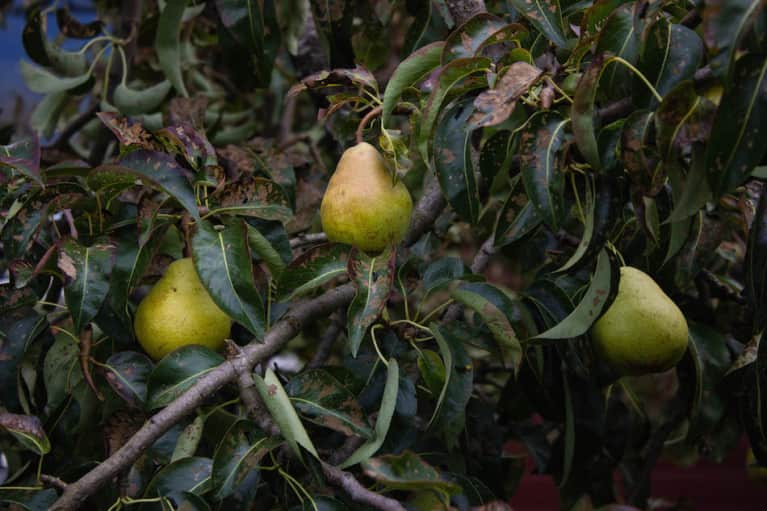 Yup. You read that right. This fall I signed up to be a gleaning coordinator with the Local Food Initiative. My responsibility is to make sure the fruit trees get picked in season so the fruit doesn't end up attracting bears into town.
This afternoon I'm heading out with a lovely bunch of volunteers to pick a pear tree. Most of the fruit will be donated to the local food bank, and the volunteers take some home as well.
On days like these I usually snack on some fruit straight from the tree, you know, just to make sure it's good quality.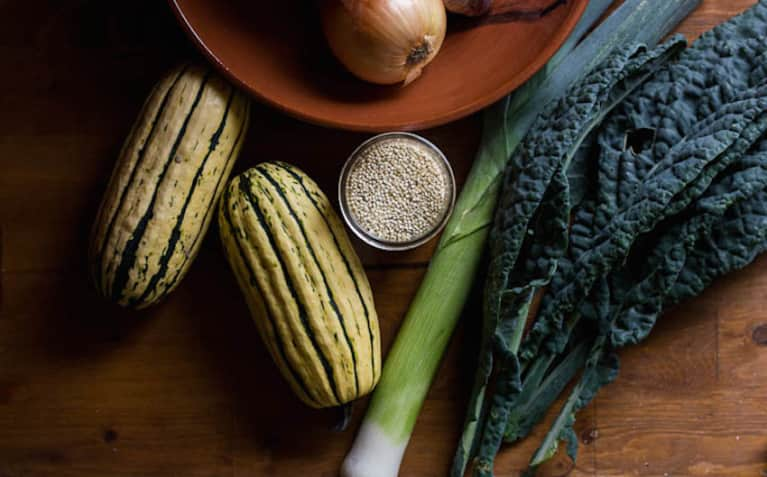 Around 6 p.m. I usually start thinking about dinner, chopping whatever vegetables we need, or pulling out leftovers from the fridge. While I'm prepping dinner I usually snack on a few carrot sticks, and again, lots of water.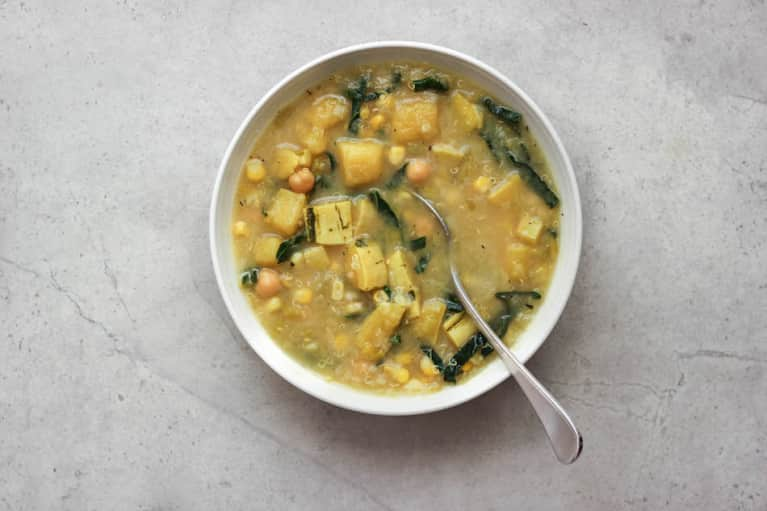 Dinner tonight was a delicata squash stew with chickpeas and quinoa that I was photographing earlier for the blog. A big pot of stew or curry is my favorite thing to have for dinner. It's ultimate comfort food.
I love any recipe that I can just throw all the ingredients in the pot and let them simmer away while I wind down for the night. I made a big batch so this stew will probably be reheated for dinner or lunch over the next few days.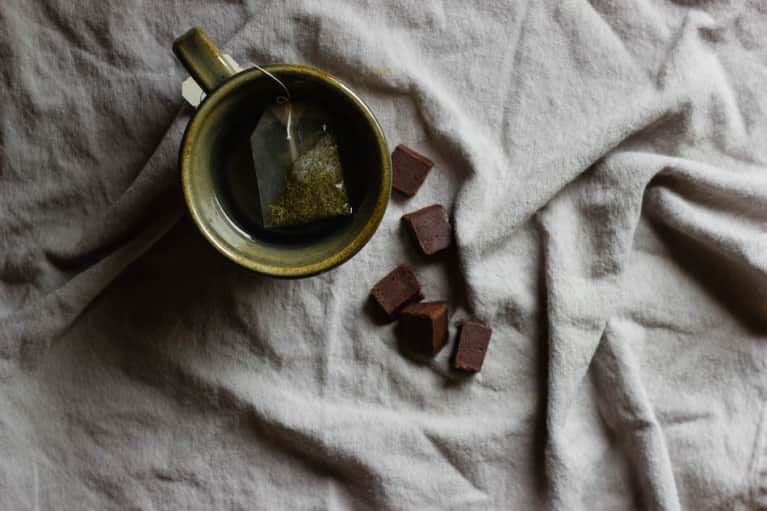 Probably one of my favorite parts of the day is after dinner, when everything is done and I relax with my husband, watch a movie, or read a book. I brew a pot of herbal tea and nibble on some dark chocolate. It's these quiet moments that I look forward to all day long.
Tonight's nibbles are brought to you by another recipe I've been working on—hippie chocolate fudge. Made with dates, raw cacao, and—you guessed it—more tahini. It's pretty decadent stuff.
And with that I say good-night. Hope you've enjoyed following my day. Check out the blog soon for some of these happy-hearted recipes.