This Breathing Exercise Will Help You Deal With Transition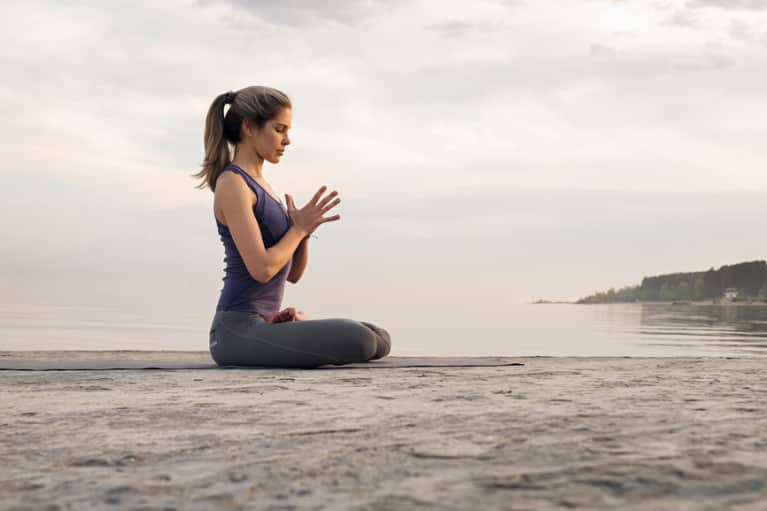 In yoga, we think of transitions as subtle movements to get to the next pose but overlook the beauty in those stumbles, wobbles, and awkward pivots.
However, those transitions can inform us about the way in which we "stumble" off the mat. Transitions present themselves in many shapes, forms, and colors. For those of us embarking on a self-discovery journey, these transitions constantly teach us and build our inner strength. The process of allowing the unconscious to become conscious informs the unlearning and relearning of internalized messages from our social, cultural, and familial environments.
We are working so hard to shatter the limitations put on each identity we've held so dearly to our hearts so as to let the benefits of this work shine outward. In a time when we are also learning about harmful products, foods, and hazards affecting the environment, it is more important than ever to take the time to pause and reflect within the cyclone of change.
This courageous dive into the deep end can easily feel suffocating if we abandon ourselves from moments of laughter and discovering new experiences. In the words of Suzuki Roshi, "What we are doing here is so important, we better not take it too seriously." Having just returned from South Africa, I made it a priority every day to check in with my breath, thoughts, and emotions. A new environment forces us to rely on our innate wisdom and instinctual protection, but this power can be accessed more often than we think.
Transitions can arrive in uncomfortable packages, causing us to crave different outcomes when we are not curious and listen to those enriching messages from our own bodies.
My personal message often reveals itself in an upset stomach, which affects my ability to eat and make clear decisions. Fully listening to our body's wisdom ignites hidden powers and light from within. For those individuals transitioning in ways not mentioned above who are seeking soul-fulfilling careers, purpose, partnership, and/or radical self-love, continue finding moments of reflection and breathe into this new space you are in.
Be aware of the inner dialogue to discern from false information your mind is trying to share. Although fear is a great teacher, once we decide to live a life of radical acceptance, compassion, and openness, we have to obnoxiously jack the rent up and then kick them out of our sacred home. I truly believe that a commitment to being grateful for change grants us permission for a life of inquisition and fluidity.
Here's a breathing exercise to help you deal with transition.
Take a quick walk outside. Find a favorite tree or flower. Examine all the intricacies of nature's gifts.
Softly close your eyes. Begin to deepen your breath, remembering that each part of nature took time, nurturing, and sunlight to grow. Imagine yourself as a seed of nature. Place both hands on your belly, remembering that your seed of light can come only from your drive, intuition, and power.
Exhale the breath completely. Inhale as your arms come up and frame your ears. Interlace the fingers together. Release the two index fingers. Inhale and swing the hips forward as you invite a gentle backbend. Open the heart space (solar plexus chakra). Breathe deeply. Exhale to return to center. Release the arms to your side, open your eyes, and re-examine that flower or tree.
What new details do you notice about it now? What new details do you notice about your own emotions? Send a quiet thank-you to the abundance of nature and give gratitude for the ability to breathe.