I Went On An 8-Week Smartphone Detox. Here's What I Learned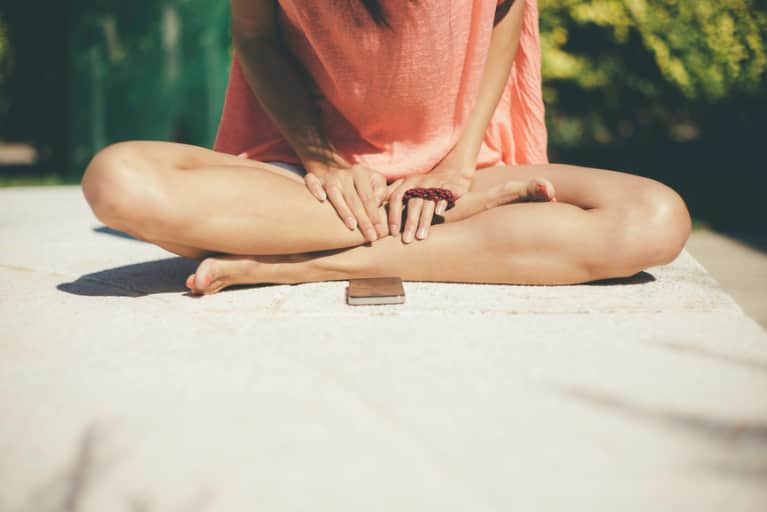 Smartphones are, for many, like a drug. Eliciting compulsive, addictive behavior, smartphones are rewiring our brains, studies show—decreasing our memory and attention spans as well increasing our anxiety. A staggering 81 percent of us have our smartphones within arm's reach nearly all the time. In fact, one in five young people admit to checking their screens every five minutes! In a very short period of time, we have found ourselves all plugged into the same drug.
A couple on a romantic date but both looking at their phones. Parents enthralled in their screens as their little ones are calling for their attention. Everywhere you look you will find someone lost in online distraction. Just because something is common doesn't make it "normal."
I'd been burning the candle at both ends with a blowtorch. I left before the sun rose, working over 60 hours a week managing my functional medicine health center. I arrived home at dark just in time to read my kids a book, pray with them, and cuddle before bed. Downtime wasn't in my schedule. I, too, lived my life attached to my smartphone, compulsively checking emails and my Instagram likes with bated breath.
Maybe my breath needed to be less bated. Maybe I needed to just breathe and take a break from my smartphone, the portal to endless distraction. I knew I had to create space in my life, so I put myself on an eight-week smartphone detox. Here is the breakdown of how I got through two months without a smartphone—and how you can follow suit.
I deactivated my smartphone and used an old analog phone that my 7-year-old daughter used as a play phone. (Analog benefit: Those old flip phones are like cockroaches, you can drop them all day long and the screen doesn't break. Go figure.) I called the phone my "dumb phone" because it could only call and text. Basically, use a phone that can only call, text, and be used as a paperweight.
Check emails on your computer during work hours.
With only an analog phone, I used my laptop to answer emails, and I didn't check my emails when I got home! I took it back to the early 2000s. My job involves social media, so I would only check it from my work computer. This created space and boundaries around the compulsive nature of social media. After work, I would simply leave it all behind. The emails and notifications could wait.
I love to read, and since smartphones I've found myself reading books increasingly less. During my detox I picked up actual books instead of reading blogs and articles online, turning pages over scrolling. I still read positive articles online (like mindbodygreen!) on my work computer before I started my day or on my lunch break but not at home.
Smartphones, I learned, made me directionally challenged. I depended on mine to show me how to get everywhere. I got my old GPS out and used it to find my way around without my smartphone directing my life.
What I learned after eight full weeks:
You don't know how addicted you are to your smartphone until you don't have it.
The first day on the digital detox, I may or may not have broken out in a panicked sweat. What would I do without it? I needed my smartphone. The world would go on without me. I was missing out on life. In truth, I found more of life in those eight weeks than I ever could find in a phone. I didn't have my smartphone to distract me, numb me, pull me from the present moment. In turn I had significantly less anxiety and stress during those eight weeks.
I was more calm, more present. I looked in my children's eyes in a way I hadn't before. Life goes by so quickly, even without the endless wasted hours spent scrolling on our phones. I soaked in relationships and conversations instead of seeing the present moment as a means to an end.
My wife and I had more meaningful connections, strengthening our marriage. I noticed sunsets more; I felt the breeze more. I, and everything around me, was more alive and vibrant. I learned that my smartphone was making me dumb, and my dumb phone was making me smarter. I was thinking more for myself. Living simply, less attached.
After the detox: How to bring smartphones back smartly
Technology is not all bad. It's how you are reading this article. We just need healthy boundaries. Here are four steps to bring your smartphone back mindfully:
Put your phone in a basket when you get home and leave it there until you leave.
Put your phone on silent.
Turn off notifications or put it on airplane mode so you aren't constantly tempted to check your phone.
Consider keeping your phone free of social media apps or at least limiting them and turning off notifications.
Are you up for the challenge?
If you, or those around you, think you spend too much time on your phone, I encourage you to go on this smartphone detox. As a functional medicine doctor, I see all too often the damaging impact stress has on people's health. Personally, having struggled with adrenal fatigue, finding new ways to bring calm into my life was a great idea.
So, disconnect to reconnect. Be more immersed in conversations with your loved ones; play with your pets more; sit in still silence. Simplify and de-stress your life.
More social, less media.