I Met the Most Incredible Man. Here's Why I Won't Date Him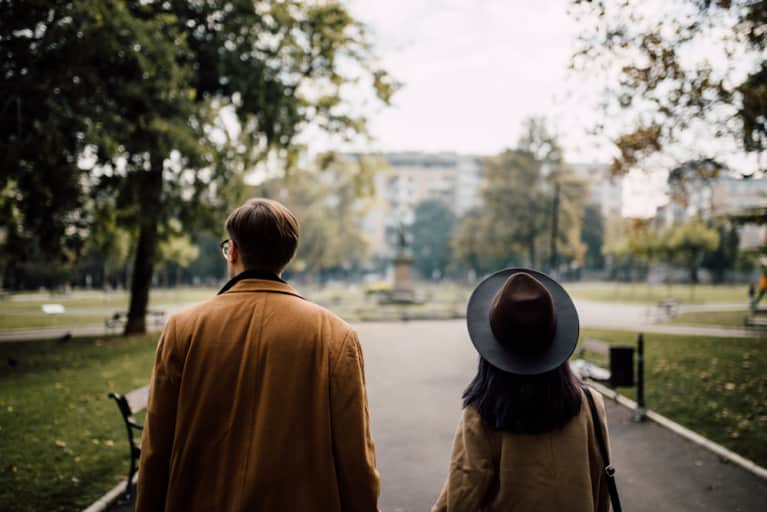 We met on the dating app Bumble. I've found that this app attracts many smart, interesting men. And women write the first message, which I think is awesome.
What attracted me to "Bob"(not his real name) was his warmth and sense of humor.
His profile read, "Interested and interesting. Into wine, food, and fun. Hang out in kitchens more than bars." Short, sweet, and piqued my interest.
We both swiped right, and in my first message, I commented on a selfie he'd posted in which he's wearing glasses made of two bent forks covering his eyes, the fork handles bent over his ears. Yep, that's just the kind of crazy that pulls me in.
Our initial Bumble messages:
Me: "Hey, Bob. Where can I get myself a pair of those fork glasses?"
Bob: "Hi, Sandy. I use them at wine events that I run. Those are the 'wine and food pairing' glasses."
Well, if you're into that kind of corny humor, you can see why he made me smile and want to learn more about him. Turned out we both write; he edits a wine trade magazine. But the genre he loves best is comedy.
"Well, it just so happens," I wrote Bob, "My ex-husband is a professional comedian, and I was one of his head writers. Now I write about dating and relationships."
"OMGGGGGGGGGG!!!! We have to meet!" he wrote back.
We exchanged a few more messages, and then I requested that we chat on the phone. I usually like to speak to a man before meeting because messaging, texting, and email have no tone. So much is lost in translation.
With or without a call, I was pretty sure I'd like Bob. He seemed interesting (and interested), and I suspected we would not run out of things to say.
I was right. The conversation was comfortable and exciting at the same time. He made me laugh, and that's something truly special. He told me he had graduated from an Ivy League college (impressive), did interesting work (LOVE that), and was living a really cool, exciting life. I loved his personality. He literally had me at "Hello!"
And then I asked, "How long have you been divorced, Bob?"
"Oh, I'm not divorced yet," he said. "Just starting mediation next week. My wife moved out a few weeks ago, and I'm looking forward to getting my own apartment in a month or two."
You know in the movies when you hear that loud, screeching halt? I heard that in my head. "You sound great, Bob. I really like you, and I'd love to meet you. I just can't date you right now. We're in very different places in our lives; I've been divorced for eight years, and you're just starting the process. I'm ready for a life partner. You're just starting out."
I don't usually meet men who are newly separated. I move on to the next man who is available for a relationship. But Bob was different. I knew in my gut we could be friends.
A few days later we did meet, and just as I imagined, we hit it off. I told him I was about to leave for vacation in upstate New York. Turned out he also had a friend in that town, and he told me he wouldn't mind visiting her. We ended up splitting the seven-hour drive, and we were awesome travel partners. Didn't stop talking (and laughing) the entire drive!
Yes, Bob is wonderful. He's smart and fun, and he's a man of character. But I won't date him because he's not emotionally available for the relationship I want.
He's actively dating many women and having the time of his life. He's learning so much about himself at this new stage of life. A year from now, if we're both single and want to date, we can explore the possibility. At the moment, he's still the perfect man that I won't date. And that works for me!
If you've ever been in a relationship with someone who is not emotionally available, you know how painful that can be. I am passionate about helping women know their true worth so they can set clear standards for how they want to be treated. A woman of value attracts her best partner.
Discover my unique step-by-step approach to reprogramming your beliefs, habits, and attitudes around love and intimacy at the Woman of Value Live Retreat!