The Sunniest Wellness Escape You Can Take This Holiday Season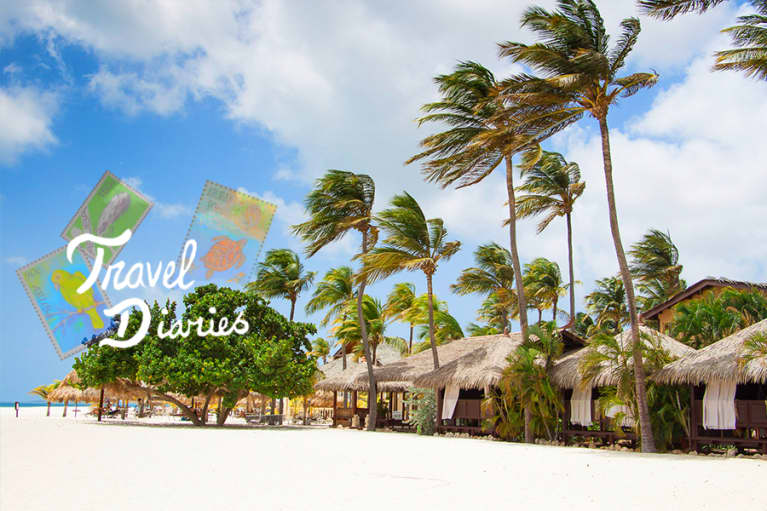 Just because the warm weather is fading doesn't mean your wanderlust needs to. To kick off the winter season, our Travel Diaries series is highlighting the tropical escapes our contributors are heading to for some sunshine and R&R. This week, we're tagging along with jet-setting yogi Sara Quiriconi on her trip to Aruba.
Nicknamed "One Happy Island," Aruba is truly a special destination, with more sunny days than any other Caribbean island and some of the kindest, most generous inhabitants. There are plenty of activities to explore for the adventuresome souls, and endless beaches for those seeking solace and peace.
Personally, I've visited Aruba three times already (and I hardly ever come back to the same spot more than once!). I feel connected to the island's relaxed vibes, which is why I chose to make it the site of a recent yoga retreat. Here are my favorite things to do and see in this magical paradise.
With so much to see and do on this island, renting a car is definitely a good idea. Check out the California Lighthouse on the northernmost tip of the island for some incredible views of the desert coast. Then, head west toward the Alto Vista Chapel and Peace Labyrinth—one of my favorite places to reflect, meditate, write, and ground mid-trip. The Natural Bridges are also not to be missed. Now collapsed, their gorgeous rocky, sand-kissed ledges are a blast to walk, photograph, and explore.
2. Try some water activities.
Aruba is the perfect blend of clear, tropical waters and strong, cooling winds, making it an ideal location for water activities like kiteboarding and windsurfing. Not quite so adventurous? You can stay close to shore on a paddleboard, kayak, or snorkel and still come in contact with plenty of wildlife. Vela Sports offers rentals for all of these activities and then some.
3. Test out local products.
One of the most popular local products in Aruba is (drumroll...) aloe! Check out what keeps the locals' skin so soft and moisturized amid the wind and harsh sun on the island at the Aruba Aloe Factory. Here, you can navigate the fields, get a personal tour of the production process, sample some goods, and learn about aloe's countless internal and external healing benefits. Be sure to check out the Burn Aid Gel, which I love for healing sunburns, soothing sore muscles, and helping with bug bites.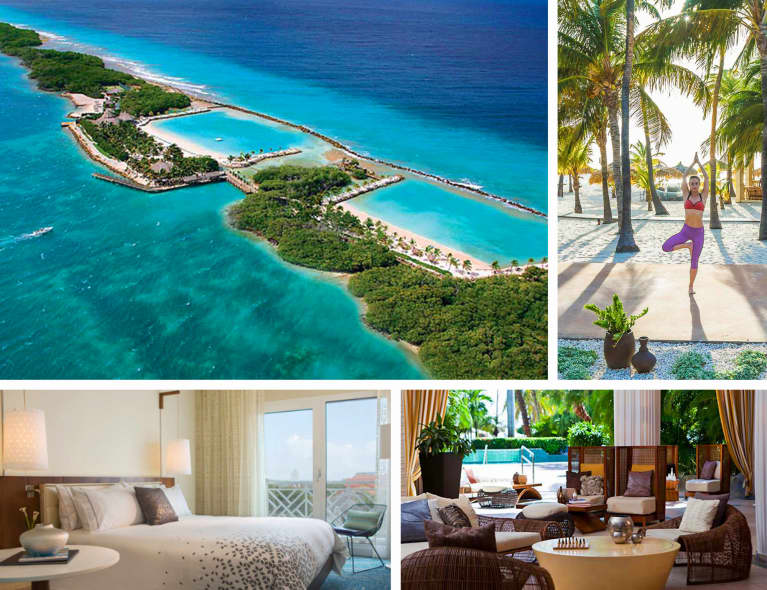 Located in the island's capital of Oranjestad, the Marriott Renaissance is surrounded by shopping, beaches, and ports. I love staying here because guests get free access to the neighboring private Renaissance Island, which is home to brightly colored pink flamingoes and friendly iguanas, as well as optional water sports and spa services.
One of the most well-known resort locations for hosting yoga retreats, Manchebo Beach Resort has waterfront accommodations with access to two dedicated yoga spaces for practice.
With so many beautiful beach-front accommodations on the island, why not rent a space you can call home for the week from AirBnB or Homeaway? From apartment-size one-bedrooms to six-plus-bedroom luxury homes, you can find a space that will offer all the comforts of home while you're away.
More than just pizza, this casual Italian restaurant has options for all tastebuds, including salads, homemade hummus, classic pizzas, and local fish fare. Casa Tua is located in the Renaissance Marketplace, right in the middle of the island. Insider tip: Linger around after dinner and take in the warm breeze and nighttime crowd shopping the plaza.
This place offers fine dining right on the beach. Serving up a blend of European cuisine and Caribbean flair, Flying Fishbone is surrounded by the perfect ambience of stars, sun, sand, and tiki torches. It's a great choice for an intimate evening out. Make reservations ahead of time and catch a mesmerizing sunset before your meal.
One of the largest and newest grocery stores on the island, Super Foods is also conveniently located right on the beach. It offers a variety of Dutch foods and imports to provide you with comforts of home, but expect "island pricing" (read: higher costs) on most goods.
For more travel inspo, check out the rest of mbg's Travel Diaries.