Tips From A Chef: How To Host Thanksgiving (Or Any Dinner Party) Without Going Crazy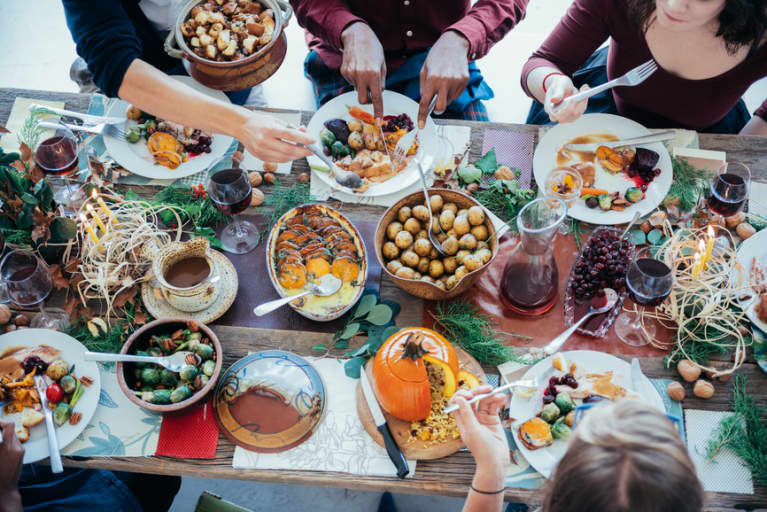 In the lead-up to Thanksgiving, we're sharing a mix of original recipes, entertaining advice, and seasonal dishes from our favorite bloggers to help you approach the holiday with a little extra mindfulness and self-care and a lot of extra-delicious vegetables and fruits.
We're focusing on whole food, plant-driven dishes to make your holiday table not only beautiful but more healthful, too—while still keeping the integral flavors of the season front and center.
Have you ever been prepping for a dinner party when a piece of essential kitchen equipment suddenly stops working? Or have you caught wind that a guest is deathly allergic to an ingredient you're in the midst of cooking? Maybe someone showed up with a few extra friends? Take it from me. Kitchen equipment, ingredients, and guests all have a mind of their own. Follow these simple tips for a fool-proof party.
If you have close friends who are handy in the kitchen, why not invite them over early, uncork a bottle, and let the party start while you prep?
2. Ask for dietary restrictions early, and stay on your toes.
Even if you've been told that none of your guests have any allergies, I'd still put any obvious allergens on the side. Keeping gluten-free, dairy-free, and paleo options on hand is a great practice. You never want your guests to go hungry. Trust me, food sensitivities can come out of the woodwork.
3. Make lists: They're your best friends.
The importance of this can't be overstated. Create a shopping list, then a prep list, and then a mock-up menu for anyone who is helping you so they can know exactly what the menu will look like. Also include whether or not something is dairy-free, gluten-free, nut-free etc., so you can be sure to keep them that way.
4. Play the numbers game.
People cancel last minute, and that's life—more food for everyone or great leftovers for you. Alternatively, someone may bring along a few extra friends. It's always better to cook more than less. Plan to have four extra servings (at the very least) of any dish.
5. Serve at least two items at room temperature.
When it comes to deciding on a menu, try to make it easy on yourself and avoid having to cook everything a la minute (French for "on the minute"!). Oven space is always in demand. Serve a room-temperature hearty green salad you can pre-plate and have preset on the table. Using something like kale or mustard greens is ideal because they're strong enough to stand up to dressing and won't wilt while you wait to eat. You can then get that out of the way and move on to the next course! Also grains can often be room temp and very make-ahead friendly.
6. Let guests get their hands dirty.
If you have other people helping you, or if you've decided this could also be a potluck dinner, then learn to let go of control and hand off tasks to others. You might send a kitchen helper a recipe ahead of time so that she can cook a dish from home. Or, create a very clear list of items you need prepped. That way, anyone available can jump in. Before you know it, you'll have a well-oiled machine or, in this case, kitchen.
Once you're in the kitchen, create stations. Place all items that don't need refrigeration on a specific counter space. Anything that might go in the oven put on sheet trays. A little time spent organizing your ingredients will make prepping and cooking go much more smoothly.
Always get dessert out of the way early. When choosing a recipe, go light; people might not want anything too indulgent after a large meal. At the end of a recent party, I served halvah from Seed & Mill, Brazilian chocolate truffles from Brigadeiro Bakery, and a variety of amazing chocolate bars broken up into pieces. You just want to make sure there is something sweet to cleanse the palate!
9. Keep the party going—with cheese.
One of my favorite questions to ask people is what dish/food they think they could never live without. Eight times out of 10 they say cheese. Of course, it's a very French way to end a meal. I recently attended a plant-based dinner party where vegan nut-based cheeses were served after dessert, and it was quite lovely. No one could stop taking bits and pieces, and it kept people at the table chatting away. To extend the life of your party, set out a cheese plate after dessert is cleared.