How I Find Flow Even When My Routine Is Always Changing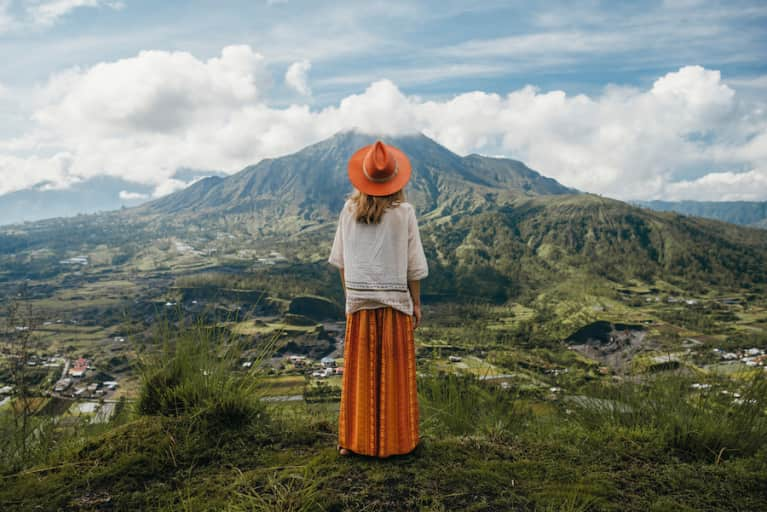 Following the business of the summer season, fall is a time for routine resets. I should know—I've had to readjust my routine a lot recently. I'm currently in the middle of a yearlong trip around the world.
There have been many shifts in landscape and languages in this multi-continent journey spanning over 20 countries. And it has proven extremely challenging to find flow and consistency when my routine is constantly up in the air.
Nevertheless, I've discovered a handful of ways to encourage daily clarity and perspective. These reminders, practices, and prompts focus my time and ease the stress of constant flux. Here's the optimized daily tool kit I follow for clarity among chaos:
1. Start the day with gratitude.
Right when I wake up in the mornings, I wiggle my toes, thanking the universe for the day. Then I find something specific to be grateful for and document it at Humanize—a service I've come to really enjoy. It serves me prompts via email to pick something—anything—that I can acknowledge in gratitude. Every few weeks, it auto-generates my responses and sends a compiled list back to me. It's a fun reflection of the aspects of my life that have been especially poignant and noteworthy lately.
2. Establish a consistent mindfulness practice.
The next thing I do is meditate. When I started my practice a year ago, I was meditating two to three times a week for five minutes a day. Now, I've worked up to 30 minutes a day with the help of the phone app Headspace. Any app will work; there are plenty out there so it's easy to find one that works for you. Regardless of what you're using to meditate, the most important thing is consistency. Though it's not always easy to make the time, acknowledging all five senses each morning and tuning in to my body helps me monitor my behavior and awareness throughout the day.
3. Journal, journal, journal.
There are many ways to journal. I use Morning Pages to handwrite three full pages every morning about anything that's on my mind. Initially, it was challenging to get into the method because it seemed so unfocused—but that's precisely the point. The daily freeform writing helps me get all my random sleeping thoughts, to-do lists, and other mundane whining out of the way. It's cathartic and freeing to get the ramblings down on a page upon waking so they don't linger all day long. Creator Julia Cameron refers to Morning Pages as the "windshield wipers" to your brain.
I've found that a few minutes of yoga, stretching, or even lying in child's pose helps me leave the frustrations of the day on the mat so I don't take them to bed with me. My sweet spot is between 5 and 25 minutes, depending on the day. I reflect, acknowledge the items that didn't get done, and calm my mind before sleep.
It took me a year to incorporate all of these into my daily routine, so don't rush. Instead, pick one or two that resonate with you and commit for the fall season. In a few months when winter comes around, you'll have a foundation of productive focus and flow elements infused in your daily life.