Here at mbg, we are all about balance, AND partnerships, which is why we love the relationship between Karlie Kloss and her trainer Anna Kaiser of AKT InMotion—there's recently been a strong crop of stories about friendship among young women, particularly young artistic women, in pop culture and their potent force for good that inspires us.
Reveling in rainbow, sparkling depths has allowed Anna, who opened AKT in fall 2013 on Manhattan's Upper East Side, to truly do something different with her training. Throughout what Kaiser calls the "tremendous evolution" of the fitness industry, which she's had a large hand in shifting, she has remained an advocate of using your own bodyweight and picking up some weights for serious results. "Strong, not skinny, is now sexy, and long workouts are a thing of the past," she says.
"The two biggest enemies of any fitness routine? Pain and boredom. You can tolerate some pain and boredom, for a little while. But not for long. The only way to sustain true fitness is to feel you're growing, achieving, and moving toward something bigger."
She's also clearly no stranger to getting her clients cover-ready, so we thought we'd pick her brains on all things fitness. Oh, and Karlie's Kookies.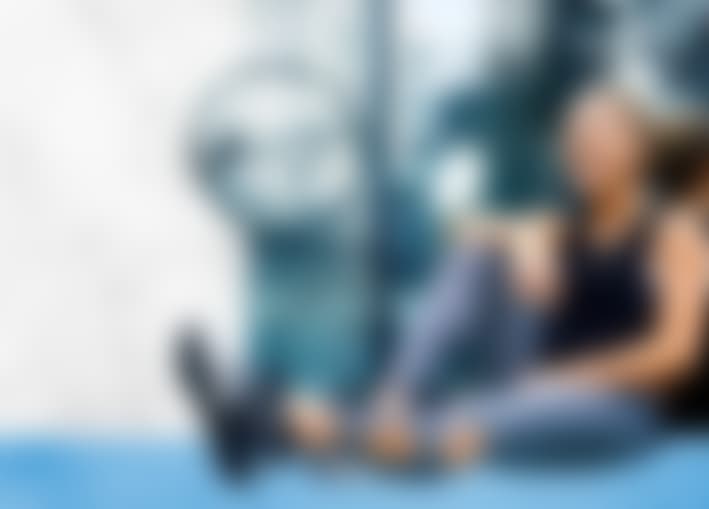 Q: What do you eat first thing in the morning for glowing skin and why?
A: I usually have 8 ounces of Essentia Alkaline Water with a probiotic to gently wake up my system. Then, about 30 to 45 minutes later, I'll have a green juice (I love Juice Generation's Supa Dupa Greens with added ginger) or a protein shake with berries, almond milk, ice, and Pure Protein Vanilla Powder to give my body something that is easily digestible yet chock-full of nutrients for a healthy start to the day and a glow from the inside out.
Q: Does Karlie ever bake you her beauty-boosting treats?
A: Karlie definitely keeps me stocked up on Klossie Cookies (which my husband steals constantly)!
Q: How do you hydrate the right way?
A: I only drink alkaline water because it hydrates better than other waters, has naturally occurring electrolytes, and helps keep my body pH balanced, which means I have more energy throughout the day! Plus, I love the way it tastes.
Q: What does well-being and self-care look like to you?
A: I am a self-proclaimed workaholic (which is easy when you are passionate about your job), so finding balance is the core of my personal well-being. I strive to find moments in my week to hang out with my girlfriends, get a facial or massage, read an excellent book, or just walk my dog device-free for 30 minutes. Finding calm in the midst of the crazy exciting storm really helps me restore and recover.
Q: How do you sweat for beauty?
A: Sweating is your body's BEST way of eliminating toxins. My skin never looks better than right after an amazing workout. The increased circulation gives my skin a beautiful glow while adding some fresh color and always encourages me to drink more water.
Q: What's the best beauty tip Karlie has ever given you?
A: Brows are EVERYTHING. They shape your entire face, so don't forget them!
Q: What does beauty mean to you?
A: Beauty radiates from within. I always feel that someone is their most beautiful when they are happy, confident, and feeling strong in their skin. It has nothing to do with makeup, or fashion. It's all about their infectious, positive, and confident energy that makes you want whatever "they are on."
Q: Do you wear makeup when working out?
A: Just a bit! I usually wear eyeliner (MAC Pro Longwear), fill in my brows (Hourglass Arch Brow Sculpting Pencil), and play with a fun lip liner on my lips (MAC In Anticipation lasts).
Q: What supplements do you swear by?
A: Prenatal vitamins (I just had a baby this month), L-Methylfolate, magnesium, vitamin C, and fish oil.