Embrace Pumpkin Season: Grain-Free Cupcakes For Fall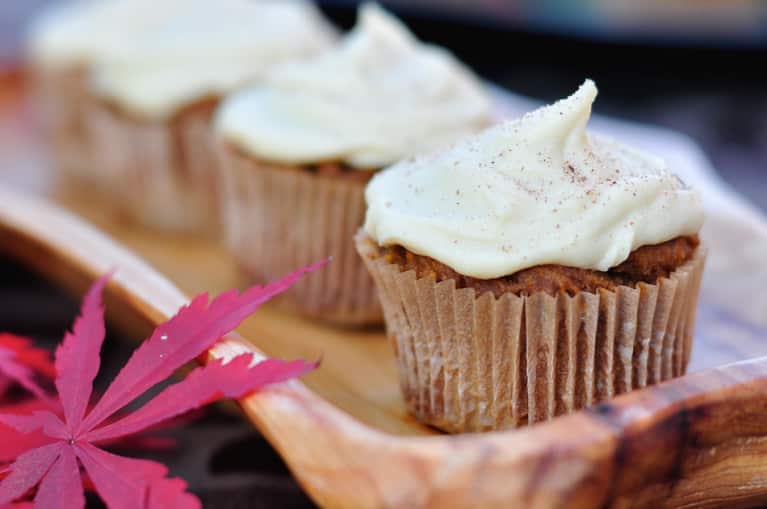 Our editors have independently chosen the products listed on this page. If you purchase something mentioned in this article, we may
earn a small commission
.
These moist and spicy grain-free cupcakes are made with coconut flour and are sweetened only with medjool dates.
You'll need a high-powered blender to make these. Because the dates are not soaked first, a regular blender just wouldn't be able to puree them.
Use fresh, homemade pumpkin puree or canned organic puree. You can also puree any winter squash if sugar pumpkins are unavailable. I like to bake and puree a lot of pumpkins in autumn and then freeze the puree in 2-cup containers to use throughout the year.
Make 12 cupcakes
Dry Ingredients
½ cup coconut flour
½ cup arrowroot powder
1 teaspoon baking soda
½ teaspoon sea salt
2 teaspoons ground cinnamon
1 teaspoon ground ginger
½ teaspoon grated nutmeg
1¼ cups sugar pumpkin puree
1 cup soft medjool dates, pitted
½ cup melted coconut oil
4 large organic eggs
1 tablespoon raw apple cider vinegar
Preparation
1. Preheat the oven to 350°F. Grease a 12-cup muffin pan or line with paper liners.
2. In a medium bowl, whisk together the dry ingredients. Place the wet ingredients into a high­-powered blender and blend until smooth and creamy, pulsing if needed. Scoop out the pumpkin mixture with a rubber spatula and whisk into the dry ingredients until well-combined.
3. Scoop the batter into the muffin cups, filling each to the top. Gently smooth the tops with your fingertips. Bake for 30 minutes. Remove the cupcakes and cool on a wire rack. If frosting them, wait until they are completely cooled, then top each with a little freshly grated nutmeg, if desired.
Dairy-Free Cream Cheese Frosting
Makes about 2 cups
I like to drizzle this frosting, while it's still warm, over freshly baked cinnamon rolls. When chilled, it has the consistency of a spreadable cream cheese frosting. Double the recipe to frost a cake or use a single batch for a dozen cupcakes. If you want your frosting to be white, use white sweet potatoes.
Ingredients
¾ cup mashed, peeled, cooked sweet potatoes (still warm)
6 tablespoons coconut oil
¼ cup pure maple syrup
2 tablespoons unsweetened applesauce
2 tablespoons arrowroot powder
2 teaspoons vanilla extract
Preparation
1. Place all the ingredients into a high-powered blender and blend until smooth and creamy.
2. Scrape the frosting into a container and chill in the refrigerator until firm, or in the freezer for 30 to 40 minutes, stirring every so often. Spread onto cupcakes.
Reprinted from Nourishing Meals Copyright © 2016 by Alissa Segersten & Tom Malterre. Published by Harmony Books, an imprint of Penguin Random House LLC.