The Secret To Feeling Mindful Anytime, Anywhere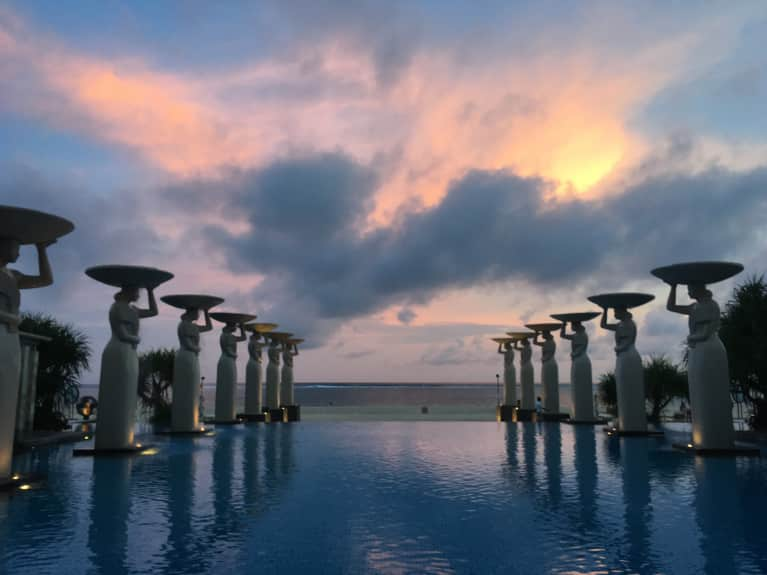 When I was a young and fledgling journalist, I wrote a feature about highly sensitive people—those with nervous systems that let the outside right in. In digging through academic studies, I uncovered the research phenomenon of "thin-boundaried people," individuals (often artists and other sensitive souls) whose inner and outer worlds are separated by only the whispiest of fences. Emotions sift out; the environment wafts right in.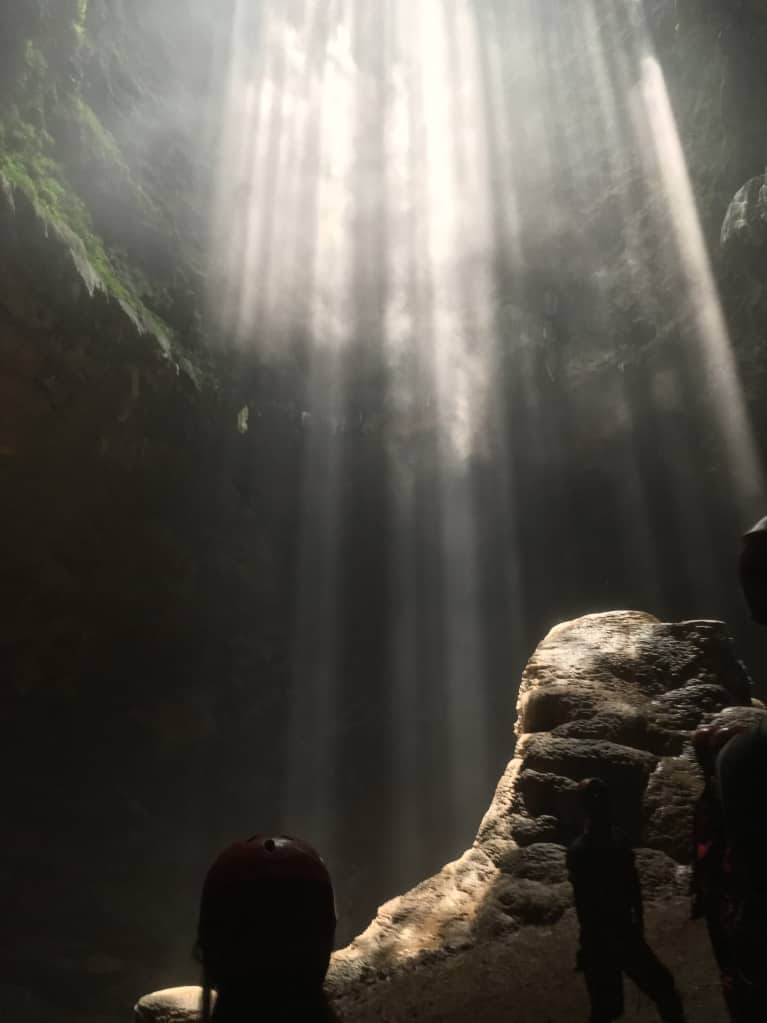 I suddenly remembered this phenomenon when I stood riveted at the bottom of a cave in Jogjakarta, Indonesia. High above, sunlight filtered in ribbons from a hole in the top, spotlighting a huge gray boulder to my right. What felt like rain—actually the steady patter of condensation, I guess, I never did quite figure it out—splashed onto the rock and the top of my head. Two dozen other spelunkers stood around me, mouths gaping, but we all felt, in some weird sense, alone, and also one: the collective awe that strikes a group at the mantel of the Grand Canyon or upon spotting an otherworldly endangered animal scampering through the brush. The boundaries—between us, between the molecules, between the three-dimensional world and something else—had thinned.
I'd found myself in a thin space, a spot where the fabric separating the earth from the heavens becomes especially flimsy. Ancient pagans and, later, Christians in what's now the United Kingdom used the term before me, and author Eric Weiner wrote beautifully about the phenomenon in the New York Times. And I've experienced them before—all of us thin-skinned, spiritually minded folks have. But it wasn't until that trip to Southeast Asia that I experienced them at a rapid clip, and in doing so, remembered just how much magic is actually at our fingertips.
What's incredible is that each thin space chisels away some of the thickness of all the other spaces you encounter.
The cave, called Luweng Grubug, was an obvious thin space; we were inside the deepest vertical cavern in Java, narrowly avoiding stalagmites and stalactites in the pitch blackness, until the sunlight opened above us like a gate to heaven. We felt physically small and awed by the millennia that'd carved this chamber from the ground. But other thin spaces were less obvious. After an exhausting bout of shopping, my friends and I found a tiny coffee cart piled high with potted flowers and bins of different coffee beans. The owners, smiling and warm, helped us choose our roasts and the best method of preparation. The space was quiet, somehow, though markets bustled just outside, and the resulting brews were grassy and complex. We sat and sipped quietly, not wanting to ruin the moment. Humans, it turns out, can carve out just as impressive a thin space as nature.
Borobudur, a Buddhist temple built in the ninth century, was another thin space designed to be just that: Visitors had to climb massive steps to get from the lowest level to the top, each floor ringed with reminders of a certain stage of self-actualization, from earthly concerns to enlightenment to nirvana. There were tourists everywhere, taking selfies and asking us white folk to appear in shots with them. My friends and I began to get heatstroke from the beating sun and the humid 100-degree air. But we all fell silent when we made it to the top level, flanked by hundreds of Buddhas in their beehive homes. We'd only climbed 115 feet, but we felt miles closer to heaven.
In Bali, my awesome hotel, Mandapa, helped me arrange a visit to Tirta Empul Temple for a Hindu water purification ceremony—another example of humans engineering a thin-space experience. As I waited in a polite line, then touched my thumbs to my third eye and bowed my head under a series of cold taps, I felt my awareness expand the way it does in a solid yoga class or a moving group meditation. At The Mulia, a stunning resort further south, I glanced up and felt tears fill my eyes at the sight of the sun bowing behind massive statues of Balinese women; whatever silly narrative had been running through my mind blinked out midsentence.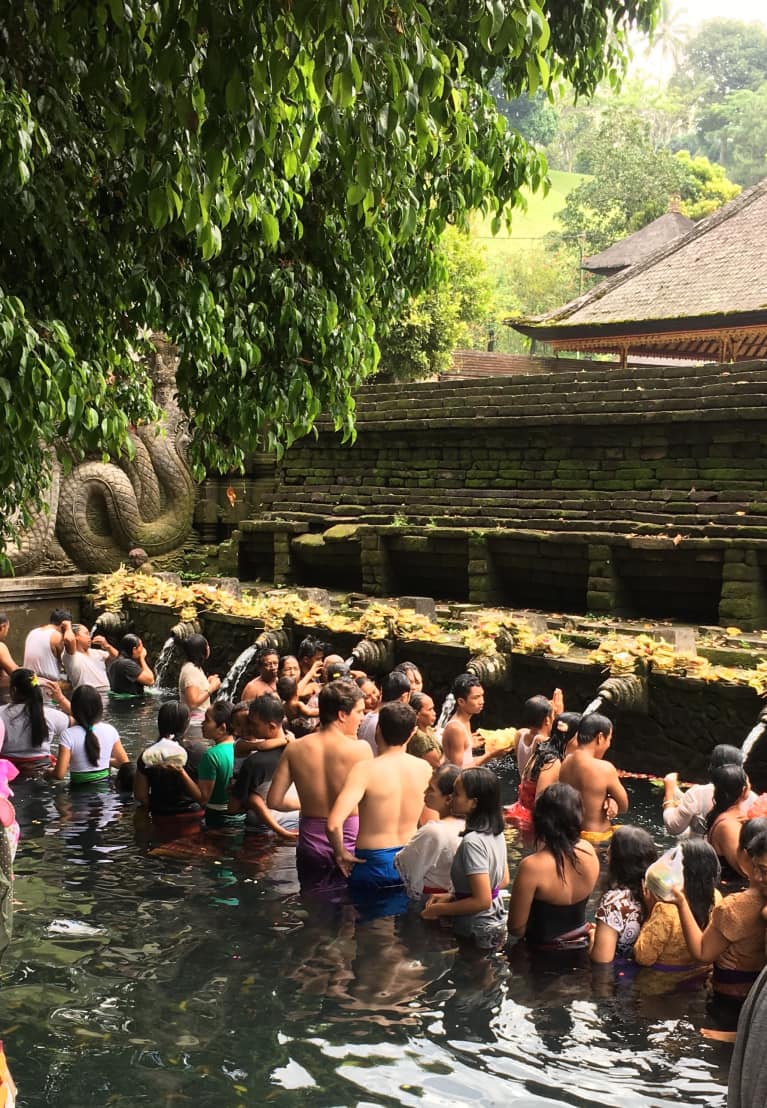 Thin spaces change you; they force a moment of mindfulness, a glimpse of what's true when your ego and monkey mind and man-made identity momentarily collapse around you. And what's incredible is that each thin space chisels away some of the thickness of all the other spaces you encounter so that the infinite is a millimeter closer from that second on and so that encountering another thin space becomes more likely on any given day. A friendly exchange at Whole Foods, a shock of sunflowers encasing a telephone pole, my morning bike ride past the New York skyline into the mindbodygreen offices—each feels like a little portal to something larger than whatever my five senses can absorb.
I visited Singapore toward the end of my trip, and while I enjoyed the city's bustling efficiency and clean, smile-strewn streets, I noticed I wasn't feeling the same sense of connection, the thinness. Then I found a room in the Gardens by the Bay, a lovely domed botanical garden, where stalactites and stalagmites were lined up side by side, sliced from their homes and displayed like tornados turned to stone. "In oriental Taoist philosophy, the world's caves provide a link between us and heaven," one placard read. "The search for introspection of many 'holy men' has often been linked with using caves as favorite places for meditation." The deep, mystical cave I'd visited at the start of my trip—it wasn't so far away after all. And just like that, the universe (or God, or Divine Wisdom, or whatever you'd like to call the infinite) gave me the reminder I needed: With a bit of mindfulness and perhaps some pointed meditation, my own boundaries can become more porous, and in turn, any space can be a thin one.