How To Craft The Ultimate Hygge Home
mbg Sustainability Editor
By Emma Loewe
mbg Sustainability Editor
Emma Loewe is the Sustainability Editor at mindbodygreen and the author of "The Spirit Almanac: A Modern Guide To Ancient Self Care."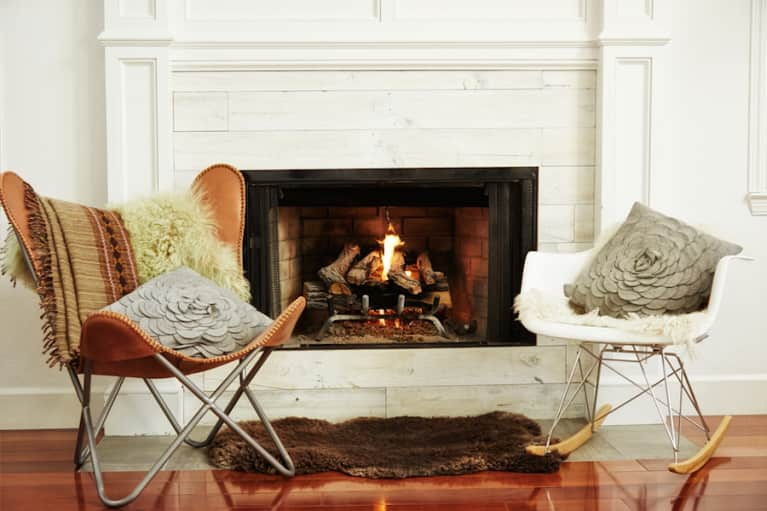 Our editors have independently chosen the products listed on this page. If you purchase something mentioned in this article, we may
earn a small commission
.
By now, you've probably come across the word, whether through a conversation with friends or a glance through the New York Times or New Yorker. It likely made you scrunch your nose and scratch your head at first, then, upon further appraisal, brought an unrelenting smile to your face. After all, hygge (pronounced hoo-gah) is a pretty epic term—one that gives name to the common desire for warmth and intimacy.
The Danish word is defined as "a quality of coziness and comfortable conviviality that engenders a feeling of contentment or well-being." It begs us to create warm, snug moments—then slow down long enough to really enjoy them. Thought to come from similar origins as the English word "hug," it's a cozy cure-all that's ingrained in every aspect of the country's culture. Danish doctors even recommend "tea and hygge" as a cure for the common cold.
"It plays into every action and activity, whether it's a cozying up for a stroll in the forest or inviting loved ones over for dinner," explains Danish author Pia Edberg. And, though the holidays are peak hygge season, it's not just a cold-weather concept. "It's incorporated all year round. For example, summer hygge might look like a picnic at the park with friends and a good bottle of wine and conversation."
Why hygge is getting huge
So why did this regional phrase that's been around since the 16th century become an international buzzword in 2016? Edberg expects it's because, now more than ever, we could all use a little more cozy kinship.
"We now live in a digital age where everything is online, there are less deep personal connections in real life, we can have everything in an instant, and so there's a loss of slowing down and reconnecting with the simple things," she says.
Charlotte Abrahams, the writer behind Hygge, a Celebration of Simple Pleasures. Living the Danish Way, nods to the term's celebration of downtime, something most people could also use more of. "It is about taking a break from the rush of life and really noticing that break. I think the distinctive thing about hygge is the fact that it gives those moments of downtime a name and that means we are more likely to make time for them and regard them as important," she says.
"Hygge is a place filled with care, warmheartedness, and acceptance," adds Danish author Lena Bentsen. And who doesn't want that?
How to craft your hygge home
In many ways, hygge starts at home, since nothing welcomes the warm-and-fuzzies like a plush blanket and roaring fire. Here are some hygge-expert-approved essentials that will turn your next night in into a darn cozy affair. Go forth and craft the hyggelige escape of your dreams.
Soft light, like that from tea lights in cups or glasses—and candles galore!
Piles of throw blankets and soft textures: "Heap the sofa with piles of cushions, chuck a blanket or two over the side of an armchair, and lay a rug on the floor," says Abrahams.
Decorative items from nature, including plenty of plants
Make a hyggekrog: "The one thing that every home needs is a hyggekrog, which roughly translates to 'a nook'. It is the place in the room where you love to snuggle up in a blanket, with a book and a cup of tea," says Meik Wiking, CEO of the Happiness Research Institute and author of The Little Book of Hygge
Items that resonate with you: "Hyggelige homes should be a reflection of who you are, so curate collections of personal treasures on coffee tables, mantelpieces and windowsills," Abrahams explains.
Warming foods: Take a cue from this popular new Nordic food hall in New York's Grand Central Terminal and pile on the porridge, tarts, and soups.
Tactile objects: "A hyggelig interior is not just about how things look, it is just as much about how things feel. Letting your fingers run across a wooden table, a warm ceramic cup or through the hairs of the skin of a reindeer is a distinctly different feeling from being in contact with something made from steel, glass or plastic," says Wiking.