Why You Should Never Make 'Losing The Baby Weight' A Goal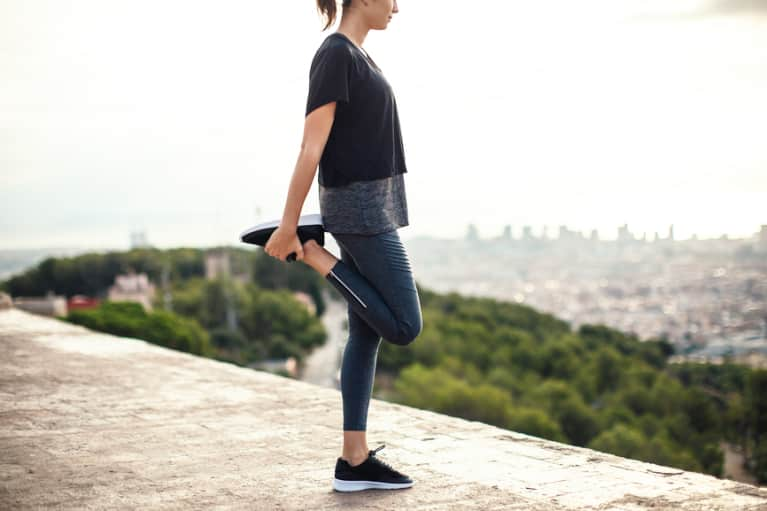 I got on the scale, facing forward this time, instead of turning my back like I'd learned long ago in an Eating Disorders Anonymous meeting. I looked down at my feet.
"140 pounds," the midwife announced with a smile. "That's a good starting weight." Over the next 38 weeks, my entire existence would be catapulted into a healing struggle I never anticipated, because I would soon be suffering from hyperemesis gravid arum, which caused near-constant nausea and vomiting for almost the entire duration of my pregnancy.
For a woman who spent over 15 years battling bulimia, this was life-changing. When the choice to stop purging was taken away from me, where I was so sick that I spent days and nights camped out on a towel on our bathroom floor, I regularly looked up into my husband's eyes and asked, "What the hell was I thinking that I used to voluntarily do this to myself?"
He held me as I realized once and for all that I would never voluntarily put myself through that kind of suffering again.
One night, after a particularly difficult day of migraines and dizziness, I lay on our couch, my feet propped on my husband's lap. "If we have a girl," I whispered to him, barely able to open my eyes from exhaustion, "I never want our daughter to go through what I went through when it comes to hating my body."
"We won't," he reassured. "We'll do things differently."
Within a week after giving birth, my body naturally went back to my pre-baby weight plus five pounds. I know this isn't how it is for many women, but for me, I felt like this was my body's way of karmically saying to me, "See? If you had only trusted me all along since you were 17, everything would have been so much easier and more enjoyable. You could have lived life more fully. And look, after all the hardships you've put me through, I still showed up for you and we created this amazing life together."
Let's stop saying "I need to lose the baby weight."
In many mama social media groups I'm a part of, I continually see messages where women are struggling to lose the baby weight. They're saying things like, "I feel disgusting" and, "I'm so depressed, I can't lose this weight after so long," or even, "I'm afraid I'm going to be ginormous by the third trimester."
In our culture of comparison, where it's easy to find images of women in bikinis within a couple of weeks of giving birth, how can we thrive and feel good within ourselves? How can we alleviate this pressure to look and be perfect—especially as a mama? And is it possible to achieve your ideal body now that you've given birth?
Yes, I believe it is.
It starts with understanding that our babies develop their core belief systems between birth and age 6. Science has shown how impactful a mama's thoughts can be while a baby is still in utero (check out Annie Murphy-Paul's TED Talk, "What We Learn Before We're Born").
In fact, think back to something your own mother or father said or did when you were young that has stayed with you throughout your adult life. Are you carrying around a belief that wasn't yours to begin with, maybe even one you've had to work hard to change? How would you like to set up your own little human for success?
Our inner voices, especially when we're very critical of ourselves, can seep into our outside actions and dialogue, and these subtle and overt energies are how our children perceive the truth about life. Eventually, what we say becomes their own inner voices.
In Clarissa Pinkola Estes's book, Women Who Run With Wolves, she beautifully demonstrates that to support one—and only one—kind of beauty is an offense to nature, because there is not one type of songbird, one kind of pine tree, one kind of wolf. There cannot be one kind of baby, one kind of man, or one kind of woman. To be thought of as unattractive or unacceptable because your body is outside what's currently fashionable is deeply wounding to our natural joys.
As a smart woman, you've likely done all the research on the best diets, workout routines, and solutions to lose weight. Maybe you count calories all the time or have years of your life you weren't present for because you were obsessed with your appearance, which is how it was for me. Mamas keep sharing with me that they're afraid they're failing and they're feeling depressed they're not getting the results they want.
It's time to ask how effective these approaches actually are if it means we're constantly feeling worried we can't keep it all together?
What if you tried the opposite of what you would normally do? To get the results you want, sometimes you need to do something that's absolutely counterintuitive. So what if you tried approaching your body by being carefree rather than constricting?
Try focusing on the joys in your life, the ways in which you shine the brightest, the aspects that bring you the greatest contentment. By focusing on these positive attributes and practicing gratitude for all that's working well, you're telling the universe, "Yes, please, I'd like more of this goodness." Ultimately, you invite more of your unique brand of happy, and in the end you can begin to thrive like never before in both your life and your body.
Remember, there is no "supposed to be" in bodies. Rather than tamp down a woman's natural ability to thrive with creative expression and power by trying to all be one size, let's focus on how we are all elemental and special.
As a mama, you know how primal nature can be. You're experiencing this new unconditional love where your heart is growing bigger every day, even amidst the challenges and struggles that the postpartum phase can bring. It's time to shine some of that wild love on yourself, to ensure that you thrive as much as you're working on the same for your little one.
Connect to your wild nature.
Ask yourself: Does this body feel? Does it have a right to connect to pleasure? Is it linked in heart and soul? Can it move in its own way, dance, jiggle, sway, and thrust? Can you recognize the greatness of souls in all their varying forms?
Because your body is this amazingly sacred space for your soul, a place that was once your baby's first home. As documentaries like Embrace and body positivity movements are proving increasingly popular, there's a demonstrated hunger within our modern-day mama soul tribe of women to explore a different way to be, a healthier way of interacting with our bodies that comes from a place of celebration and honoring oneself completely.
To continually say we need to lose weight in front of our daughters in order to feel good about ourselves or to be accepted is keeping us small, because your body is a prayer of life in its own right.
One of my favorite quotes in Women Who Run With Wolves is, "To malign or judge a woman's inherited physicality is to make generation after generation of anxious and neurotic women."
My hope for my daughter is that she never spends a day worrying about the number on a scale or on the tag of a dress. That's my same intention for you and yours.
Please, Mama, live your light true.