What A Serious Injury Taught Me About Yoga (That Everyone Should Know)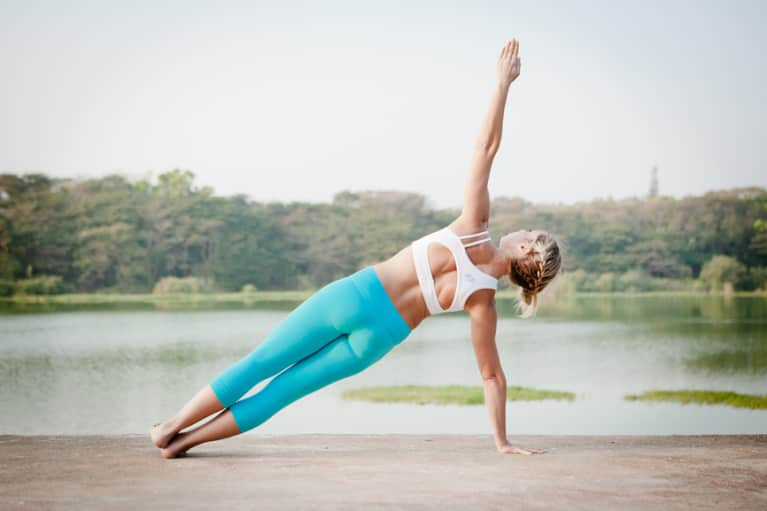 A few years ago I broke my foot, and I was devastated. Physically it was a grueling year, and I found myself teaching yoga on crutches or in a walking cast. But looking back, I realize that as a yoga instructor, it was the best thing that could have happened to me. It forced me to become less dependent on teaching from my yoga mat, which resulted in amazing professional growth.
If you are a yoga teacher fresh from your 200-hour training, take it from me: It's easy to become attached to your mat. Not only have our mats been our safe practice space for years, but they allow us to move through sequences with our students as we teach. If you find that you always have to shuffle back to your mat as you teach, then I challenge you to get off your mat and see what happens.
When you start moving away from your mat and give yourself the opportunity to teach without having to demonstrate every aspect of your sequence, you'll experience these five things:
1. Integration with your students
Think about being one with your class. No separation between yourself, as an individual, and the collective group. Spending more time off your mat and walking around as a part of your class will help you become more connected with everyone. This will not only enlighten your experience as a teacher, but it will also heighten the experience of your students.
2. You'll become more aware of your class.
A lot can happen in the span of a one-hour yoga class. One person may be struggling due to an injury they did not tell you about while another may be lost in a sequence and need additional support.
The collective group may have a specific energy level that needs to be considered. Some days you feel people bouncing off the walls while other days everyone is drained. These are all elements that can unfold as you teach. The less time you spend on your mat and the more time you spend among your students, the more likely you will be able to get in touch with this energy. You will learn to pick up nuances among your students that offer the opportunity to teach off the cuff and address the needs of your students in real time.
3. You'll focus on your voice.
It took me years before I started thinking about my voice. Your voice includes the tone, language, and ease in which you speak throughout your classes. All of these elements can have a major impact on the experience of your students. Your voice is an extremely important tool that can be used to shift the energy of your class.
If you only teach from your mat, you may only focus on talking through the structural elements of a pose, thus focusing only on what you're saying, and not how you're saying it. Once you start walking around your class you may begin to hone in on how to best utilize your voice to create the optimal experience for your students.
4. Availability for support.
Sometimes you actually need to be there, as in physically, next to your students to develop a greater sense of connection between the two of you. Whether physical adjustments are part of your teaching style or not, your physical presence next to your students offers a beautiful feeling of support. This sense of support will leave your students wanting to come back to your class time and time again.
5. Your learning will be enhanced.
One of my favorite things about being a yoga teacher is that I am constantly learning from my students. By getting off your mat, you will become more acquainted with the elements of your teaching that works the best for your class. For example, you may try to cue your students into a pose three or four different ways and see which one makes the most sense to them.
You might also notice students have trouble grasping the concept of shoulder stand. This could then inspire you to hit the books or talk to your mentors and come up with a shoulder stand-themed class. You may also see something that sparks your curiosity. It's amazing how many learning opportunities you will begin to notice by simply moving off your mat and being completely available to your students.