How To Consciously Create A Balanced Life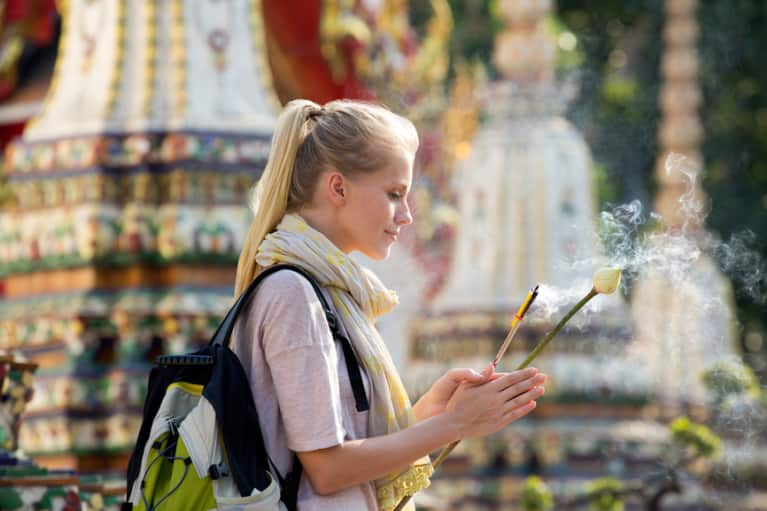 Imagine waking up each day to a life that feels fulfilling, abundant, joyful, and purposeful. Moving intentionally toward your life goals with direction and confidence while simultaneously enjoying the process. A sense of gratitude and enthusiasm about the adventure. It may sound unbelievable, but it's entirely possible. It's about consciously designing the life that you want. Consider yourself the ultimate architect, designing the blueprint for your best life.
Too often, we get bogged down with what we perceive to be the necessary routine. Working long hours at a job that feels unsatisfying, minimal sleep and leisure time, or relationships that feel draining and not mutually rewarding. We may feel stuck in a rut, overwhelmed with stress that weighs on the quality of our lives, and generally out of balance. Here's the exciting thing: That reality doesn't have to be the norm if you truly long for something more. Deep within you, you likely have dreams and aspirations that you're shelving for someday. But you can start flowing your life in the direction you desire now.
That not to say it's about a perfect and flawless life without challenge or struggle. That isn't balance and it isn't realistic. Instead, by bringing more consciousness and intention to your life, you are better equipped to manage whatever comes up and be prepared to make necessary changes.
You absolutely can take responsibility and be the driving creative force for a life of balance and wellness.
Over the past two decades, we've dedicated our lives to building a thriving business while raising a family and enjoying life in a way that feels tremendously pleasant and rewarding. Now, we want to teach others how to apply what we've learned in order to live their best possible lives.
The best life for you won't look like the best life for someone else. Our diverse strengths and abilities are part of what make us such uniquely beautiful humans. Constantly comparing our lives and successes to others often leaves us feeling depressed and unworthy. When we use the paths of others as benchmarks for ourselves, we neglect our own value and potential. Instead of viewing others as competition or comparison, think of it as what's possible, and what the potential of the world contains. It's that much closer to you.
So, how do you begin crafting a life of wellness? Here are four ways you can begin:
Everything starts with a solid foundation. This is essential for health and well-being. As much as we know we should practice healthy habits, we often let them slip. Do you find yourself prioritizing the needs of friends and family, without remembering to make time for yourself? You need and deserve a healthy foundation in order to thrive. This means restful quality sleep, fresh and rejuvenating food, consistent exercise, time in nature, and space for quiet, mindfulness, and reflection.
Keeping sight of your goals and your desired end result will help to propel you forward. Coupled with this is inspired action. If you've studied the Law of Attraction, you already know about focusing your thoughts on what you want. However, this is only part of the process. You also need to take action to get there. You wouldn't wake up and decide to have pancakes for breakfast while rolling over and expecting them to appear on your pillow. You'd shuffle downstairs and start whipping up some batter. It's the same with life goals. Identify what you want, then start taking action to make it appear.
Take five minutes and jot down one of your goals. What can you do over the next year to make it happen? How about this month? This week? Today? Take one step; make one phone call. Schedule something and write it down. Show that you're serious about making it happen.
3. Remember the good stuff.
Don't neglect the joys and pleasures of life. There are moments of wonder and rare pieces of beauty wherever you look. Spend time with loved ones and friends who lift your spirits. Let yourself laugh. Choose relationships that invigorate and excite you rather than leaving you drained. Make time for nature and play. Life is unpredictable, with unexpected turns and surprises along the path. Instead of waiting for someday, make a conscious choice to incorporate those joyful everyday moments that nourish you. Choose today to create moments when you pause to enjoy the bounty of your life and fill up your soul.
4. Forgive and be grateful.
Few things will shift your life as powerfully as practices of forgiveness and gratitude. Carrying around anger, resentments, and grudges slowly gnaws away at you, creating emotional and psychological stress, and even physical issues. When you start clearing your baggage and releasing it, you allow space within you to open. You begin moving through what is holding you back. Think about who or what you need to forgive, and commit to a regular process of identifying and releasing. Then, focus on what you have and give gratitude for everything that is already going your way. These two practices create expansion and room for new growth and possibilities.