Meet The Man Who's Walking Around NYC Wearing 84 Pounds Of Trash
mbg Sustainability Editor
By Emma Loewe
mbg Sustainability Editor
Emma Loewe is the Sustainability Editor at mindbodygreen and the author of "The Spirit Almanac: A Modern Guide To Ancient Self Care."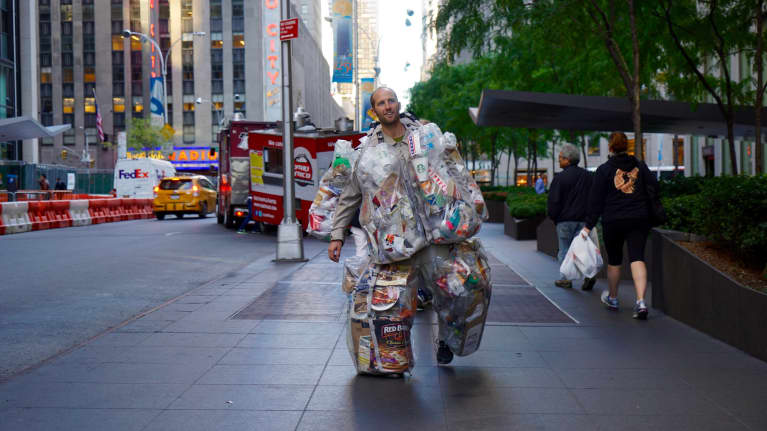 It's an unseasonably warm Wednesday in NYC, and Rob Greenfield is waddling through Union Square to a chorus of mixed reactions. Passersby stop for prolonged double takes of the mountain of Solo cups, newspapers, magazines, soda bottles, and mailing packaging turning him into a monster-esque figure.
"That looks really uncomfortable," one woman shyly whispers. "How much garbage do you think that is? A week's worth?" muses an inquisitive onlooker. A booming voice reverberates above the crowd: "Trash man, stop making trash!"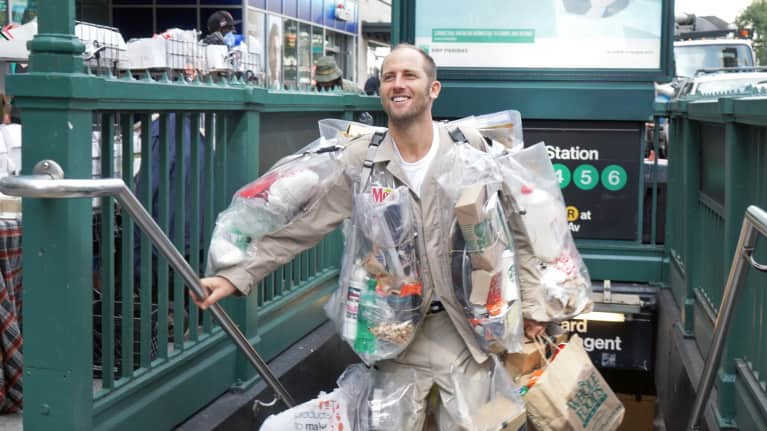 This month, "Trash Man," as he's been so fittingly dubbed, has worn all of the trash he has produced in a display of environmental activism. The 84 pounds of waste that have made their way onto his body over the past 31 days (a third less than the average American produces over the same time period) makes for a powerful portrait of overconsumption.
"It's all about finding a visual way to get people thinking about basic things: the food that we eat, the water we drink, the gasoline we put into our cars," Greenfield told mindbodygreen. "I always try to keep it fun and entertaining because I want to reach people who wouldn't usually care about these sorts of issues."
It's demonstrations like these that have turned Greenfield into a green visionary of sorts—but he wasn't always this way. Up until about five years ago, Greenfield didn't think twice about tossing a recyclable in the trash and he certainly wasn't one to turn down a plastic shopping bag. Documentaries, books, and other educational resources on the environment are what ultimately inspired him to make small changes like shopping at farmers market and using reusable bags. These eventually snowballed into a full-on zero-waste lifestyle.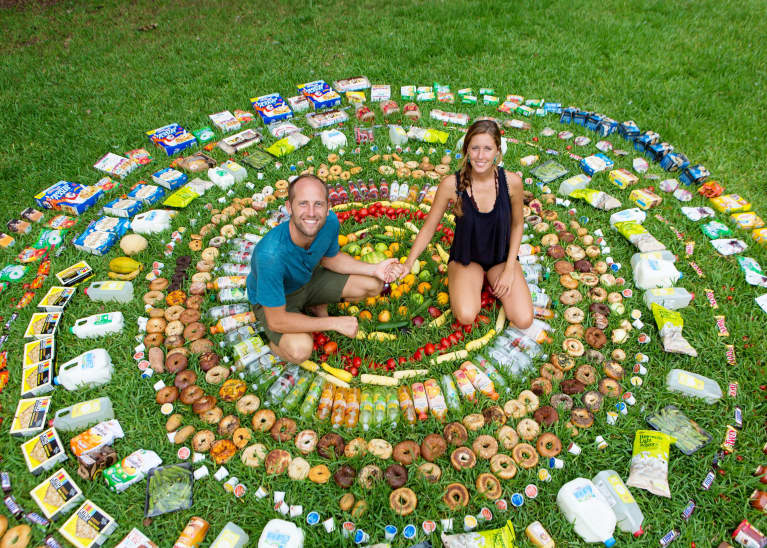 Since 2011, his eco-journey has led him on two bicycle trips across the country and approximately 2,000 rounds of Dumpster diving. He has gone over 1,000 days without showering and spent years living in a tiny home off the grid.
This fall, he decided to pack up the only 111 belongings he owns and set out to New York for this latest project. With a camera crew in tow (the journey will ultimately be made into a short film), Greenfield has fearlessly traversed the city's streets encumbered by trash, never shying away from people's questions or sideways glances. He's found the reception to his bold environmental statement to be, for the most part, extremely positive, claiming that people are supportive once they realize the trashy outfit speaks to a larger cause.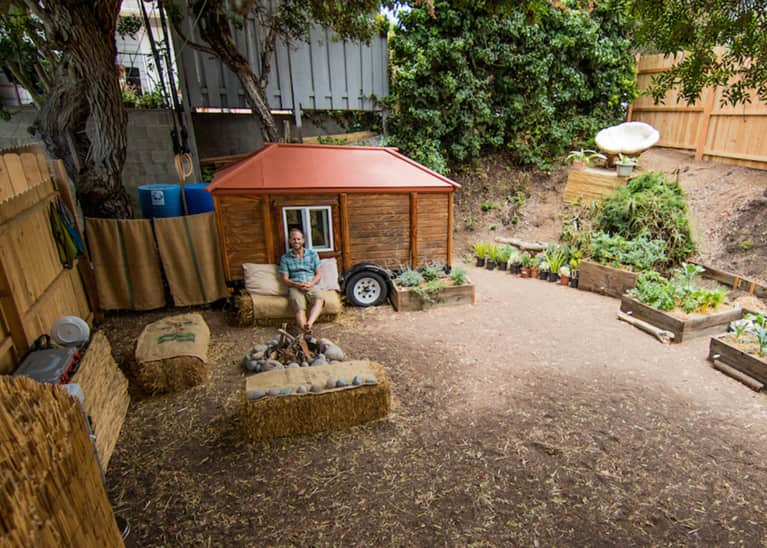 "The other day I was standing at the park in Brooklyn and this 12-year-old boy walked up to me and told me that he's going to start making less trash," Greenfield explained, beaming. "When he looked down at his soda bottle in his hand, he said 'This is only bottle I'm going to use for the next month.'"
It's moments like these that make the entire experience worth it for the Trash Man.
"A lot of times people have questions about what they can do to help out. For me, it's been really enjoyable...but of course, I can't wait to go home and take off the trash suit at the end of the night."
He hopes that his aches and pains will pay off, and that some of the people he's come across over the past month have walked away inspired to start making those same little changes he did years ago.
We're all weighed down by our trash (though maybe not as literally as Greenfield) and it's important to take a step back, think about what we're consuming, and remember it doesn't just disappear once we throw it away.
Check out a video on the Trash Man's project here