Born and raised in Paris, Valerie Grandury was living in Los Angeles and working as a film producer when she was diagnosed with breast cancer. "Cancer was a major wake-up call. I realized that if I wanted to heal I needed to change everything. I quit my job, went back to school to become a health and wellness coach, and embarked on the fascinating journey of removing toxins from my life."

When it came to skin care, she was not ready to sacrifice performance. "I wanted it all: efficacy and purity. Not finding it, I started blending custom-made skin care, for private clients and myself. Word spread fast, demand grew quickly, and so was born Odacité—French play on Audacity—marrying the best of two worlds, luxurious French skin care and green California living."
Here, a fascinating insight into her wellness and beauty rituals.
My Journey
I was born in Paris, fell in love with California, and moved to LA with the new millennium. While I feel Paris is still the most beautiful city in the world, LA is the city I chose to live in. I have traveled extensively in my life and can't imagine any other city that offers so much: ocean, mountains, amazing talents, museums, symphony hall, multicultural lifestyles, and fabulous weather. I simply love living here.

Ten years ago I was diagnosed with breast cancer and told that my chances of survival at five years were very low. Once I passed the panic, I realized that cancer was an opportunity for me to change everything, to dare like I never had before. I quit my job in the film business, went back to school to become a health and wellness coach, adopted a raw vegan diet, started yoga and meditation daily, and became passionate about removing toxins from my life. The good news is that against all the odds, I'm still here 10 years later and cancer-free.
On Managing Stress
Stress, whether good or bad, is still stress, and not your friend when it comes to staying healthy. I realized that the best and most immediate way for me to relieve stress is either to be in nature, to be with animals, to be in a museum, or to practice aerial yoga. So I rescue dogs (three so far) that keep me on a tight hiking schedule every dawn in the beautiful hills of Topanga. Horses are also an important part of my life; they bring so much joy to the soul. I discovered aerial yoga two years ago. It is the most amazing way to realign my body, especially after a whole day sitting in front of a computer. When I travel I make time, even if just an hour, to go to a museum and be inspired by the beauty of art. I also love to visit botanical gardens.

Plant-Based Eats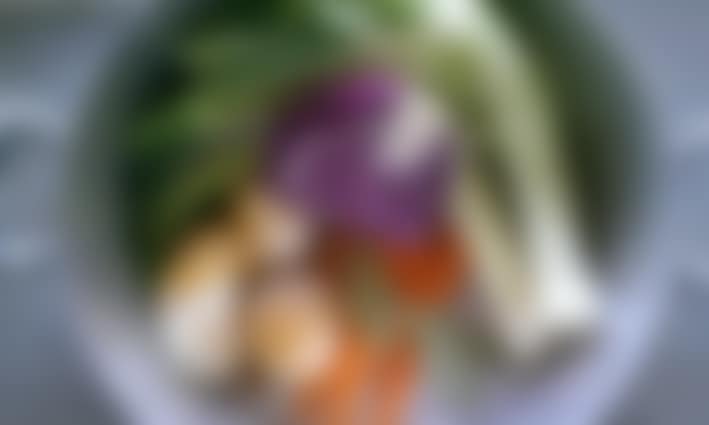 For me, switching to a vegan raw diet was easy because the food choices were so delicious, and it was such a pleasure to discover new ingredients, I just embraced it with passion and love.
I start my morning with a green smoothie enhanced with a variety of Moon Juice supplements. Depending on the day, I will alternate tocotrienols, maca, probiotics, mushroom cordyceps, ashwagandha, reishi, and mucuna pruriens. During the day I add Beauty Chef Collagen to my water and drink regularly. Because lunch is often skipped, I have a snack midday. My favorite is sliced apple with raw almond butter, sprinkled with cinnamon.
A.M. Ritual

I wake up at 5:30 a.m. and drink 12 ounces of warm water with lemon juice. I rinse my face with water and apply our Deep Hydration Masque before I go hiking with my dogs. This infuses my skin with optimum hydration for the day. Before I get in the shower, I exfoliate on dry skin with our Jojoba Beads Exfoliant, then rinse in the shower. I'm very French in that I don't believe in harsh exfoliation like peels, burning products, microdermabrasion. In the long run they create more harm than good. I believe in consistent, gentle exfoliation as this will work on longevity of the skin. I then apply our Night Time Antioxidants Repair Serum (after 50 I believe that using a night cream during the day is a great idea). Depending on what my skin needs, I will add two drops of one of my Serum Concentrates to address the specific needs of the day.

On Beauty
For five years I only worked with private clients creating custom formulations. Working with thousands of clients taught me about the intricacies of the skin, and this is when I started creating Serum Concentrates for my clients, to help them have flawless skin no matter what was happening in their life.
Staying true to the idea of customization, we just launched our new Synergie[4] Skin Perfecting Masque. This masque marries probiotics, activated charcoal, papaya enzymes, fruit acid, and vitamin C. The masque also comes with a recipe book that shows you how to enhance its benefits by mixing the powder with natural ingredients you will find in your fridge or pantry. I recently mixed the masque with wheatgrass juice to feed my skin with amino acids and chlorophyll, plus a little lemon juice to fade pigmentation.
I believe that beautiful skin is the best makeup, so I keep my makeup routine minimal. When I need a little coverage, I'll mix W3LL People's Mineral Foundation Powder with one of my Serum Concentrates, to create the most amazing tinted serum that works both as a foundation and treatment. I also love the Kjaer Weiss Highlighter and Ilia's Lip Conditioner in Arabian Knights.
P.M. Ritual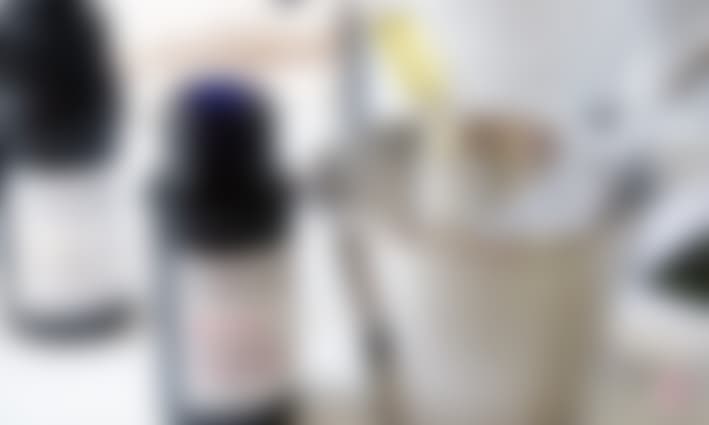 I wash with my Rejuvenating Crème Cleanser to remove all surface impurity without disrupting the delicate oil balance of the skin. Then I mix two to three drops of my 15% Vitamin C Serum Autumn On The World into my Night Time Antioxidants Repair Serum and apply all over my face.
For dinner, if I don't feel like cooking, I pick up a meal from Café Gratitude. Most of the time I prepare a big salad with all kinds of greens and vegetables, and a creative dressing (raw food comes alive with dressings and sauces). Salad is accompanied with seed paté, nut cheese, or some fermented food—I love kimchee and raw sauerkraut. When the weather gets colder, I add some cooked quinoa and brown rice. Every change of season I do a five-day cleanse: fall and winter with Soupelina's Soup Cleanse, spring and summer with Juice Served Here.
On weekends I love to prepare raw desserts. One of my specialties is "petits pots de crème" with a coulis of blueberry enhanced with a touch of cardamom. I have a few favorite restaurants in LA. Besides Café Gratitude, Gracias Madre is my go-to restaurant. When I feel like haute cuisine, I opt for Plant Food + Wine or Crossroads. Both Matthew Kenney and Tal Ronnen have really taken vegan food to the level of a three-star restaurant—simply amazing.
On Happiness
Before I got cancer, my happiness was linked to crazy achievements that I had set for myself, and of course wavered as soon as achievements were not met! Now I've discovered a new form of happiness—one that is deep and profound, one that is linked to the gratitude of being given a second chance at life. Now I know that life is beautiful even if not perfect.
Related reads: