Macadamia Ricotta Deserves To Be In Your Toast Rotation. Here's How To Make It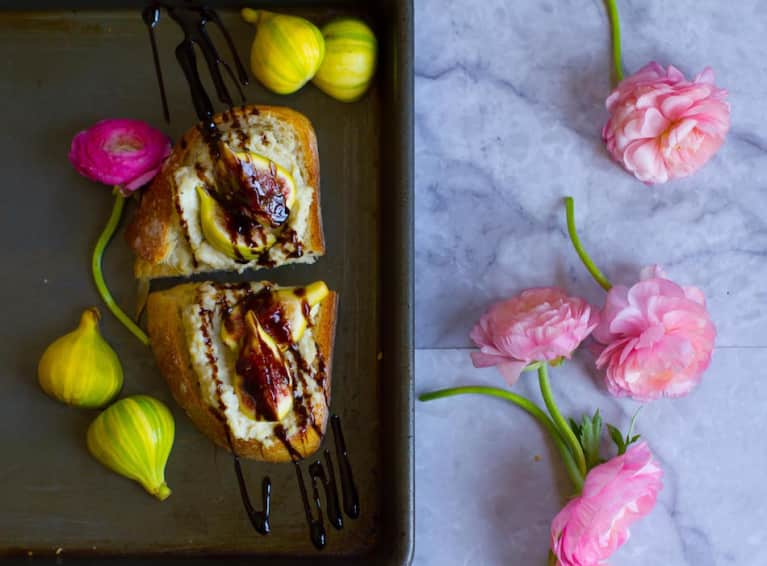 Trying macadamia ricotta is an easy way to start making your own vegan cheese. Here it's paired with seasonal figs and a pumpkin-spiced balsamic glaze for an autumnal twist on a classic flavor combination.
When a fig is good, there are few fruits that can compete with them. Look for these fresh tiger figs in your local farmers market! They are bright green and striped on the outside, but any kind of figs are great on this citrusy vegan toast with spiced balsamic glaze.
Lemon Macadamia Ricotta + Fig Toast
For the Lemon Macadamia Ricotta
1 cup macadamia nuts, soaked overnight
Zest and juice of 1 lemon
½ teaspoon salt
1 tablespoon nutritional yeast
Preparation
1. Soak the macadamia nuts overnight and rinse well before ready to use.
2. Purée in a food processor with the lemon juice, lemon zest, salt, and nutritional yeast.
For the Balsamic Glaze
1 cup balsamic vinegar
2 tablespoons brown sugar*
½ teaspoon pumpkin pie spice
1 teaspoon potato starch or cornstarch
Preparation
1. In a small saucepan, heat the balsamic vinegar and whisk in the brown sugar, potato starch, and pumpkin pie spice.
2. Bring to a simmer, turn down the heat, and allow to reduce for about 10 to 15 minutes on low heat. When it's done, it will coat the back of a spoon.
*I used brown sugar in this recipe, but feel free to substitute palm sugar, agave, maple, or any other sugar substitute.
For the Fig Toast
1 loaf sourdough bread, thickly cut in 1-inch slices
1 pint ripe figs
Macadamia ricotta
Balsamic glaze
Preparation
1. Toast the sourdough lightly and spread with the lemon sourdough.
2. Slice the figs in half lengthwise and arrange on top of the toast. Drizzle with the balsamic glaze. Grate a little more lemon zest on top and season with a pinch of sea salt.