8 Personal Trainer-Approved Healthy Halloween Treats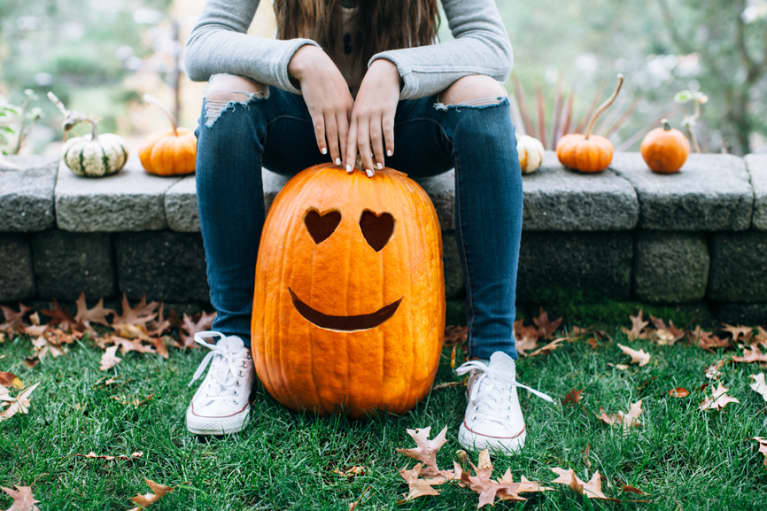 As many people are planning out what to make this Halloween, why not try to at least make your treats healthier, right? Below are some Halloween treats that are healthier options (that won't spook you), so you won't have to feel deprived and can still enjoy this time of year.
It's about finding smart ways to indulge but still feel great at the same time. The best part is that all of these treats don't include the artificial sweeteners, fillers, or corn syrup in the typical Halloween fare, read: no sugar hangover!
Here are some great snack ideas for everyone to enjoy (even those adorable trick-or-treaters)—and guilt free!
Everyone loves these. Not only are they fun to assemble with your kids and guests, but they are super healthy and a great snack.
They are packed with iron, magnesium, fiber, zinc, potassium, healthy fats, protein, and tryptophan (which can boost your mood and help you sleep).
You can season these seeds any way you fancy—sweet, spicy, or savory. There is even a chocolaty version out there! This is also something kids love to help out with, so this is win-win for all.
One very simple and adorable snack! Just simply peel a clementine and stick a small piece of celery into the top for the "stem." They look so cute, they're almost hard to eat.
Kids really love them, too, and they look great on a fruit tray. If that's still too much work, you can just take a black marker and draw an actual jack-o'-lantern face on the skin itself. So easy.
Walnut + cashew honey nut butter
This is one delicious nut butter recipe, and it's packed with healthy omegas and lots of nutrients. You also get healthy fat and protein that will stabilize your blood sugar, which is very important on a day like Halloween.
For the recipe: Simply place 1½ cups raw walnuts, ½ cup raw cashews, 1 teaspoon raw honey (or sweetener of choice), and ½ teaspoon of Himalayan sea salt in a food processor and blend until smooth. Serve with fresh, in-season apples for the perfect snack.
Homemade Jack-o'-lantern lattes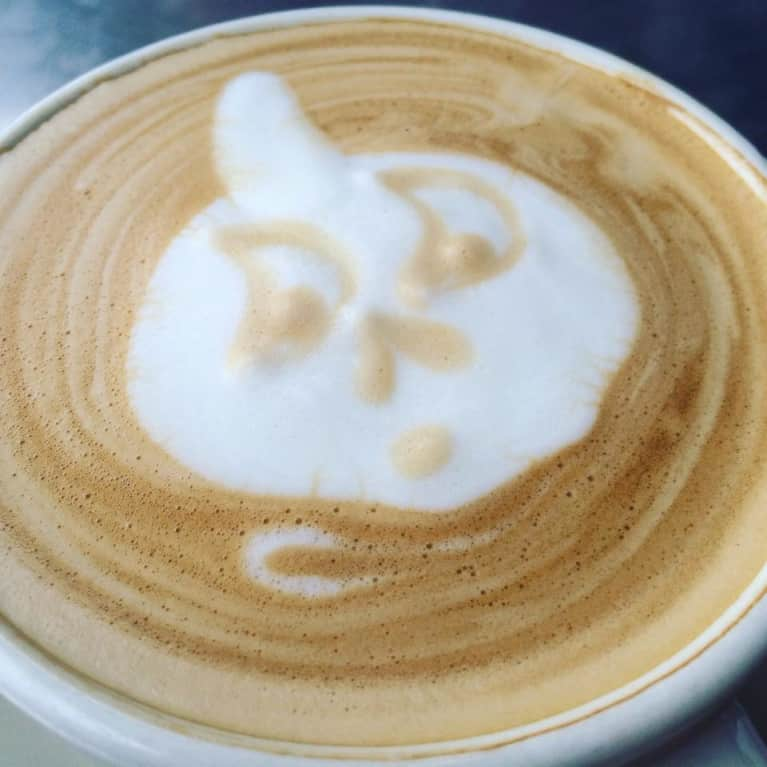 This time of year it is all about feeling festive. Simply make your favorite coffee or tea latte. Next, add a big dollop of steamed or foamed milk (full-fat milks work best like coconut or whole dairy milk). Next, using espresso, dip in a small brush to "paint" on the espresso jack-o'-lantern of your choice on the foamed milk.
It's important to understand the types of sugar that are in snack bars, candy bars, and protein bars. Many snacks contain artificial sweeteners and other processed ingredients.
Instead of processed candy bars, put out wholesome snack bars with ingredients you can pronounce, like KIND Caramel Almond Pumpkin Spice bars.
Gluten-free pumpkin bread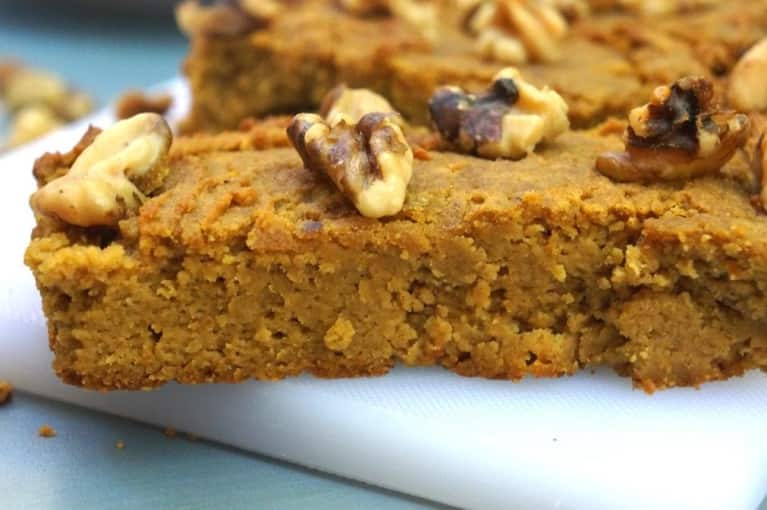 This recipe is perfect for all you pumpkin lovers. Packed with healthy pumpkin, cinnamon, and spice flavor and topped with walnuts, this bread is so moist and leaves your kitchen smelling heavenly.
It's also all-natural, low in sugar, and gluten free. You can put the high-calorie (and high-sugar) pumpkin bread from your local coffee house down and enjoy this pumpkin bread instead.
Jack-o'-lantern hummus plate
This Halloween-inspired party dish is made with a roasted red pepper hummus (for the orange hue), and black beans or olives for the Jack-o'-lantern face. Serve it with gluten-free crackers, chips, and lots of veggies!
Trust me when I say it does not get any easier than this one. All you need is one banana and three chocolate chips!
A client shared this awesome recipe with me, which she makes every Halloween with her kids. Just take a banana, cut it in half, and add two chocolate chips for eyes and one chocolate chip (pushed in the other direction) for the mouth. Done!
Healthy treats for those adorable trick-or-treaters can include healthy snack bars, low-sugar yogurt, dark-chocolate-covered almonds, fruit, string cheese, or applesauce. And remember: "fun-size" and NOT "king-size."
Now with these snacks you can have a haunting AND very healthy Halloween!