How Your Phone Is Stopping You From Living A Mindful Life + 6 Ways To Fix It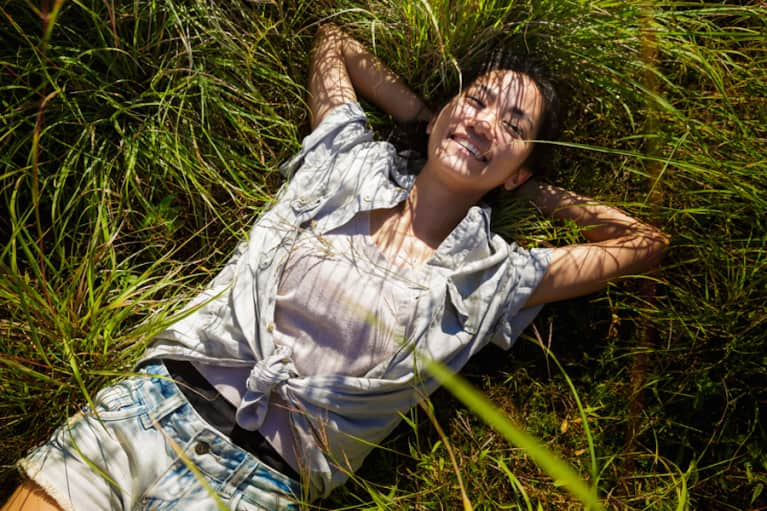 Up until last year, I had a flip phone that cost 30 bucks and could do exactly two things: call and text. I loved that thing. Besides the fact that it was quite literally indestructible (on more than one occasion, I threw it against a wall just to prove my point to others), I came to appreciate its functionalities. No push messages, no notifications, no Facebook feed.
It was a phone that served its purpose—making me available to others—while at the same time functioning as a gatekeeper between me and all the noise out there.
Whenever I was out of the house, I felt fully immersed in life. Wherever I was, there I was. Whether I was having coffee with a friend, dancing at a concert, or just sitting in the subway, I paid attention to my surroundings. I noticed the details and nuances of what was going on around me, and yes, sometimes I just had a dull moment in which I did nothing at all. But I cherished every single one.
And then I got a smartphone.
I had moved abroad and figured getting a smartphone was the easiest way to stay in contact with friends and family. So, at the age of 27, I gradually turned into the digital native I was supposed to have been for the last decade. Soon I was Whatsapping my mother; I was Instagramming my food; I was Snapchatting my life.
I discovered how incredible smartphones were at fulfilling the most basic human needs. We all want to communicate. We all want to share. We all want to feel appreciated. And there is an app for all of this. Unfortunately, though, smartphones also elevate another one of humans' most basic traits: We have a very hard time appreciating unique moments as they are happening. Instead, we often think that we would rather be somewhere else or do something else.
Phones give us a way to live through the experiences of other people by merely consuming their content and serve as vehicles to kill time while we wait for the next exciting thing to happen in our lives—which we then don't even fully appreciate because we are too busy taking pictures, filming, and livestreaming to capture the moment in its entirety.
And this is where mindfulness comes into play.
How to get back to mindfulness
After owning a smartphone for a year, I could see myself becoming consumed. I found myself texting with friends while I was hanging out with other friends. I noticed there were days when the 10 minutes under the shower in the morning was the only time I had all day to be alone with my thoughts.
I knew that I needed to make a change. I needed to come up with rules and habits that would allow me to use my phone in a smarter, more mindful way. Here is how I'm doing it:
1. I deactivated all notifications and push messages. This way, I would not be distracted by my phone when I was doing something else.
2. Next, I promised myself to not check my phone until I arrived at work. Morning rituals set the tone for the entire day, so just stopping to check my phone first thing in the morning made a huge difference.
3. On the 20-minute subway commute I read books, which over time reiterates the mindset of fully immersing myself in what is right in front of me instead of getting clickbaited from one thing to the next.
4. When at work, I try to not check my phone more than once an hour. While I admit that this can be very challenging at times, it helps if I first think about why exactly I have the urge to check my phone in that particular moment.
5. I downloaded a mindfulness app (oh, the irony!). I use it to meditate for about 15 minutes right after work, even before I leave the office. This way I leave the stress of work behind and approach the time after office hours more purposefully.
6. And lastly, I sometimes do the unthinkable and just leave my phone at home. Crazy, right?
The right techniques and a little bit of self-control can help all of us keep phone time from becoming excessive so mobile phones and mindfulness can coexist.
Related: