I Overcame Body Dysmorphia. Here's How You Can Too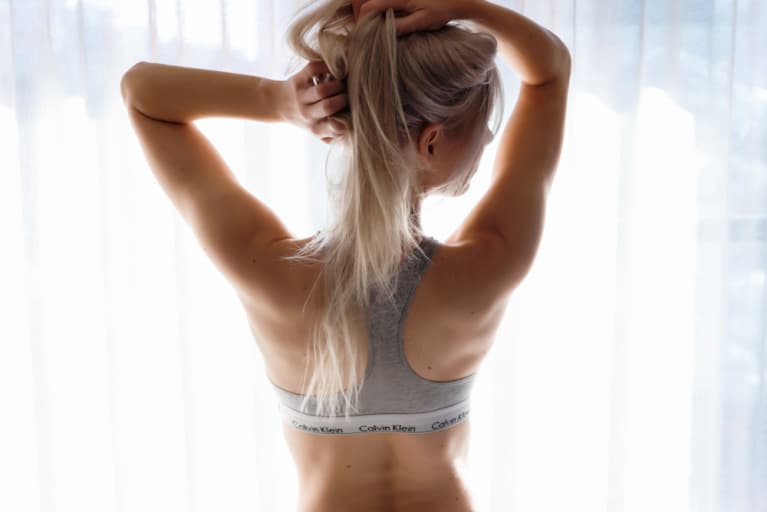 At age 8, seemingly overnight, I woke up to find large patches of white all over my feet, legs, hands, elbows, and stomach. I was diagnosed with vitiligo, an autoimmune illness that affects your pigment cells. My parents were told that there was no cure, and it would likely progress as I got older. I became instantly insecure about my physical appearance and was constantly preoccupied with waking up to find that my skin condition had worsened. Then at age 14, I developed thyroid issues, which later was diagnosed as autoimmune thyroiditis. I have countless memories of doctors who were pessimistic about autoimmune illnesses, who had no answers, who told me that there were no cures. Filled with hopelessness and shame, somewhere along the way I disconnected from the body that I felt had betrayed me.
As I got older, I began to work with acupuncturists, naturopaths, and integrative doctors who, contrary to other doctors I'd worked with prior, did not feel as though my conditions were irreversible or incurable. I learned about the power of nutrition and other alternative therapies.
Long story short, I became more strict with my food and behavior, and this developed into an eating disorder. I tricked myself and those around me because I was able to explain away my behavior under the guise of it being "good" for me. That was until my "healthy" behavior made me sicker.
Taking responsibility: the turning point
I grew frustrated at my lack of progress despite my discipline—all that I had given up in the pursuit of "health." How had I gotten to a point of further hurting my body when I was surrounded by brilliant and supportive doctors and healers with a depth of knowledge and wisdom about getting better? Didn't they give me the answers? I grew even more angry at my body, feeling doubly betrayed. With some time, some great mentors, and a lot of self-reflection, I finally reached a point where I had to get honest with myself and own up to the choices I had made.
I realized that I was the obstacle—I had created the disconnect between my mind and my body. Real healing could not occur because I was not listening to my body and I was not in touch with what made me feel better. I was simply relishing the sense of control I was given by eliminating certain foods and having strict rituals and regimens. I had genuinely felt that each diet I went on or new rule I created was the magic bullet to cure all of my illnesses. I learned to push through exhaustion to exercise and to ignore the cues my body was giving me about what it really needed. Ultimately I was punishing my body instead of nourishing it.
The body wants to heal itself
I was getting in the way of my own healing because I was so angry and uncomfortable in my body that it had become easier to disconnect. I didn't want to have to be in it, listen to it, or sense it. I wanted to change it, but how could I if I didn't even know what I was feeling?
I truly believe in our ability to heal from autoimmune illness and that it requires a completely holistic approach—physical, mental, emotional, and spiritual, and that each cannot happen independently of the others. While there is no magical formula that works for everyone, I believe that the one key ingredient is being connected to your body. While I had the tools to begin to heal, I could not access them because I could not apply them to myself with awareness.
9 questions to help facilitate a dialogue with your body
As I rebuilt the connection between my mind and my body, I found the foods that actually nourished me, I learned to become more flexible, and I began to get in touch with not only physical sensations in my body but the accompanying emotions and behavior. I took my mental health as seriously as my physical health, and I found spirituality through yoga. As a result of this completely holistic approach, I have been able to reverse some of the progression of my autoimmune illnesses, as well as find a balance in my daily life. While what I am describing may seem overwhelming—a complete overhaul—remember that it doesn't all happen overnight. It takes a lot of time and patience, but learning to listen to your body is a great place to start.
A great place to start is simply checking in with yourself. Listening to your body includes not only physical sensations but also emotions and feelings. Here are some questions you can ask yourself:
Can I recognize when I am physically hungry?
Am I aware of the differences between physical and emotional hunger?
How does _____ make me feel when I eat it?
Do I listen to my body when it is tired?
Do I do anything to avoid being in my body?
What do certain emotions feel like in my body?
Do I overdo and overschedule to avoid being alone with my feelings?
Do I know what makes me happy?
Can I make choices that are the most nourishing for me?
Once you've checked in, here are some ways to get started on creating or maintaining a mind-body connection:
1. Establish a mind-body practice.
This may be through a body scan meditation or going for a run—it's important to find what works for you. The key is whether your practice is taking you in or out of your body. When strengthening our mind-body connection, be sure that your activity doesn't become a tool to escape your body. Yoga was the starting point for my reconnection, learning to bring awareness to all the sensations that I was experiencing in my body.
2. Understand your feelings.
Self-reflection can be uncomfortable, but it is integral to healing. I strongly believe in the importance of looking inward and identifying and understanding the emotions that we are experiencing. There is no right way to do this. You may find writing in a journal to work for you, or maybe you see a therapist every week.
Last but certainly not least, practice compassion every day with others and yourself. Remember that this is not always going to be easy, and some days will be harder than others. It's OK to feel angry, frustrated, sad, or to have a day when you just couldn't be in your body. When this happens, don't forget to be kind to yourself.