What's Wrong With Breast Cancer Awareness Month (From A Survivor)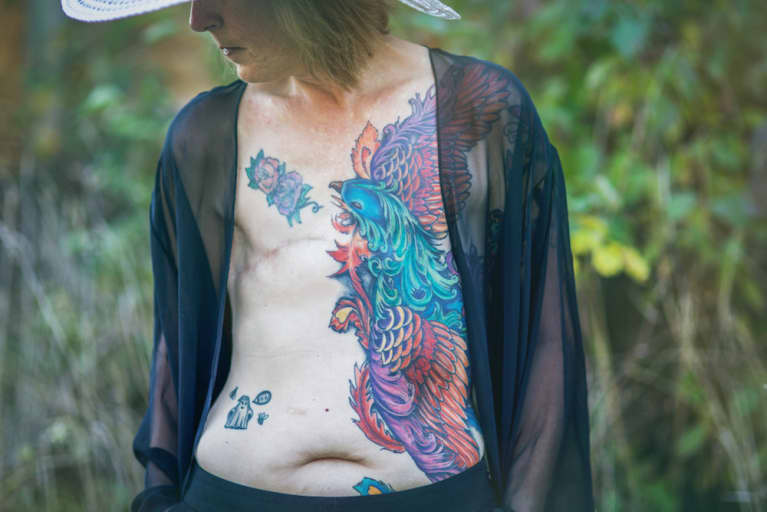 Our editors have independently chosen the products listed on this page. If you purchase something mentioned in this article, we may
earn a small commission
.
In case you missed the pink memo, October is Breast Cancer Awareness Month. This is always a conflicting time for me. Even before I was diagnosed with breast cancer, the pink frenzy of October sent me into a tailspin. While I will always be an advocate of raising awareness, the flurry of fashion, foodie, and fitness fetes all benefiting breast cancer started to feel a little overwhelming.
So when I was diagnosed in 2013, this internal conflict was brought forth in a new light. Here I was, a direct beneficiary of all of this heightened awareness and beyond grateful for that. What got me was the celebratory nature, though—it was a disconnect, but I didn't make much of it because I was in survival mode. Over the last few years, my connection to October has shifted. Last year I articulated "5 Ways to Mindfully Honor Breast Cancer Month," and this year my attitude continues to evolve.
How my "survivorship" has changed
Honestly, this year I'm annoyed and uncomfortable because it's everywhere, which I guess is the point. I keep trying to ignore and avoid it, but I've never been very good at ignoring or avoiding anything, especially now in my post-cancer world.
I've realized this is reconciling a nagging impulse to think the cancer is completely behind me with a pretty pink bow on it. But I know better.
I am embracing this unease and choosing to come to terms with some of the untouched, fearful, and sad sides of my journey that I simply haven't had the courage to face.
How I pay it forward in October
As we say in spiritual circles, what we resist persists. I know that with surrender comes grace and a new perspective to illuminate the path.
It starts by focusing on what I'm grateful for, like the opportunity to connect to so many amazing women I speak to who are newly diagnosed. As anyone who has dealt with cancer knows, the initial moment of diagnoses is extremely overwhelming, and I remember it being so helpful to speak to people that had been through it. So now I get to pay that forward, and I realize that it truly is a gift. In a time when everyone speaks about being part of a tribe, there is perhaps no tribe stronger than that of cancer survivors (breast or any kind). But it's a heartbreaking tribe because it comes with an acknowledgment that not everyone is fortunate enough to survive. And for these precious souls, their families, and their lost potential futures my heart aches, not just in October, but for all the days that this is happening.
So really, I guess this is what October means to me. It's about connection to so many people whose lives are touched by cancer whether directly or through a loved one. It's about grieving the many lives that are so tragically lost. It's about raising awareness and supporting causes that resonate at a personal level. It's about early detection and taking the steps to prioritize our health. And it's about survival and honoring the unbelievable journeys that are equal parts horrific, humbling, and meaningful for so many. And it's about arming ourselves with information.
To close, I'm leaving you with some of my tips and resources that I recommend for people who are newly diagnosed.
Resources for cancer patients (that I've found to be particularly helpful)
1. This post from fellow thriver (also diagnosed on Valentine's Day) and one of my favorite teachers, Kris Carr is full of relevant and tangible resources. If you or someone you know has been newly diagnosed, these tips will be a game-changer. Read them and share the love.
2. Top product and book picks for newly diagnosed products:
Back and Body Wedge: This was key for my surgery recovery and for my bedridden days.
Barefoot Dreams: These are the coziest socks, robes, and blankets ever and some of the best gifts I received from friends and family.
Splendid: Cute and cozy pajamas were a game-changer for me.
3. Spread the pink love: No one can question that breast cancer is perhaps the most well-branded of all cancers. But there are so many other people suffering from lesser-known forms of cancers that don't have the same marketing and branding clout. Here are just a few resources for specific cancers that I have personally been touched by through friends and family members that have passed.
At the end of the day, any type of "awareness month" is about stepping up and supporting those who need our support. If you know someone who has been or is currently being touched by cancer, reach out and let them know you are thinking of them. I promise, it means everything.
Editor's note: the powerful image used in conjunction with this piece depicts another brave survivor, it is not author Paige Davis.