4 Luxurious Flavored Waters To Help Undo Your Morning Coffee Habit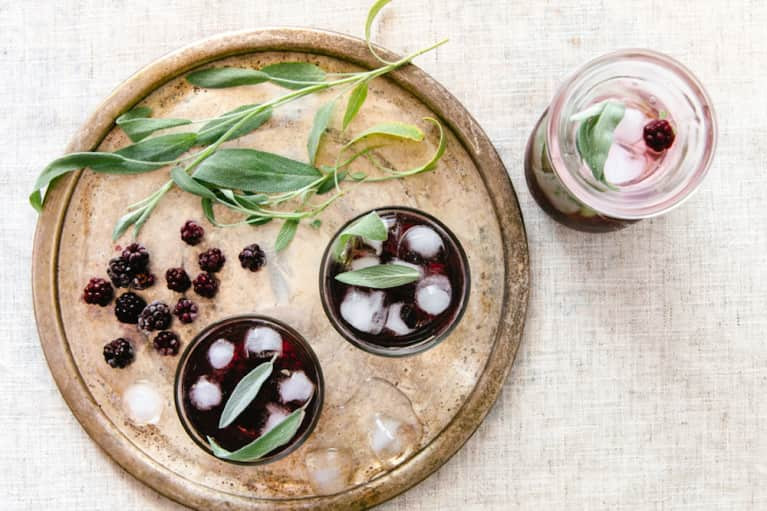 In our modern schedule, BUSY is the word. It's so easy to get caught up in our habits, doing things on autopilot. My big one was coffee. The first thing I did every single day once I dragged myself out of bed was get a coffee. It's such a widely adopted habit, and it's something I had done for so long I hadn't really ever considered the alternatives.
Here's the thing: Our bodies get dehydrated overnight. First thing in the morning is the best time to replenish that water and get the system going for the day. Water alone can get a bit mundane, and replacing coffee that's bursting with flavor is no mean feat. Infusing water is an amazingly easy and quick way to get a delicious hydration boost before your first coffee, plus you can squeeze in a few extra benefits, too.
Below are four of my favorite infused waters, their benefits, and how to make each one:
Aside from being delicious, strawberries offer a boost of vitamin C and a wealth of antioxidants that work against damaging free radicals and have been linked to reducing risks of heart disease and diabetes. Basil is known for its antibacterial properties, but it also complements the strawberries quite well.
Here's how: Simply slice up approximately 10 strawberries, clap two sprigs of basil between your hands (it releases oils and flavor), then add to a jug of water and leave in the fridge overnight.
Who doesn't love a mojito? Amp up your favorite cocktail for its health benefits.
Cucumbers have a magic ability to make water seem more refreshing, and adding a zesty boost of lime and mint make for a really great morning starter. All three can help freshen breath and aid digestion.
Here's how: You'll need to clap three sprigs of mint between your hands, slice up a quarter of a cucumber and add to a jug of water, squeeze in the juice of a lime and leave to infuse overnight. You can add the lime halves, too, if you want a more intense flavor.
A classic combination, mellow blackberries offer a nice dose of vitamin C to help with bone strength and antioxidants to fight against free radicals. Both the blackberries and the apples make this a sweet starter to the day.
Here's how: Squash 10 blackberries with the back of a spoon and slice two apples. Add to your jug of water and infuse overnight. You can add a touch of honey to sweeten to taste for a little something extra.
Honey is famous for its antibacterial properties, which is why it has been hailed as such good relief for a cold as well as its ability to coat the throat and suppress a cough.
It will give you that much-needed morning boost of energy, too, by providing simple sugars and hydration.
Ginger has been proven to be very effective against nausea and morning sickness, so if you often wake up feeling under the weather, this could be the perfect alternative to caffeine. Its anti-inflammatory properties can ease sore muscles, too, meaning it could be a great source of relief first thing.
Here's how: Simply slice up a thumb-size amount of ginger and add to a jug of water. Stir in 3 tablespoons of honey (or more to taste), and leave to infuse overnight.
You can't lose with these: They taste great, have excellent health benefits, and take so little prep time. Pro tip: Adding them to smaller travel-size bottles means you can take them out of the fridge and be on your way. What are your favorite flavor combos?