How To Find Purpose In An Empty Nest
Written by
Elissa Goodman
Elissa Goodman is a cleanse expert based in Los Angeles, California, certified in Integrative Nutrition through the American University of Complementary Medicine for Integrative Nutrition. She authored Cancer Hacks, and also holds a Bachelor's in Advertising and Marketing from Arizona State and a Bachelor's in Business from the University of Arizona.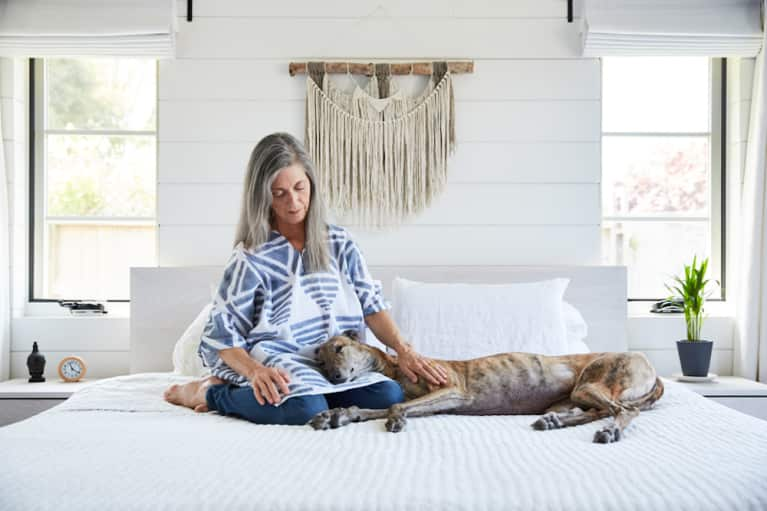 I recently dropped my youngest daughter off at college. It was an excruciating experience. I cried the whole way home, so much so that the woman on the plane next to me asked me who died. In a way, it felt like something had died—a large piece of my identity that had been dedicated to my children. I feared the need my daughters had always felt for me might wither away, and I would be left searching for a new self-definition.
If I was no longer a mother—in the all-consuming sense of the word—what was I? Who was I? What did this next chapter of my life hold?
I was officially an empty-nester, emphasis on the "empty."
That wise woman who sat beside me in seat 18B as I cried my eyes out quickly reminded me to be grateful. I had raised an intelligent, confident, independent child ready to spread her wings and fly. This was my ultimate achievement as a parent, so why did I feel so much loss?
I had a life outside of my children, I had a career path, a supportive partner, a busy schedule, yet, in the midst of all of this, I'd spent so many years in service to my children that having them both "fly the nest" left me feeling a little like I was on an awkward first date with myself.
Even though I preach that the most important relationship we'll ever have is the one that we have with ourselves, most parents will reject this as a selfish or impractical statement (as I did), but that does not make it any less true. "Parent" is an important role, but it is not the only role.
All of us have a purpose and to live a meaningful life is to find out what that purpose is. Having some passion tossed in with our purpose is icing on the cake.
Let's be very clear, there is a strong difference between passion and purpose. By definition, passion is a strong and barely controllable emotion. Most of us don't feel that way about much, and that's OK. Purpose has a gentler meaning; it can loosely be defined as an intention.
Now that my children were out of the house, I had to ask myself, what is my intention outside of being a mother and for the next phase of my life? My intention is to fully commit myself to my wellness practice, to spread my message of healing, and to reconnect and explore parts of myself that I had set aside when life was throwing a little too much at me. I intend to challenge myself on a personal growth level, to continue to dig deep to become a better person day by day (and that includes more of the mindfulness practices that I preach). I intend to nurture friendships and my relationship with my fiancé to the point where we talk about so much more than what the kids are doing!
In the months since exploring my intentions, much has happened. New opportunities have blossomed, I have traveled more, I have connected with more people, I have even opened myself up to the possibility of my career path taking a bit of a turn that explores my intuitive side.
Knowing that I have limitless intentions fostered a sense of purpose beyond caregiver. My daughters are excited about my independence. In a strange way, having them see me follow my intentions has increased their level of respect and appreciation for me. The move from the mother role I thought I needed has now developed into something far deeper, and the experience has made our relationships grow, not fade.
If you're an empty-nester, or that fateful day is looming on the horizon, I'd like to ask you the same question I asked myself. What is/are your intention(s)? See what comes up for you when you ask yourself these questions:
What am I good at?
What do I love?
What do I think the world needs more of?
Sometimes the answer has been on your mind and pops up immediately; sometimes it takes time; just know that the answers will come.
Maybe your intention is to get involved in your community; maybe your intention is to learn a second language, or to commit to charitable work. Not all of your intentions will be easy and that's OK! Sometimes we confuse our purpose as being the one thing that comes naturally to us, and that's simply not the case. Try one of these things; try all of them if they call to you, the most important thing is that you remain open to what arises.
Don't ever underestimate life's ability to surprise you for the good, and don't ever underestimate your ability to surprise yourself.
Of course, stillness is essential, but idleness is a mortal enemy of the empty-nester. I encourage you to find the thing that gets you out of bed in the morning. Be a good steward of this free time you've been given. Now is the time to do it. This is a period of exploration. Be patient with yourself, and don't forget to have fun. You've earned it.