3 Hacks That Make Running Your First Race Totally Doable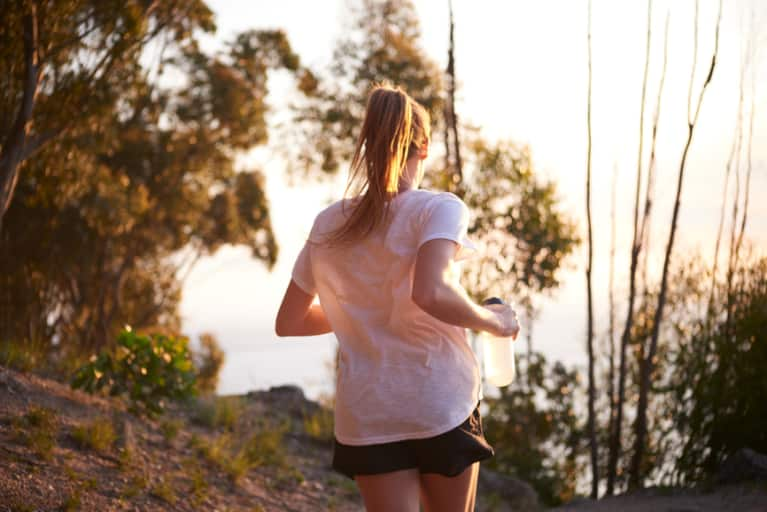 Just in case you haven't noticed the infiltration of pumpkin everything, Thanksgiving is officially around the corner. Most people associate this holiday with the chance to spend quality time with family and friends, enjoy (too much) good food, and laze around on the couch in a tryptophan-induced coma.
However, a growing number of people are forging a healthier Thanksgiving tradition—one that breaks the mold and helps offset that second helping of stuffing.
In 2011, Thanksgiving officially replaced the Fourth of July as the most popular race date of the year. "Turkey Trots"—primarily 5k and 10k distance races—are plentiful. If you're new to the race scene, or you're just looking for a more active way to celebrate the holiday, these events are for you.
Still, pinning on a race number and signing up for an event is a scary proposition for many runners—especially first-time racers. Here are three strategies for overcoming your fear of running a race:
1. Realize that everyone thinks they're an impostor.
As an endurance coach, I've helped hundreds of athletes cross their first finish lines, and here's what I've realized: Everyone thinks they're are an impostor. I constantly hear things like, "I'm not fast enough" or "I don't do races" or "I'm not a runner."
Here's the deal. If you run—no matter how slow or with how many walk breaks you take—you are a runner. Period. Many beginners assume that because there is a starting line, it's a very competitive atmosphere—but that's simply not true. A very small minority of the runners in your typical 5k or 10k field are concerned with time or placing. Most are just there to have fun, socialize, and work off a bit of that sweet potato pie. And if you're worried about pacing, I can promise you that by showing up, you are lapping everyone sitting at home on their couch.
2. Establish a routine and make race day a celebration.
Use the weeks leading up to the race to dial in things like pace, shoe selection, pre-race meal, and what kind of warmup best suits you. In other words, establish a routine. That way, the race itself will feel like a regular training run with fans, food and drink stations, and a few hundred of your new friends. In essence, a race is just a catered celebration of the training you've already done. Not so scary when you think of it that way, is it?!
Need advice on what that training should look like? Try downloading a free 5k or 10k training plan. There are options for first-time runners to advanced, and everyone in between.
Additionally, experiment with different breakfasts in the weeks leading up to your race. Low-fiber, carbohydrate-rich foods tend to be the best options—toast with jam and a little nut butter, oatmeal with banana, or a whole grain waffle are a few popular choices. Consider meal timing as well. Most runners find that one to two hours pre-race is the optimal window to allow time for digestion.
Last, develop a short warm-up routine. For example, do five to ten minutes of fast-paced walking or easy running, then pick up the speed.
Thanksgiving is about togetherness, and there are few experiences more bonding than crossing a finish line together. If you're a first-time racer, find someone who has done a running event before or a fellow first-timer who is eager to pin on their first race bib. Even if you don't stay together during the race itself, having someone with you in case pre-race nerves strike can be very comforting.
Need a race to enter? A quick Google search for "Thanksgiving Day races" or "Turkey Trot" will likely turn up several events in your area. Your local running shop, fellow runners, and the local newspaper are great resources as well. Chances are, you won't have to look very hard! In fact, you can find a searchable list of 1,458 Thanksgiving-themed races right here.
Then, sign up right away and encourage your running mates to do the same. This one simple but actionable step is important because it will help mentally shift the race from something you "might do" to something you will do. Before you know it, you'll be giving thanks for a new Thanksgiving Day tradition.