You'll Want To Use This Chakra-Balancing Essential Oil Kit Every Damn Day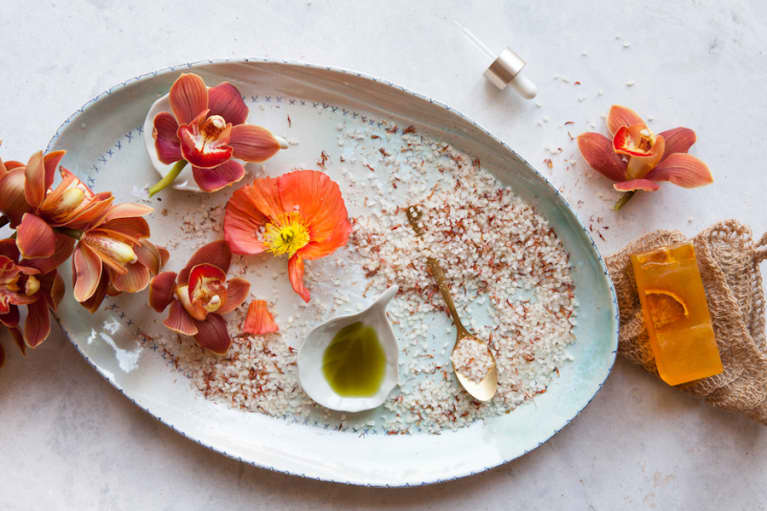 Certain things just go together: peanut butter and chocolate, tomatoes and basil, autumn and soup. The symbiotic relationship between special pairings is what makes for unforgettable meals, swoon-worthy couples, and successful partnerships. This certainly holds true for essential oils and chakras.
We are social beings in a universe layered in interconnectedness, so it makes sense that when some things are paired together they are just fundamentally better, both for each other and the wider world.
How to make the ultimate chakra-balancing essential oil set
This set of chakra-balancing oils is perfect for anyone who needs a bit of balance in an area (or two or seven) of his or her life or is just interested in achieving optimal health and well-being. Here's what you'll need. (I personally love storing all this in a lovely box so everything is kept together safely and in a dark place.) Ingredients
Seven 0.33-ounce bottles, preferably made of dark glass
Essential oils that correspond to the different chakras (more on that below!)
A base oil or two to dilute the essential oils
Labels of some sort
A notebook to write down all that you have concocted
Preparation
1. Prepare your base. I usually use sweet almond and jojoba oil combined. The base oil goes into the little bottles first, filling them up most of the way but leaving enough room for the essential oils.
2. For a 0.33-ounce bottle, add 4 to 6 drops of essential oil—a little goes a long way. Adding the essential oils to the base oil is the fun part! Here are my go-to combinations, but feel free to get creative and use your intuition.
Root Chakra: 3 drops Frankincense and 3 drops Cedarwood
Sacral Chakra: 2 drops each Jasmine, Bergamot, and Sandalwood
Solar Plexus Chakra: 2 drops each Frankincense, Rosemary, and Basil
Heart Chakra: 2 drops each Rose, Neroli, and Geranium
Throat Chakra: 2 drops each Jasmine, Clary Sage, and Sandalwood
Third Eye Chakra: 5 drops of Lavender
Crown Chakra: 2 drops each of Frankincense, Ylang-Ylang, and Clary Sage
3. After adding the essential oils, cap each bottle right away and roll it between your hands to mix, preferably while reciting positive affirmations such as, "This will serve my root chakra's highest purpose" or, "Thank you for increasing the health of my solar plexus" and so on. Whatever feels natural to you is perfect, as long as it is rooted in positive energy.
Great times to use these oils include right before meditation, yoga, or prayer time, and they can be used one at a time or all at once. Simply rub a few drops in a clockwise circle onto the skin of the corresponding chakra.
This chakra set also makes for a perfect gift for anyone in your life who could use a bit more zen. Simply place some paper or other festive material in the box to keep the glass bottles safe, and maybe pair it with some instructions for use depending on who you're gifting it to. Healing crystals or candles that correspond to each chakra are also lovely additions. The possibilities are vast when you're putting together radiant health, good energy, and kind thoughts.