The Healing Ingredient That Will Take Your Roasted Brussels Sprouts To The Next Level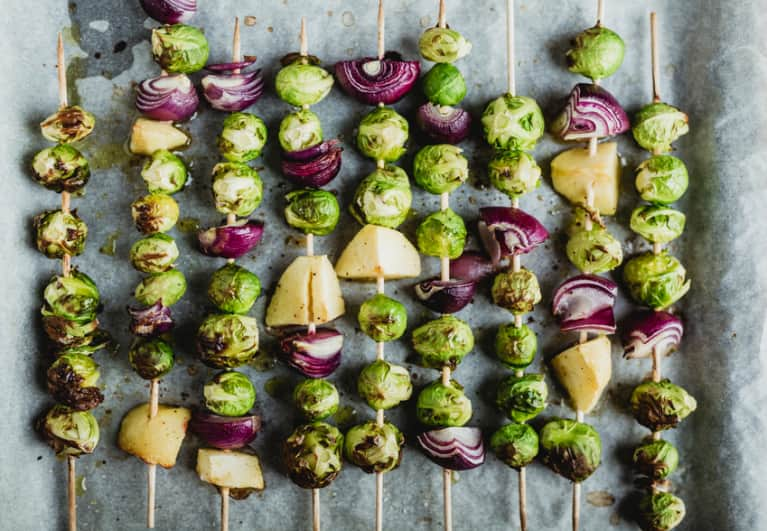 Our editors have independently chosen the products listed on this page. If you purchase something mentioned in this article, we may
earn a small commission
.
The fact that I sometimes find a bunch of withered Brussels sprouts in the far, far corner of my fridge says a lot about my relationship to these miniature cabbages. It's not that I don't enjoy Brussels sprouts once they're cooked and on my plate. They just don't excite me, so they rarely find their way into my pots and pans.
But food is about learning and having an open mind. One day, a simple idea broke the cycle and changed my perspective. In the end, it wasn't the poor vegetable's fault; my preparation just had to evolve.
Roasting Brussels sprouts in a ginger- and lemon-infused oil is just what I've been waiting for. The sharpness of the root and the brightness of the citrus tame the overpowering flavor of this veggie's green leaves and take it in a fresh and completely new direction.
This recipe is as easy to prepare as it is to move a bag of Brussels sprouts from the back of the fridge to the chopping block. Once the outer leaves are removed, the mini cabbages are generously coated in the flavored oil then crisped in the oven for half an hour. Although this dish works well on its own for lunch, it's also a confident partner for poultry or pork.
These Brussels sprouts would be lovely on the Thanksgiving or Christmas table, but don't wait until the holidays to make them—they're equally at home in a casual meal.
For more delicious Thanksgiving recipes, click here.
Roasted Brussels Sprouts with Ginger + Lemon
1⅓ pounds trimmed Brussels sprouts, cut in half
⅓ cup olive oil
2 tablespoons freshly grated lemon zest
2 tablespoons freshly squeezed lemon juice
1½ tablespoons freshly grated ginger
1 teaspoon granulated sugar
Flaky sea salt
Preparation
1. Preheat the oven to 425°F. Spread the Brussels sprouts in a baking dish.
2. Whisk together the olive oil, lemon zest, lemon juice, and ginger. Drizzle over the Brussels sprouts and use your hands to gently toss and coat the Brussels sprouts.
3. Sprinkle with the sugar, season generously with salt, and roast for 10 minutes. Stir the Brussels sprouts then continue roasting, stirring every 5 minutes to prevent burning, for about 15 to 20 minutes or until golden brown, crisp, and al dente.
4. Serve as a main for lunch or as a side dish for roasts.