How Sensory Deprivation Makes Yoga An (Even) Better Experience
mbg Contributor
By Leigh Weingus
mbg Contributor
Leigh Weingus is a New York City based freelance journalist writing about health, wellness, feminism, entertainment, personal finance, and more. She received her bachelor's in English and Communication from the University of California, Davis.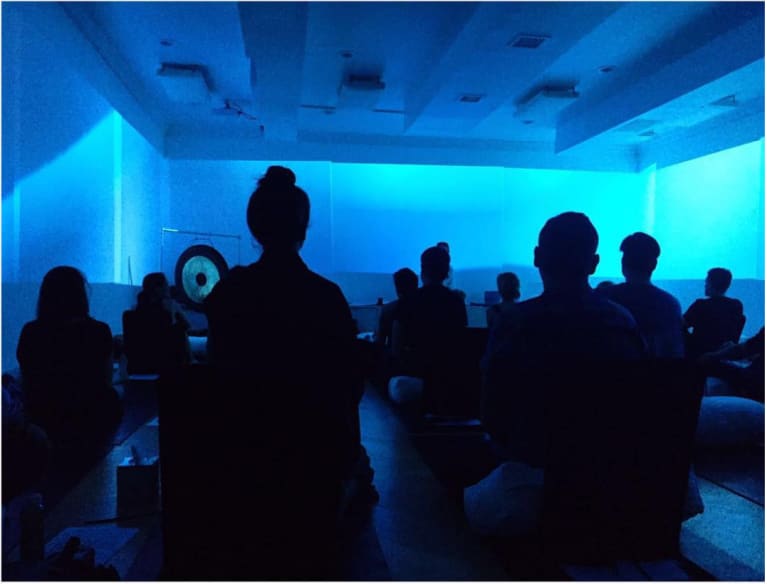 The popularity of yoga has been on the rapid rise over the past few years. And with so many people interested in getting their downward-facing dog on regularly, yoga practitioners haven't been afraid to get creative when it comes to experimenting with different styles.
You've probably heard of aerial yoga, AcroYoga, hot yoga, and Stand-Up Paddleboard yoga. But have you heard of doing yoga with a blindfold on? Yep, feeling your way through a yoga class is very in right now. Let's talk about why.
While doing yoga without sight isn't ubiquitous just yet, this trend has popped up quite a bit recently. Classes featuring a blindfold have been featured at Wanderlust festivals and studios all over the world offer blindfold classes—even if they're not everywhere. Blindfold yoga classes exist on YouTube, and a popular new studio in New York City, WOOM Center, gives you the option to wear an eye mask for the first half of class.
The concept of wearing a blindfold while practicing yoga is both interesting and odd. So why are people into it?
There are two main reasons. First of all, it takes the self-consciousness out of yoga. Who cares if your poses aren't perfect if no one can see you? If your body is telling you to take child's pose while the person next to you is taking crow pose, you'll just take it—because that competitive spirit is gone. It's a yoga class that gives you the benefits of community without any of the judgment.
Another huge benefit of a blindfold is that without sight, all of your other senses will be activated.
"Blindfolded yoga is beneficial for students who want to challenge themselves and go on an inner journey for deeper truths. Our eyesight is the most relied upon of the senses, so once that part is eliminated your other senses have to heighten to stabilize you," L.A.-based yoga teacher Rina Jakubowicz tells mbg. "You are no longer in your comfort zone, so your inner dialogue, ego, and judgments will become louder when placed in this 'darkness.' It's an empowering ride that I recommend for all curious and brave yogis who want to learn more about themselves."
What being blindfolded during a yoga class is actually like.
When I decided to check out WOOM Center, a new yoga and meditation studio that promises to "raise your vibration," I had no idea what I was in for.
What I was in for was a blindfold—at least for the first half of class. I was also in for amazing smells, sounds, and patterns and shapes projected on the studio walls. (In case you're wondering, yes, I absolutely recommend you check it out.)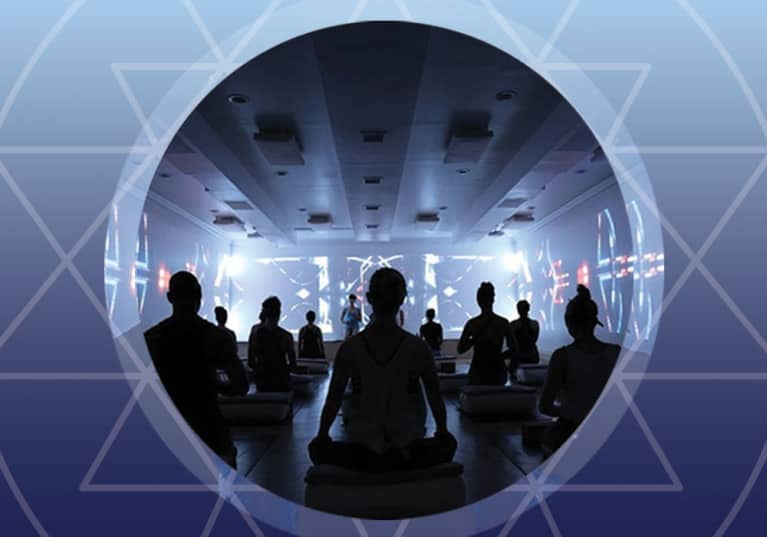 But back to the blindfold. The backbends, hip openers, and sweaty sun salutations were tough and all, but for me, the most challenging part of class was not being able to see.
While I'm no stranger to closing my eyes during yoga, I've always known I had the option of opening them—and yes, sometimes I take advantage of that option.
But in this case, opening my eyes would just lead to more blackness. Knowing this gave me quite a bit of anxiety and made me feel more restless than usual. But the experience was also a really valuable one. Because suddenly, the essential oils I could barely smell upon walking in became very potent. I could hear everything. I became so much more aware of my body, the feeling of the mat underneath me, how my hair felt on my head, and the steady rhythm of my heart beating in my chest.
"We figured that, similar to a well-balanced diet, if we fed all of our senses with the right nutrients, even if only for short increments every day, we would be able to achieve personal transformation," says Elian Zach, who founded WOOM with her partner David Shemesh and friend Francesca Bove (a favorite at New York's Laughing Lotus).
While I'm not sure whether I've achieved personal transformation just yet, everything I felt, smelled, and heard while blindfolded tells me that the founders of WOOM are on to something.
What are you waiting for? Find an eye mask and see how amazing your Warrior II feels.