Everything You Need To Know To Have The Best Fall Hike Ever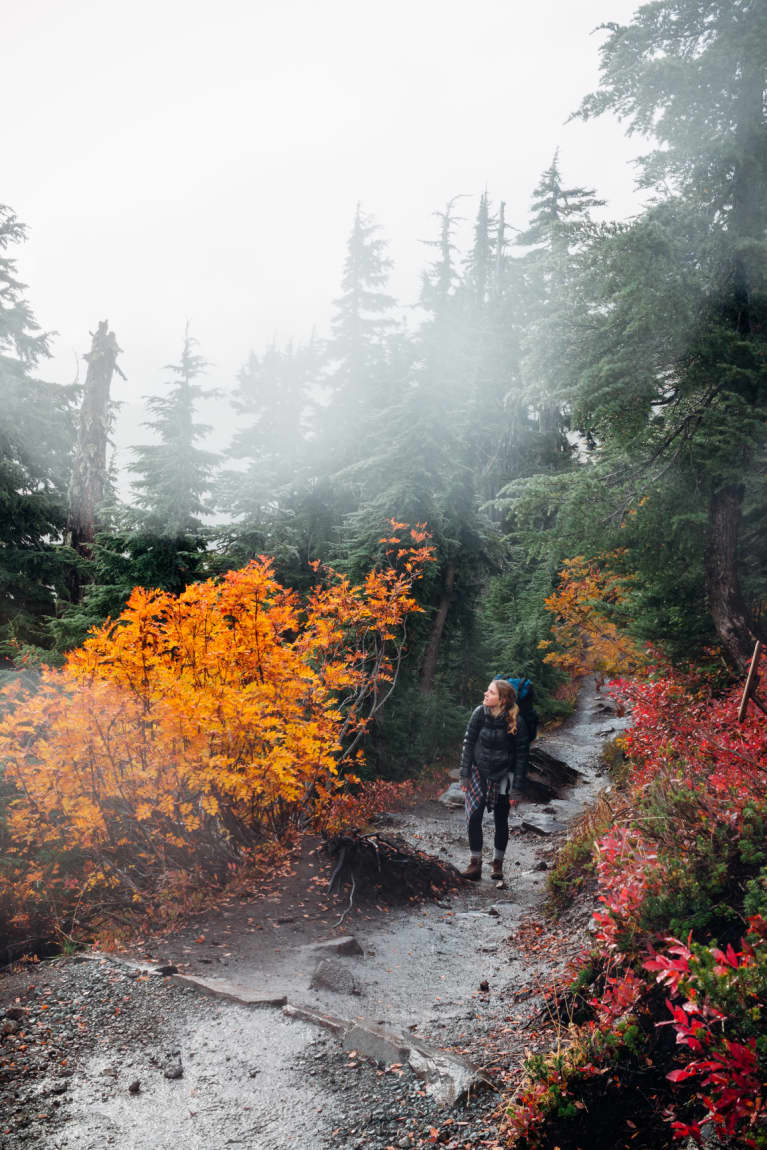 Our editors have independently chosen the products listed on this page. If you purchase something mentioned in this article, we may
earn a small commission
.
Exercising outside is almost always a good idea, but fall hiking is particularly invigorating.
Think crisp air, popping colors, bright blue skies, and complete silence, except for the sound of leaves crunching under your feet. With conditions like that, hiking goes from feeling like a "workout" to a mindful, calming experience.
"Fall means perfecting hiking weather," wildlife biologist and long-distance hiker Sage Clegg tells mbg. "The cool air of fall is so nice to walk in, especially for long climbs that might be sweat-fests in the summer."
But without the right information, your serene fall hike can get unpleasant real fast. Which is why we chatted with women who hike great distances and climb mountains to get the inside scoop on how to have the best fall hike ever.
1. Keep the "10 essentials" in mind.
Even if you're going for a hike that's on the shorter side, Seattle-based hiker Analisa Price tells mbg that showing up with the right supplies is key.
"In the fall, the 10 essentials (navigation, sun protection, insulation, flashlight/headlamp, first aid kit, fire starter, knife, extra food, water, and emergency blanket or tarp for emergency shelter) become even more important," she explains. "There's less daylight, less predictable weather, and fewer people out on the trail, so it's important to be prepared in case the weather turns or injuries occur and your day hike turns into an overnight trip."
2. When it comes to hiking, Instagram is your best friend.
From finding new places to hike to scoping out the actual condition of the hike, don't be afraid to do your Insta-research.
"I've found a lot of my hikes through Instagram," Analisa continues. "There are tons of websites, forums, and online communities based on specific sports or intensity levels, but all of these groups are active on Instagram. If I'm headed to a new area, I like to follow official state tourism accounts since they reliably geo-tag their posts. If something catches my eye, I'll start researching the particular trail, and I'll click into the location tag, which helps me see the most recent conditions. It's even more useful in the fall when I want to hit a trail when the fall foliage is at its peak."
3. Research elevation and weather.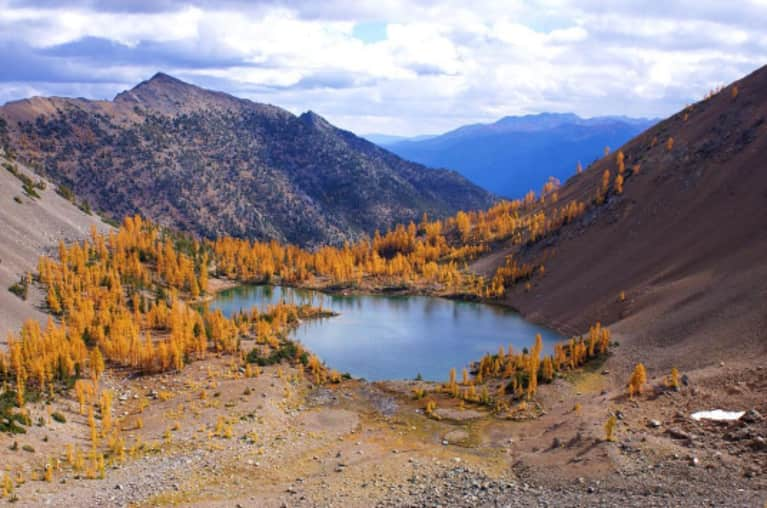 Elevation and wind can make a huge difference in the quality and intensity of your hike, so make sure you know what you're in for before hitting the trail.
"It's important to research the weather before your trip. Here in Seattle it's still in the 60s, but our mountains are starting to get snow. Google weather and weather.com have come a long way in terms of being able to search state and national parks and national forests, but it doesn't factor in elevation and wind chill," Analisa notes. "You'll lose roughly three to five degrees per 1,000 feet of elevation gain, so on a moderate day hike where you gain 2,000 feet on the trail, be prepared for the weather to be 10 degrees colder at the top. On a longer, steeper hike, the difference could be 20 degrees. A windy spot above treeline (where trees stop being able to grow) can also feel 10 to 15 degrees colder than a more covered area."
4. Take in every piece of nature around you.
Whether it's a small animal or a gorgeous flower, spend a few moments observing and appreciating every piece of nature you encounter. This is an especially mystical exercise in the fall, when everything is changing so dramatically.
"Wading though a blanket of bright leaves, rounding a bend to see a canyon blazing with yellow aspen, or looking out from a summit over a patchwork of color filled hillsides is magical." Sage tells mbg. "Mushrooms start to pop out with the first rains, apples cling to branches, rosehips dot the river bank brambles."
Want to jazz up your fall outdoors look? Check out our picks for fall hiking gear.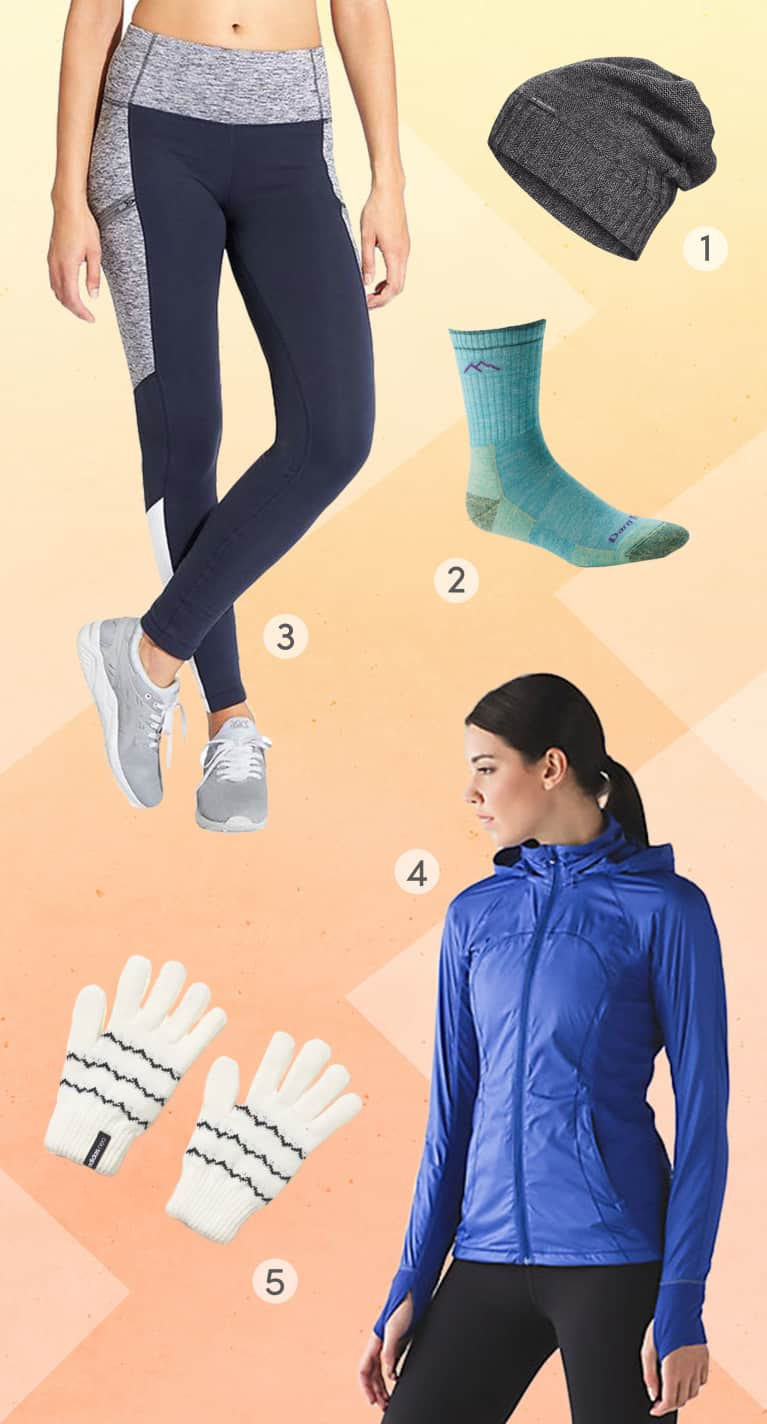 Featured above:
1. North Face Women's Classic Wool Beanie, to keep your ears warm while you're hiking, running, or walking to work.
2. REI Damn Tough Women's Hiking Socks, because they're colorful, warm, and will keep your feet blister-free.
3. Athleta Colorblock Powerlift Tight 2.0, because who doesn't need a warm pair of leggings with fun details?
4. Lululemon Rush Hour Jacket, because you need a colorful, breathable fabric that will still keep you warm.
5. Women's Adidas Neo Gloves, because hiking isn't any fun when your hands are freezing cold—and glove designs don't get more fun than this.