Why Sadie Lincoln Exercises For 10 Minutes Every Day — No Matter What
Written by
Leigh Weingus
Leigh Weingus is a New York City based freelance journalist writing about health, wellness, feminism, entertainment, personal finance, and more. She received her bachelor's in English and Communication from the University of California, Davis.
Our editors have independently chosen the products listed on this page. If you purchase something mentioned in this article, we may
earn a small commission
.
To put it lightly, Sadie Lincoln has a lot going on. The founder of barre3 fitness, which now has over 90 studios around the globe, is also a mom, author, and the editor-in-chief of b3 Magazine.
While movement is part of her job description—after all, it's hard to be a fitness instructor and not exercise—when we approached Sadie about her exercise routine and how she actually makes it happen, we were impressed.
"I exercise every day, but sometimes it's just for 10 minutes," she told mbg. "On days when I'm not in a studio class, I fire up barre3 Online and start with just 10 minutes. If that's all I have energy and time for, that's OK. If I have time for more, I add on more until I feel energized, worked, and ready to take on my next task at hand. When possible, I make it in for a full barre3 studio experience. Most weeks, two or three times a week is doable."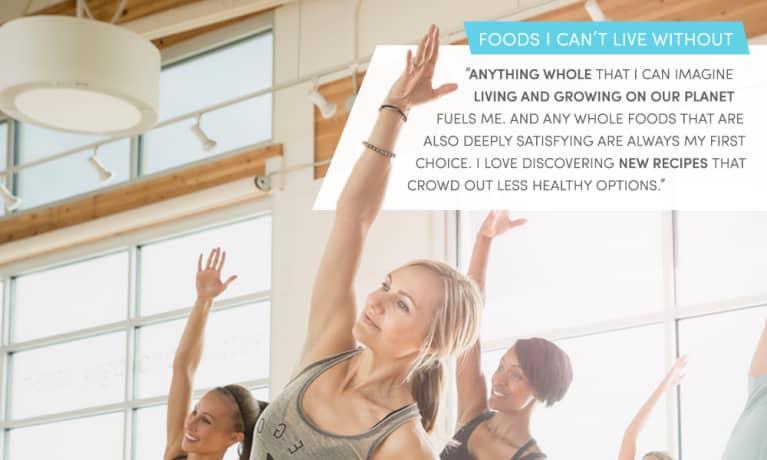 If you ask us, it's inspiring that even on her busiest days, Sadie finds at least 10 minutes to move. And on most evenings, she takes long, mindful walks (she assured us that they're not "power walks") with her dogs in her neighborhood in Portland, Oregon.
Beyond exercising to stay healthy and fit, these are the reasons why Sadie chooses to move every day.
Mindful movement as a coping mechanism
Mindful movement empowers me to cope with all areas of my life. The time I spend practicing barre3 gives me greater awareness about how I possess all the tools I need to cope with stress, manage conflict, make decisions, and show up for other people in a way that is aligned with my values.
"I exercise so I can do everything else better."
In class, we talk about the power of breathing through chaos in times of stress (like when our legs are shaking and burning during bridge lifts!). Learning how to observe and honor challenge and stress in my body helps me do the same thing in my life. In times of chaos, like before a stressful presentation, I tap into this same principle of being self-aware of the stress in my life. Just like in class, I breathe big and remind myself that I can get through it.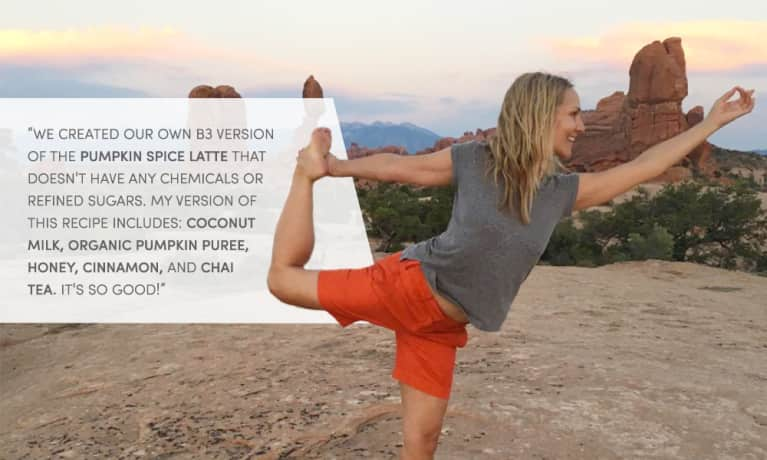 I exercise so I can do everything else better. I used to view exercise as a means to get toned and lose weight. While exercise does burn calories and build muscle, what I've learned is that lasting results have nothing to do with the exercise itself.
Instead, I think about what exercise is teaching me when I'm not exercising. I notice this all day long. I notice that I am sitting taller at my desk. I notice that I can scale a mountain with ease during a hike. I notice that I sleep more soundly. I notice that I have sustained energy throughout the day. I notice that I feel good in my own skin.
Of course, shifting my focus away from the physical results of exercise isn't always easy. I still have to remind myself that 10 minutes of exercise is just as good as 60 minutes of exercise if it makes me feel better afterward.
Movement to manage aches and pains
Life happens, and it's totally OK and human to have aches and pains. We are all conditioned to want to ignore pain because we see it as a weakness. I love it when I witness clients realizing that injury is a lesson and a way to develop greater body awareness and results! This principle applies to life. For example, checking in with your body after sitting for long periods of time is important. How does your lower back feel? How are your energy levels? If your back is aching and you're exhausted, your body is probably sending you a signal that it's time to move.
What's in Sadie's gym bag: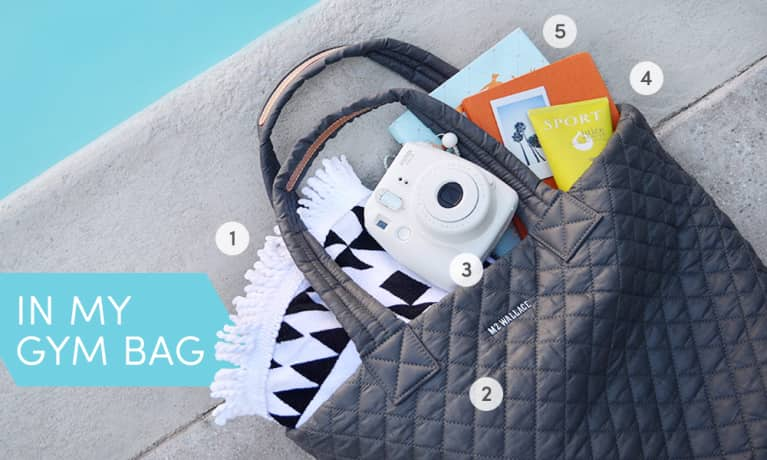 Feature above:
1. Evergreen Sailor Stripe Beach Towel, available at Target
2. MZ Wallace Medium Metro Tote, available at MZ Wallace
3. Fujifilm Instatax Mini 8 Instant Camera, available on Amazon
4. Juice Beauty SPF 30 Sport Moisturizer, available on Amazon
5. Moleskin notebook, available at Moleskin