The Most Common Skin Problem In Children + How To Treat It Naturally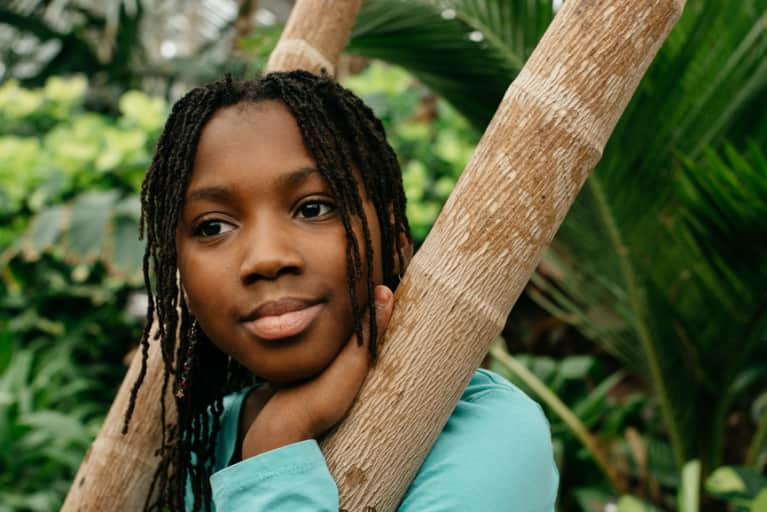 According to the American Academy of Pediatrics, eczema is now the most common skin problem treated by pediatric dermatologists. About 65 percent of patients develop symptoms before age 1, and about 90 percent of them develop symptoms before age 5. As the founder of a natural and organic skin care line, I've also noticed increasing concern about the condition from customers over the last 15 years or so.
So why has eczema become such a common problem? The skin condition is actually a symptom of our increasingly toxic environments. Eczema presents itself as classic dermatitis, a generic term used for skin irritation, but, in fact, many see it is an autoimmune disease—a sign of an immune system in overdrive. As babies' systems are still developing, it makes sense that they would be more affected by eczema.
Typically, dermatologists prescribe topical steroids to treat eczema since it's an immediate solution that puts parents at ease. But eczema is a chronic issue, and topical steroids and cortisol are temporary fixes. Not only that, they can damage and thin the skin permanently with repeated long-term use.
Here are my recommendations to get and keep eczema under control the natural way:
1. Limit your toxic load by doing a whole-house clean up.
Go through your personal care products and run them through the EWG database. You may be surprised at what you find. If they don't make the cut, throw them out. One thing to keep in mind is that the database only evaluates ingredients that companies list on their labels. However, companies can choose not to disclose certain ingredients and by-products, so sometimes you have to play detective and ask them to be fully transparent.
Take a good look at your sheets, blankets, towels, and any other fabrics that come into close contact with sensitive skin. Most fabrics are finished with formaldehyde and, if printed, possibly lead-based inks. It is best to switch to unbleached and unprinted bedding and towels. (I'm a big fan of natural linen, which looks chic undyed and as is—no ironing required!)
If you buy food that comes in a package, there's a chance it's loaded with fillers, thickeners, and preservatives. These are ingredients you and your child do not need to be ingesting on a regular basis. Being a parent is a busy job for sure, but throwing some broccoli in a pot with some water to steam and then blending it is really all you need to do to ensure that your baby is eating healthy.
4. Moisturize, moisturize, moisturize.
Do not dry out your child's skin with harsh soaps or cleansers that have sulfates. I call these "greenwashing products" since they can contain unlisted contaminants. Instead, apply a rich natural moisturizing cream in layers throughout the day. Layering your oils, lotions, and creams will seal in natural oils and help the skin's protective barrier do its job.
5. Opt for transparent, natural skin care products.
Look for brands that do their own manufacturing. Many cosmetic companies use private-label manufacturers, or co-packers, so they do not have as much control over the ingredients or the manufacturing practices.
Remember that if a product contains water or aloe vera, it needs a preservative to keep bacteria from growing. Skip over products that have "fragrance" listed on the label, as they can contain hundreds of separate ingredients, many of which can be synthetic or have safety issues.
Related reads: