5 Plants To Grow Now & Drink Later In A Tonic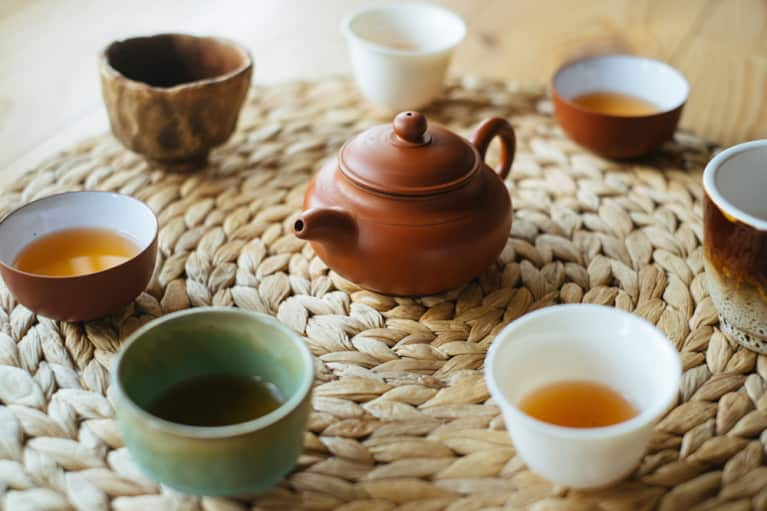 Long before beauty counters, makeovers, and fluorescent lights, magis concocted magical, potent recipes from a variety of local sources. Plains Indians used tipi ash, Dutch New Yorkers used goat milk, aboriginal Australians used kangaroo placenta. There were no double-blinded, placebo-controlled studies enrolling thousands of university patients but rather spoken tradition, passed down, grandmother to grandmother over hundreds of years. With the advent of penicillin and "modern science," we've largely abandoned indigenous tradition, opting instead for stainless-steel countertops, Erlenmeyer flasks, and the endorsement of the FDA.
My own story begins as a dermatologist on this traditional route — Northwestern Medical School then University of California for a residency in cutaneous medicine (that's skin). I opened my own practice in 2007 in my hometown, New York City. Back then, patients sought answers in a pharmaceutical form. I gave clindamycin for pimples and topical steroids for rashes of all kinds. Over the last few years, there's been a surge of interest in more organic medicine. As a Western society, we've turned to more holistic sources for answers to common skin problems like acne and eczema. Staying true to my patient base meant going on this journey as well, so the research into plant-based medicine began.
Around the same time I happened upon a piece of property where I could grow my own medicinals. Each month, I'd find organics that would grow in our greenhouse that season. I'd cross-reference these plants with research found in both Western and Eastern traditions. Then came the experimentation part: first myself, then friends, and finally patients looking for a new perspective. Here are our top five Prana Farms medicinals for this year's growing season:
There's already lots of buzz around this one, and it's supposedly "easy" to grow in an urban window box, so we tried it out. Hindi culture calls it "Mother Medicine of Nature." On the Western side, there's decent data surrounding its antioxidant potential to help fine lines and wrinkles; however, we found its activity against P. acnes (the bacteria responsible for acne) to be most compelling. Low irritation potential and fast-acting topical use made this an all-around favorite among our test group.
This summer brought its fair share of sunburns, and no botanical performed more admirably than bacopa monnieri. This miraculous plant, ground into a thin paste with the addition of only water, erased the pain of sunburns within six hours for all but one of our guests who tried it. Bacopa is well-known among the Nepalese who reside in the Western Terai forest. It is commonly used there for memory and liver health, but we've found its wound-healing properties extraordinary. Part antioxidant and part antimicrobial, this belifourous plant won us all over at the farm.
It's not just for pad thai anymore. We first tried this out as a poison ivy remedy. It didn't work. We all got itchier and more red. But before we gave up on this ubiquitous gem, hailed by many an indigenous population as an anti-parasitic agent, we gave it a go as a mosquito repellent and were pleasantly surprised. We blended it down in a mineral oil base for body use. All of our participants rated this "better than naked," and half hailed it superior to DEET (that chemical stuff you find at the drugstore).
4. Hen of the Woods (Grifola frondosa)
OK, we cheated. This mushroom was actually found just outside of the greenhouse, on a nearby decaying firewood log, but we had to include it here because it's easy to grow and a winner in both Eastern and Western literature. Japanese herbalists use it for boosting immune system function, specifically in patients suffering from breast cancer. We used it for patients suffering from eczema. We crushed the stems in our favorite ceramide-based moisturizer for one week of twice-daily applications with clearing results.
This plant grew exceptionally well in our aquaponics bog at the back of the greenhouse this summer. Ancient Arabic culture boiled the powdered root of this plant as both an aphrodisiac and intoxicant, but Ayurvedic medicine really expanded its role to treat a host of ailments ranging from hyperactive thyroid to insomnia. We crushed both leaves and roots to steep a tea over 24 hours. The resultant tonic was reminiscent of black licorice but made most of us more sleepy than amorous. The most interesting Western data for ashwagandha surrounds its anti-tumor effects, and we've recently begun to offer the tea in our practice as an adjunctive, holistic cancer therapy.