What Healthy Food Blogger Addie Martanovic Eats In A Day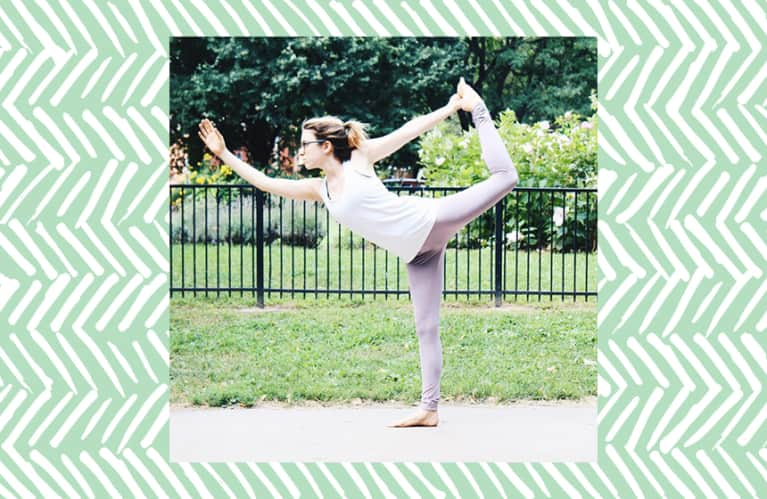 As a student in Chicago, I'm constantly trying to find balance between work and prioritizing my health and wellness, first and foremost.
I currently run a food blog, Chickpea in the City, intern at Simple Mills (a local gluten-free baking company), and spend my weekdays commuting to and from classes.
But between it all, I've found that fitting in time for healthy food and a daily yoga or Spin class is what helps to keep going! When I'm not Snapchatting on my way to another group class or sipping kombucha, you can most certainly find me standing on a chair in my living room taking photos for my next Instagram.
What I eat every day can change based on what workout I'm doing, how many classes I have, or what I've prepped in advance.
I always make sure to get my breakfast in within a half hour of waking up. I set a few alarms each morning so I have at least 20 to 30 minutes of mindfulness.
Nine times out of ten I prefer something on the sweeter side like a bowl of overnight oatmeal soaked in almond milk and chia seeds, topped with berries, a banana, and either Paleo granola or cashew butter.
At this point in the day, I'm either heading out of my first class of the morning or I'm sitting at my desk at work. I'll often grab a handful of almond flour crackers and hummus (if I'm at work), or I'll make a smoothie.
Today I grabbed one from my favorite smoothie spot in the city with almond butter, banana, kale, and almond milk.
I try to keep my lunches plant-heavy by either mixing a huge bowl of roasted veggies and tempeh with hummus and tahini, prepping a veggie sandwich, or opting for a heartier option like my favorite turkey meatballs over zucchini noodles. I added in some roasted broccoli, too, for more flavor!
By now I'm out of class and work, ready to take on my go-to gym Studio Three for some Spinning or yoga. I always make sure to pack a snack I've made or a nut-and-date-based protein bar.
This time it's a slice of homemade pumpkin chocolate chip bread that's gluten- and dairy-free.
After the two-hour combination of a workout and commute, I'm ready to devour my kitchen. I like big salad bowls because they're the easiest way to eat quick and healthy when I'm busy running across the city and don't have much time to create a gourmet meal.
I prefer plant-based proteins like chickpeas and quinoa, but I love adding local and organic chicken in when I can, too!