Is "Therapeutic Air" The Next Big Wellness Trend?
mbg Contributor
By Cyrena Lee
mbg Contributor
Cyrena Lee is a freelance writer based in NYC and Taipei. She has a degree in Anthropology from Barnard College.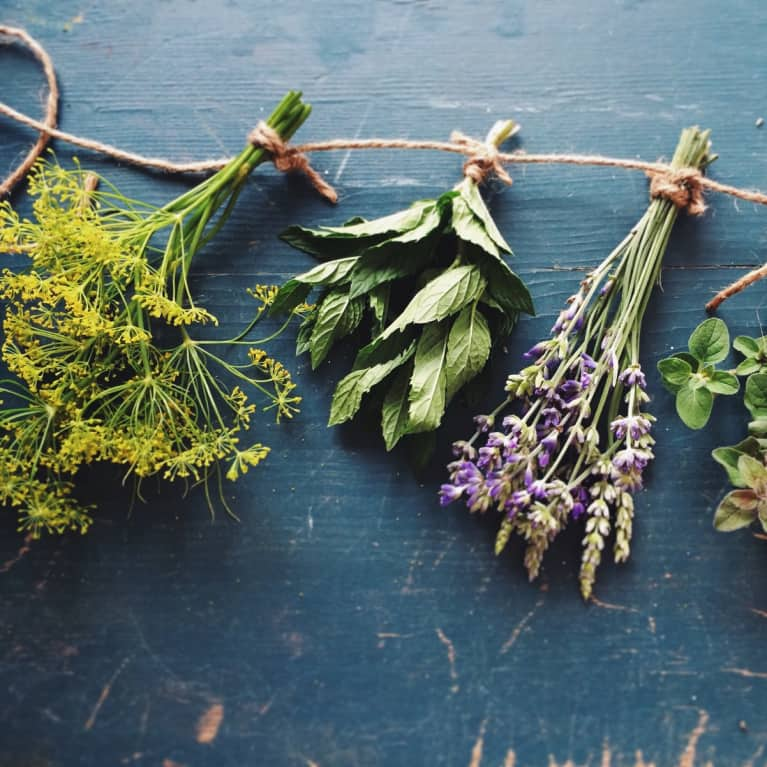 Living in Denver as a nondrinker and nonsmoker makes it a bit difficult to go out and make friends, especially in the downtown mecca of microbreweries, dispensaries, and thousands of young residents ready to party.
As someone who prefers wellness over, well, drinks and meditation over self-medication, my hands always feel oddly empty when I go out with friends. And it's hard to connect with new people. So I was immediately intrigued when I learned of the new "portable aromatherapy" trend.
This was a far more direct and optimized route to aromatherapy — I was literally breathing organic plants.
Scent is a powerful psychological trigger. Our sense of smell ties directly to our limbic emotional center, which is why aromatherapy and essential oils can be beneficial to our health and well-being.
Essential oils are fashioned from the scents of nature — everything from pine trees to sandalwood to lavender. The concentrated, scented liquids are obtained from the distillation of these aromatic, antifungal, antibacterial plants. They have been used in cultures that date back to the Ancient Greeks, who were particularly taken with sage and its anti-inflammatory, brain-boosting properties.
Traditionally, one may associate essential oils with spas, but personal, portable diffusers have recently popped up in hippie-dippy homes everywhere, along with the little vials with which you can rub a dab of lavender on your wrist during times of duress. Craftsy folk on Etsy even offer essential oil necklaces. I found the MONQ diffusers — "therapeutic air" devices marketed to look like chic vaporizers — to be the most seamless path to scent therapy.
There are a total of seven flavors: Zen (orange, frankincense, and ylang-ylang), Vibrant (ginger, lemon, spearmint), Sleepy (lavender, lemongrass, valerian), Active (black pepper, orange, sage), Healthy (cinnamon, marjoram, turmeric), Happy (fennel, thyme, vanilla), and Sexy (jasmine, lime, patchouli).
I choose Zen, because as a working creative, it can be stressful to deal with deadlines. I received a little package in the mail at my office, popped off a white case to reveal a slim, purple "cigarette" adorned with a crystal at the other side, vaguely reminiscent of a Lisa Frank toy. The inside contained orange for lifting spirits, frankincense to balance the mind, and ylang-ylang to relax the body and reduce stress.
Before this shipment, I had always loved when my crunchy roommate blasted her diffusers in our apartment, filling it with relaxing scents. But this was a far more direct and optimized route to aromatherapy — I was literally breathing organic plants.
I wake up extremely early to meditate, stretch, write, and feel productive before long, chaotic days in the office. Yet it can be difficult to maintain that sense of groundedness when you're one and a half coffees deep, it's already past noon, and the rest of your day is blocked off with meetings while your inbox is in the triple digits. This blend of raw plant power has definitely helped me breathe natural clarity and mentally unwind.
I noticed that I was starting to hold my breath because of how stressed I was, so I stole a few moments outside in between two meetings with my MONQ and inhaled. It was the perfect "cigarette break" turned on its head. Instead of killing me, it gave me the joy of being alive and present again.
I carried the little therapeutic air stick around with me for a week, taking gentle inhalations during long work days, before meditating, and out with friends. In each case, it was like instant pure aromatherapy that kept me grounded and helped remind me to breathe with focus. I also found "smoking" a good replacement for oral fixation, and a really fun conversation piece to bring a little more mindfulness and Zen into the world.
Related reads: