How Kathryn Budig Eats For A Vibrant, Healthy Life
mbg Contributor
By Carolina Santos-Neves
mbg Contributor
Carolina Santos-Neves is a graduate of the Chef Training Program at the Natural Gourmet Institute for Health and Culinary Arts and is presently the chef of Hungry Beast, (CDMX) a kitchen & Juice Bar that focuses on flavors from all over the world with a focus on using organic and local products.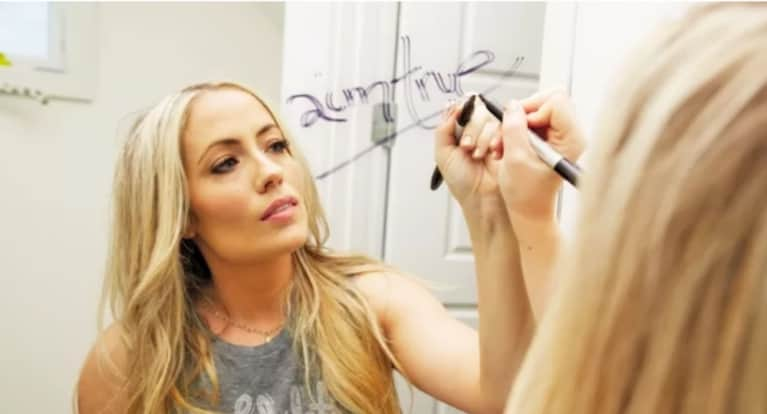 Our editors have independently chosen the products listed on this page. If you purchase something mentioned in this article, we may
earn a small commission
.
Kathryn Budig is an mbg class instructor, world-renowned yoga teacher, bestselling author, and general extraordinaire. She stopped by mbg's offices this week to shoot a Facebook Live, in which she taught us how to make a healthier version of Spaghetti O's — and tons of other swaps for our favorite junk foods. Read on for her best tips!
1. Nutritional yeast mimics the flavor of cheese in salads, risottos, and more.
After trying Kathryn's Spaghetti O's recipe, it became clear how this magic ingredient is imperative for getting that real, cheesy flavor. Not only that, but this flaky topping has loads of vitamin B. Kathryn loves to put it in salads, use it on kale chips, and sprinkle it on avocado toast.
2. The elimination diet can be a great first step in getting to know your own personal food needs.
Budig believes that doing an elimination diet is the best way to understand your body. By trying this process out, you'll know if something is upsetting you. It's all about listening to how your body feels and how it reacts when exposed to specific ingredients.
3. Always keep frozen fruit in your freezer.
For all those times when you've been suddenly struck with an overwhelming urge to take down a bowl of chocolate, Budig swears that her homemade sorbet will do the trick. Her go-to recipe? Frozen fruit (she prefers pineapple and cherries, but any will do), blended with a touch of almond milk and unsweetened coconut chips. She loves it not only for quelling those sweet cravings but also as a quick and easy dinner party dessert.
4. Kombucha is a great way to kick that soda habit.
For those of us who still love our sugary carbonated drinks, Budig swears by her kombucha. The B-vitamin-loaded, probiotic-filled drink is consistently a hit around the mindbodygreen offices — it's lightly sweet and just fizzy enough to mimic the bad-for-you stuff. Kathryn's favorite flavor is grape.
5. You don't have to give up pasta to eat healthy!
Budig recommends quinoa and brown rice as good swaps for pasta, but if you really want that great pasta flavor, she loves almond-flour-based pasta. Her favorite company is Capello's. Her other tip? Sometimes you just have to eat the pasta! Kathryn thinks a huge part of living a healthy life is enjoying yourself, and sometimes that means a plate full of starchy goodness is just the ticket.
7. There are a few simple ways to stay healthy when you travel.
When traveling, Kathryn tries to focus her efforts on the actual travel day by making her own food and bringing it with her. One of her favorite to-go sandwiches? A coconut tortilla with banana, almond butter, and honey. That being said, she's also a big believer in being a little bit more relaxed about food and just enjoying the experience, especially when encountering a new place and new people for the first time.
For even more from Kathryn, check out the full Live here!