The Sweet Way New York Locals Are Connecting To Nature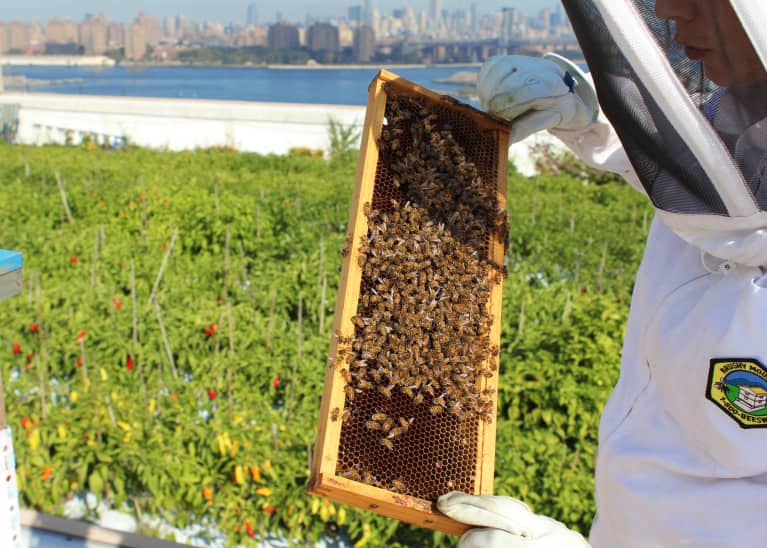 Earlier this month, a bee species was added to the endangered species list for the first time in the United States. Seven once-abundant varieties of the insect are now threatened by habitat loss, wildfires, and invasive plants and insects.
This is just the latest in a string of bad news for our pollinating pals. Colony Collapse Disorder (CCD), a mysterious phenomenon where worker bees disappear, leaving their hives to break down, has affected nearly half of American colonies since it was first identified in 2006. Though its exact cause is unknown, scientists now think that pesticides and invasive pests may fuel the anomaly.
Bees pollinate a third of the crops we eat—not to mention, produce honey, loaded with minerals, enzymes, and antioxidants—so their livelihood shouldn't be taken lightly.
Thankfully, an army of NYC urban beekeepers is doing its darnedest to protect the species. From hives atop corporate buildings to kid-friendly apiaries on rooftop farms, "Bee Ball" dance celebrations downtown and Honey Festivals outside the city's boundaries, their traces are everywhere. You just have to know where to look.
Here's a peek into the city's buzzworthy bee subculture and its universal message on mindful, green living.
Urban areas provide an escape for bees, and studies show that they're actually healthier and more productive in the city than the countryside. That's because city streets aren't filled with the pesticides that cover large, expansive crop fields. Instead, they hold a small selection of plants that are often bee-friendly and well tended to.
So the bees got a boost once New York's beekeeping ban was lifted back in 2010. These days, around 300 hives are registered with the Department of Health, and hundreds if not thousands more are likely buzzing off the books.
It's a way for the environmentally minded to stay connected to nature despite being surrounded by concrete.
NYC is now abound with resources for residents considering setting up shop on their roofs, balconies, or backyards. The New York City Beekeepers Association, for one, offers movie nights, speaker series, and training sessions for bee enthusiasts and established beekeepers alike.
Beekeeping has also taken on a more social identity with events like the annual NYC Honey Week that paints the five boroughs in honey-themed outings and culminates in a daylong celebration on Rockaway Beach filled with food, art, and music. And the Beekeepers Ball brings together locals for a night of dancing, outlandish bee costumes, and, of course, plenty of mead and honey-infused beer to go around.
These gatherings speak to the fact that urban beekeeping, a once unconventional avocation, has officially become a celebrated hobby. It's a way for the environmentally minded to stay connected to nature despite being surrounded by concrete. (And, if they're lucky, get some kick-ass honey in the process.)
No place in the city speaks to this desire to connect to nature louder than Brooklyn Grange—the world's largest rooftop soil farming complex growing over 50,000 pounds of produce a year over two locations in Brooklyn and Queens.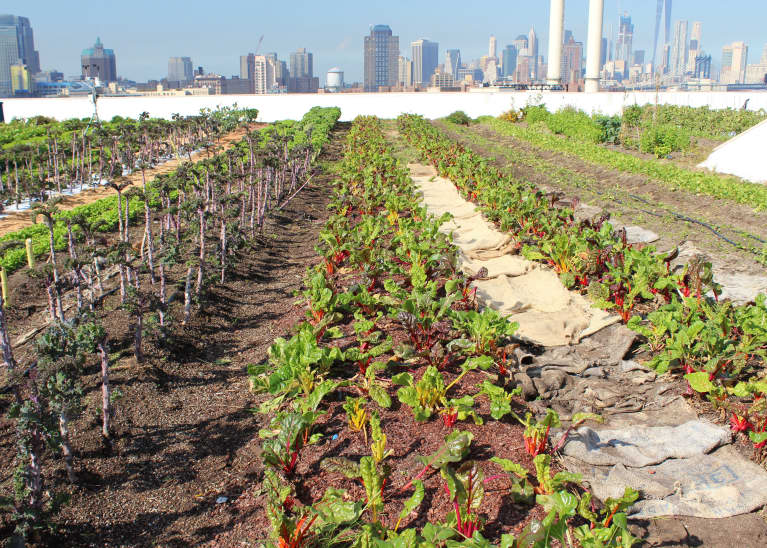 Step out onto the 65,000-square-foot Brooklyn Navy Yard farm on any given morning and you'll find tour groups gawking at the seemingly never-ending expanse of greenery. Views of the Manhattan skyline loom over rows of flowers, vegetables, and herbs. One glance to the center of the space and you'll find wooden boxes stacked atop each other. Each one is more colorful than the last—and each one holds around 50,000 bees.
Many city kids are terrified of bees, so a big part of what we do is try to fill them with wonder instead.
In addition to producing honey that the Grange sells to people near and far, the hives are inspiring the next generation of beekeepers. The Grange's educational nonprofit partner, City Growers, hosts 17,000 kids from surrounding NYC schools every season, using the property as a living lab to teach students about the environment.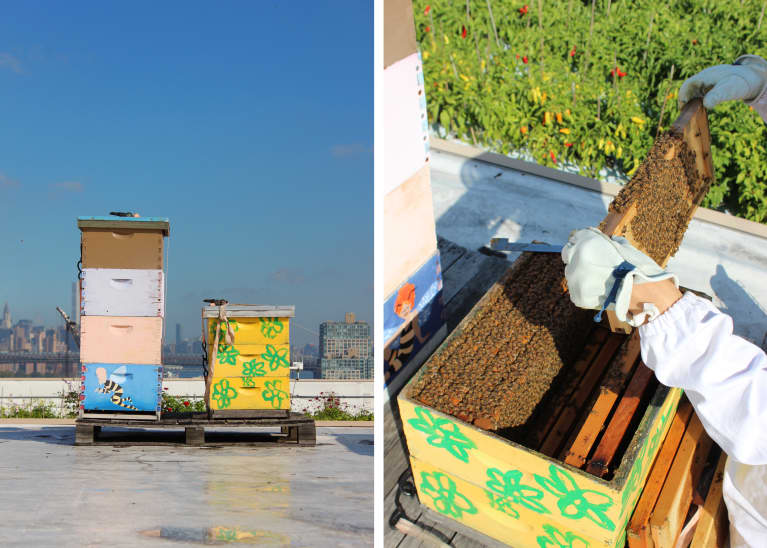 "Many city kids are terrified of bees, so a big part of what we do is try to fill them with wonder instead," City Growers executive director Cara Chard told mbg on a recent visit to the farm.
By placing hives behind glass observation walls, City Growers gives kids a chance to observe bee behavior without fear of stinging. Chard explained how, after watching the hive in action and tasting fresh honey, the young visitors will often leave with a profound love for the critters.
This isn't too surprising considering an affinity for bees is actually ingrained in human nature, according to managing partner and beekeeper at the Grange, Chase Emmons.
"There's been studies done that show that since bees are furry, humans identify with them more than shiny animals like snakes. Furry things are more like mammals, so from an evolutionary standpoint, we're programmed to like them," he explained to mbg. "In Portland, they have backyard chickens. In New York, we have rooftop bees."
Drive over the bridge and up a couple dozen blocks and you'll find a very different type of bee escape.
Fairmont Hotels' iconic Manhattan location, The Plaza, now keeps a modest hive of pollinator bees on the roof. Neither grandiose nor expansive, the bee habitat that took shape this summer isn't even open to the public. However, it speaks to the future of beekeeping not as a hobby or environmental tool but an eco-statement.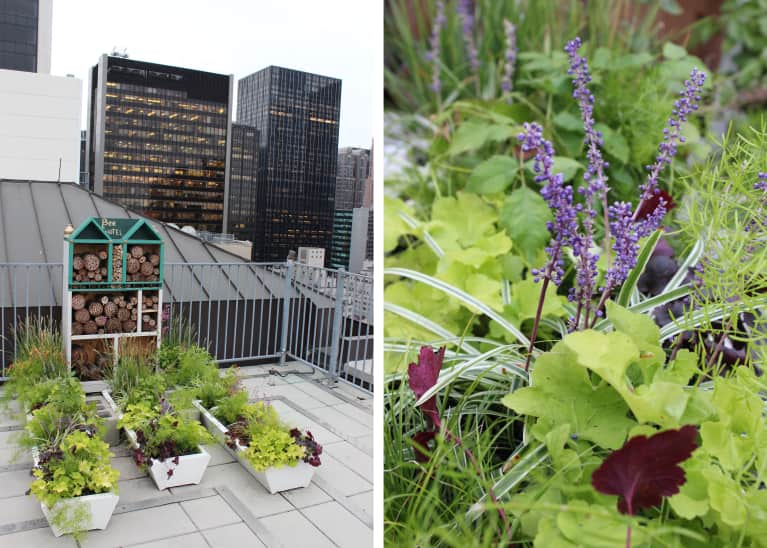 The ultra-luxe chain is calling attention to the "bee hotel," as it's aptly called, through DIY kits that guests can use to create their own as well as highlighting menu items that are pollinated by wild bees to show their importance in food production. In doing so, they're publicly demonstrating a commitment to sustainability.
Major corporations across the city—from other popular hotels like The Waldorf Astoria to financial powerhouses like Bank of America—are also keeping bees to highlight an environmental awareness.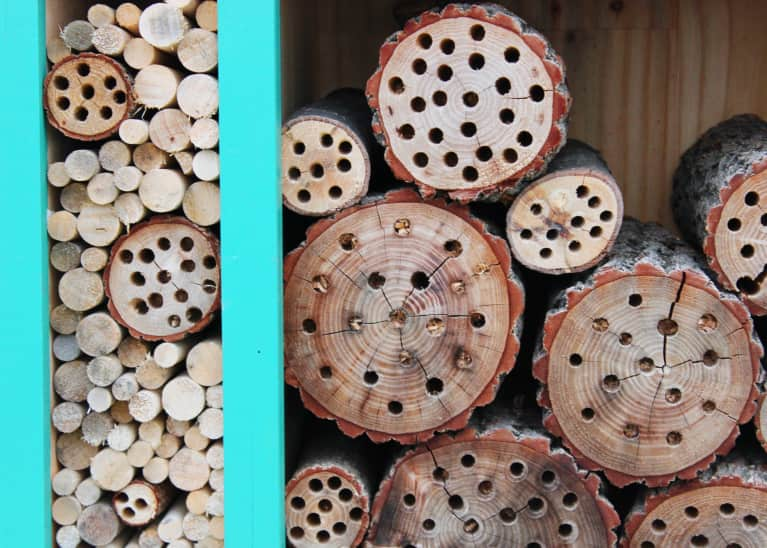 From contained backyard hives to expansive rooftops, bees are bringing together city dwellers from all walks of life in a shared celebration of nature. And that's pretty sweet, if you ask us.
Related reads: