4 Realistic Tips For Losing The Baby Weight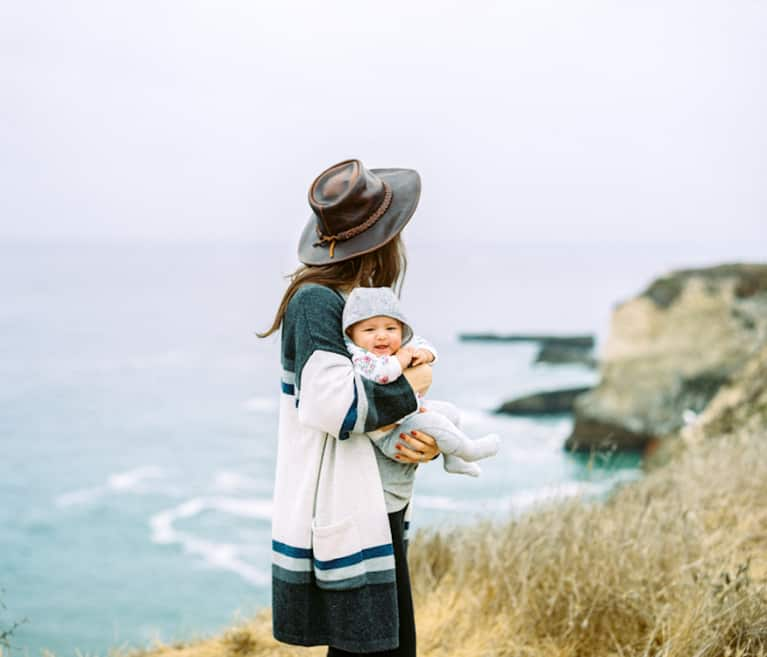 As registered dietitians and nutritionists and co-authors of the new Healthy, Happy Pregnancy Cookbook, Stephanie Clarke and Willow Jarosh have an incredible combined knowledge about nutrition for pregnancy and new mothers, along with Stephanie's personal experience as a mom.
Here are some simple ideas and guidelines from Willow and Stephanie to keep in mind when trying to lose your pregnancy weight:
1. Be realistic (and kind).
There's a whole lot of incredible change that went on with your body over your 40-ish-week pregnancy, and expecting to step right back into your pre-pregnancy clothes and feel just like before baby isn't realistic for most mamas.
We say most because there's always THAT friend who is a genetically gifted exception and/or celebrities who have a team of people and time to focus solely on getting their bodies back in shape in record time.
While the timing varies widely by individual, we like to say, "nine on, nine off." Putting too much pressure on yourself too soon can hinder your long-term success and can take some of the joy out of new motherhood.
2. Keep breastfeeding hunger (brunger?) at bay.
If you're nursing, your body requires slightly more calories than it did even in your last trimester of pregnancy (about 500 calories more per day versus 450 per day in the third trimester).
But even though you need some additional calories, the additional hunger is often intense. Pair that with lack of sleep and you've got a recipe for overeating, which can obviously lead to slower weight loss and even weight gain.
To prevent overeating, focus on eating foods rich in protein and fiber to help keep you satisfied. An easy way to ensure the protein-fiber combo is to stick to the plate method: Make half your plate veggies, one-quarter whole grains (or starchy veggies like potato, sweet potato, peas, corn, winter squash, etc.), and one-quarter protein. Add about 1 tablespoon of healthy fat either via cooking oils, salad dressing, nuts, seeds, or avocado.
Factor in one to two snacks a day, and, of course, leave room for a small treat!
3. Have healthy options on-hand and ready to grab.
When you're a mom, make-ahead options and any amount of prep you can do ahead of time will greatly improve your success with sticking to more healthful eating and therefore facilitate weight loss.
Even simple things like taking a few minutes to wash and chop veggies for salads can mean the difference between actually eating a salad and not.
We love this Blueberry Sunflower Overnight Oats recipe from our Healthy, Happy Pregnancy Cookbook as a make-ahead breakfast option.
It's packed with protein, fiber, and healthy fats to keep your appetite under control all morning. Or make a batch of this delicious Cocoa-Coconut Granola, also from our cookbook (recipe below!), which is packed with chocolate flavor and not sugar, unlike many packaged granolas.
Use it to top plain yogurt and fruit for a quick and easy meal or snack.
4. Make sure you move it, mama.
Finding time and energy for exercise when you're a new mom can be TOUGH (understatement of the century?), but moving more and strengthening your body will not only help you lose weight faster but can help strengthen the muscles surrounding your hips and abdomen, which had previously loosened to accommodate your growing bambino.
It also makes you feel good mentally. Tackle exercise in shorter spurts (10 minutes, three times a day), ask for help wherever it's available so you can sneak out for longer workouts, and get creative about what can get you moving.
A dance party for one, online exercise classes, yard work, and a good old walk or jog outside will all get your heart pumping. Enlisting friends to help you stay motivated, committed, and accountable can also make the process more fun.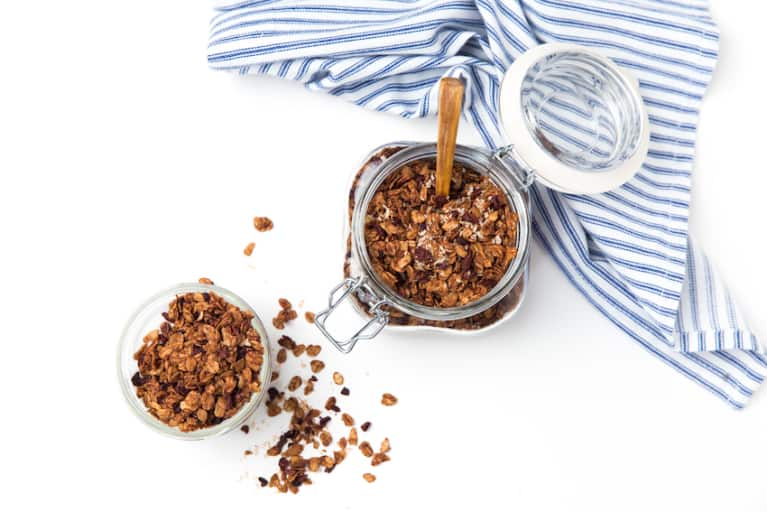 Imagine a world where you can eat chocolate for breakfast and not have a sugar crash afterward. This world exists.While this breakfast packs in deep chocolate flavor, it also manages to deliver satisfying fiber and minimal added sugar.
So you really can have your chocolate breakfast and eat it, too. Pair it with plain Greek yogurt or milk (cow or soy) to add protein for a complete meal. Or just nosh a serving as a snack, as is.
Serves 4
Ingredients
Cooking spray or oil
1 cup old-fashioned rolled oats
1⁄4 teaspoon ground cinnamon
1 tablespoon unsweetened cocoa powder
1 tablespoon coconut oil
2 tablespoons maple syrup
1⁄2 teaspoon pure vanilla extract
1⁄4 cup cacao nibs
2 tablespoons unsweetened shredded coconut
Preparation
1. Preheat the oven to 275°F. Coat a baking sheet with cooking spray, or lightly rub with oil.
2. In a medium bowl, stir the oats, cinnamon, and cocoa powder. In a small bowl, whisk the coconut oil, maple syrup, and vanilla. Pour the liquid ingredients over the oat mixture and stir until fully coated.
3. Spread the mixture out in a single layer on the baking sheet and bake until it begins to get crispy, about 30 minutes.
4. Remove from the oven and stir in the cacao nibs and coconut. Spread out again in a single layer and bake until crisp all the way through, about another 10 minutes. Allow to cool fully before serving.