Spirit Almanac: Your Guide To Celebrating November's Mystical Holidays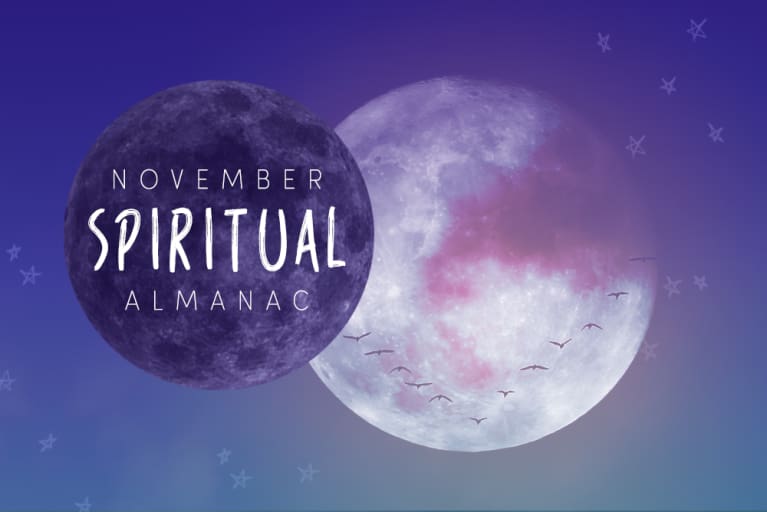 We all know to mark our calendars for Christmas, Hanukkah, New Years, National Avocado Day, and those other occasions people celebrate in big, bold, beautiful ways. But what about the lesser-acknowledged spiritual, astrological events that roll around every year? Consider our new spiritual almanac series your own personal guide to the divine.
This month, we're unpacking the mystical magic of November with altar rituals, displays of gratitude and some good old-fashioned new moon manifestation.
November 7th Mayan Day Of The Dead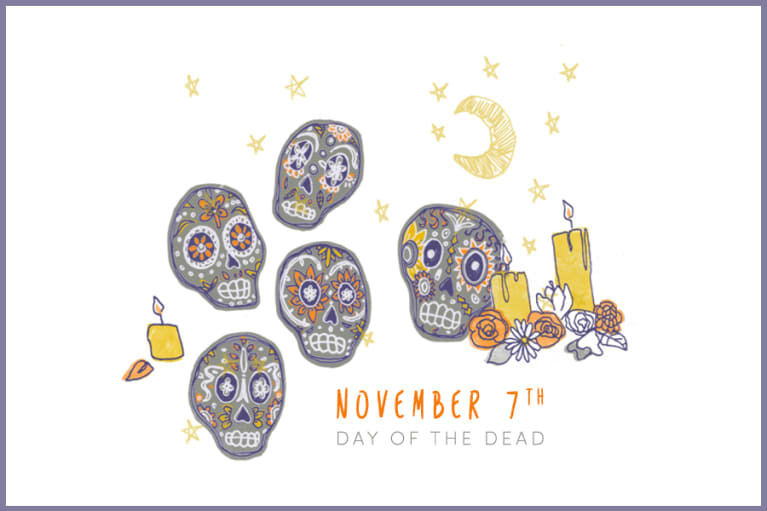 With origins in the 16th century, this holiday epitomizes the Mayan belief that death is merely one part of the wider cycle of existence. Nowadays, a few different cultures have placed variations of the holiday on their own calendars. Mayans traditionally marked November 7 with rituals and offerings to the goddess Mictecacihuatl ("Lady of the Dead"). Assured that the dead would be insulted by mourning or sadness, the Mayans celebrated their lives with food, drink, parties, and lively activities. Learning how to cope with mortality is never an easy feat, but these celebrations provide insight into one culture's approach.
Put this idea of moving past tragedy in a constructive, celebratory way into practice today by giving an altar ritual a try. Traditionally any kind of platform where sacrifices and offerings are made, altars can be used to move past anything in your life that you wish to leave behind. And they don't have to be the lofty, looming structures you'll find at a church or wedding ceremony. You can create a small, personalized altar at home using trifles and trinkets you already have on hand. Here's how to do it:
An altar for remembrance and moving forward
1. Start by setting aside an area in your house to create your altar. It doesn't have to be large—the corner of a bedroom or living room is perfect. If you're lucky enough to live in a warmer climate, try setting yours up outside.
2. Take time to sit in meditation and decide what you would like to clear out and bring into your life. As you are creating your altar, keep your intentions in mind and perhaps write them on a piece of paper to place on your altar.
3. Create the base of your altar using a tray or small table that can hold your display.
4. Decorate your altar with items that resonate with you and speak to your spiritual side. You can throw in some healing crystals, crystals of loved ones, printed quotes expressing love and gratitude, scented candles, mala beads—anything that inspires you to be the absolute best version of you.
5. Visit your altar periodically today, and any day moving forward, to check in with yourself. Sit quietly and look onto the display you've created, breathing deep and visualizing yourself dropping everything that's weighing you down. Take in the spirit of the day and mourn that which you're leaving behind, while celebrating all that you're moving toward.
November 14th Taurus Full Moon and Supermoon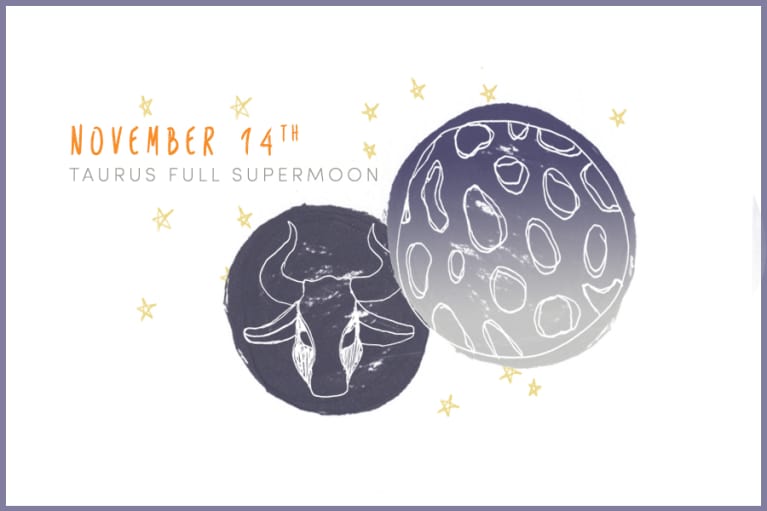 Who says you need to be a white witch, a wizard or living in an ashram to conduct (or take part in) a full moon ceremony and connect with the natural cycles of mamma Earth? This ritual from Gemstone Organic founder Debra Haugen will help you make the most of the supercharged full moon energy this week by conducting your own celebration.
A full moon ritual for releasing negativity & harnessing joy
I love to create a depascho—a gift of the movement or releasing that needs to be completed under the full moon. I gather materials throughout the day or a few days before create it thoughtfully—it can be favorite plants, spices, seeds, flowers, paper or cotton. I love the ceremony of putting the bundle together with all of my thoughts and actions focused on what I am gifting. When possible, I put it together within an hour before the Grandmother Moon coming into her fullness.
I will gather with my tribe of sisters for the Full Moon. We open circle and then each share, draw and hold space for each other. We will write down what we want to release under the Full Moon and then burn the papers one at a time. We then end our ceremony with a magical walk through the Labyrinth in Topanga. Many times we leave in silence and walk quite a distance before talking as we feel so much power from our ceremony and walk and the darkness/light and mystery that follows. I also bring my drum and bells to open a circle for the releasing. It's such a powerful ceremony.
November 24: Thanksgiving & beginning of the Elder Moon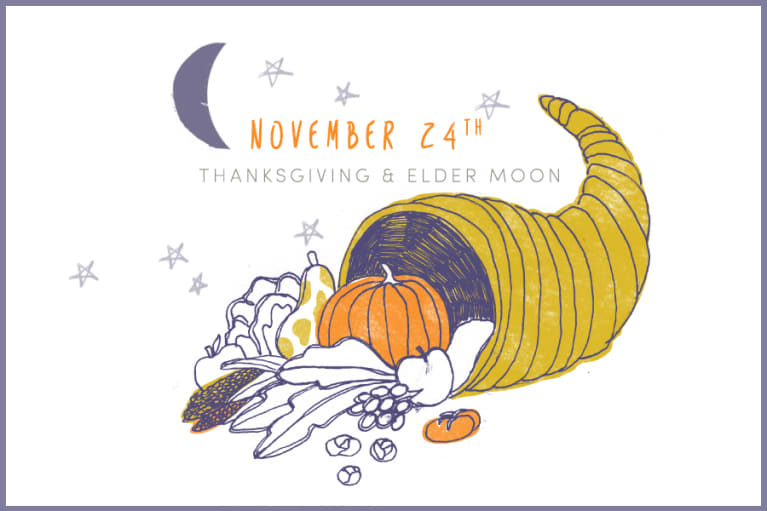 Tonight marks the start of the Elder Moon phase—the last phase of the Celtic lunar calendar, and a time to reflect on the past and move forward with renewed positivity and drive. It's an occasion to release any negative energy that you're holding onto so you can finish out 2016 with a bang.
This year, it corresponds with Thanksgiving—another occasion that calls for personal reflection. This simple ritual from Dr. Elisa Medhus can help you channel everything in your life with undying gratitude.
A Thanksgiving ritual for gratitude and peace
Gratitude has always been woven deeply into the fabric of our holiday spirit. Sometimes we express it to our loved ones openly, and that vulnerability takes courage for some. Other times, we express it anonymously. With no clear ulterior motive, anonymous messages of gratitude are often more impactful. This holiday and even throughout the year, make it a habit of sending anonymous letters of gratitude to those you admire or love: a teacher, a firefighter, a police officer, a friend, a family member or anyone else who has enriched your life in some way.
November 30th New Moon & End of Chiron Retrograde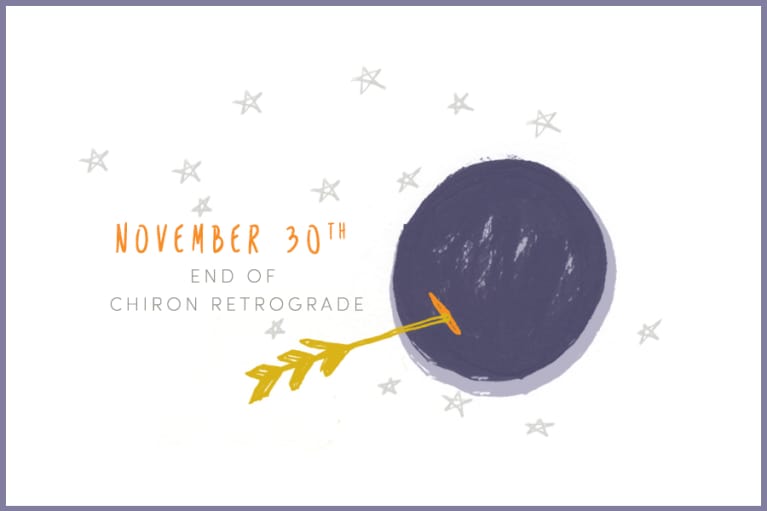 If Mercury in retrograde has been messing with you, it's time to rejoice, as today it moves out of Chiron, the "Wounded Healer." Phew!
Few planetary trends are as noteworthy as the solar system's smallest planet reversing through the sky. This year, Mercury was in retrograde four times, totaling about 80 days, which has given us a lot of time for reassessment.
It's finally your chance to piggyback off all the time you've spent out of whack and move forward confidently in the direction of your dreams. Today also marks the new moon—another perfect opportunity for planning intentions.
Just as seeds need a period of gestation before they break through the soil and reach for the sunlight, we need time to cultivate our ideas and clear the way for our visions before they can surface into reality. The dark side of the moon, with its mysterious unseen forces, offers a nurturing environment where our intentions can establish roots before their miraculous manifestations begin to sprout and reach out to the stars. Here's a quick ritual to get you started.
A New Moon ritual for miraculous manifestations
1. Cleanse your sacred area with an opening prayer or mantra, a sage smudging, and/or by burning some incense.
2. Light one or more candles.
3. Center your being and calm yourself in whatever way is appropriate for you. Take some deep cleansing breaths, slip in a meditation CD to listen to, and/or leisurely sip on a cup of relaxing herbal tea.
4. Open your notebook, and date the first page. Write down these words "I accept these things into my life now or something better for my highest good and for the highest good of all concerned," or something similar. Below your affirmation statement, begin writing down your desires.
5. During next month, when an item on your new moon list comes to you, don't merely cross it off. Take the time to rewrite the list in its entirety, eliminating the manifested item from the lineup.
The piece was co-written by mbg's Beauty & Style Editor Kayla Jacobs.