A Sugar-Free Superfood Hazelnut Hot Chocolate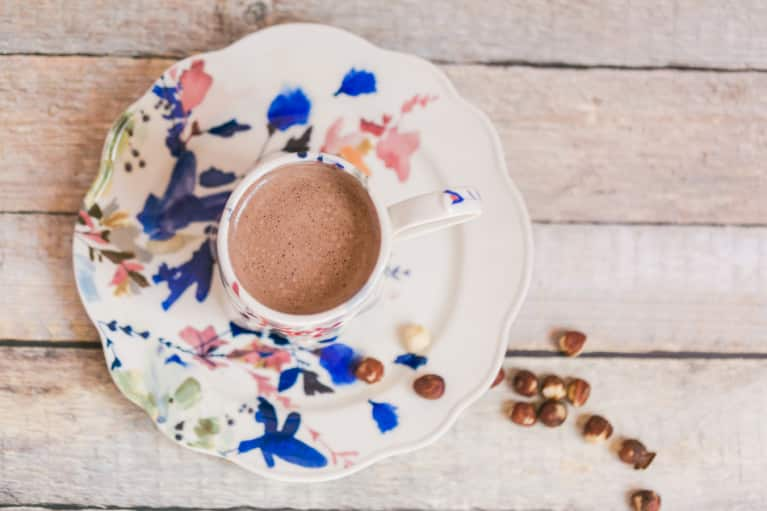 Fall is full of sweet treats—from homemade pies and pumpkin loaves to grocery stores full of Halloween candy—it can be hard to escape the sugar!
If you're looking for something sweet but want to stay healthy, try my Hazelnut Hot Chocolate instead. Not only is it loaded with healthy fat, but it's packed with magnesium, antioxidants, vitamin E, and manganese.
This dairy-free, gluten-free, and sugar-free treat is the perfect fall indulgence.
2 cups homemade hazelnut milk (recipe below)
4 tablespoons raw cacao powder
2 tablespoons raw cacao nibs
2 tablespoons organic, raw hazelnuts
1 teaspoon vanilla extract
¼ teaspoon Himalayan pink salt
Vanilla stevia drops to taste
Preparation
1. Heat hazelnut milk with vanilla on stove over low heat and bring to a simmer. Allow hazelnut milk to simmer for 2 minutes and then turn off heat.
2. Transfer heated hazelnut milk to Vitamix or other high-speed blender and add remaining ingredients, blending until all ingredients are thoroughly combined and latte is steaming when blender lid is removed, about 3 minutes.
3. Adjust stevia to taste. Pour latte into two mugs. Serve and enjoy!
Makes approximately 4 cups
Ingredients
1 cup organic, raw hazelnuts
1 teaspoon vanilla
Purified water
Pinch of Himalayan pink salt
Preparation
1. Add hazelnuts to a bowl, cover with 2 cups purified water, place in refrigerator, and soak overnight.
2. Drain water from hazelnuts and rinse with additional purified water.
3. Add soaked and rinsed hazelnuts, 4 cups purified water, vanilla, and salt to Vitamix or other high-speed blender, and blend until creamy and smooth.
4. Strain hazelnut milk through a nut milk bag or cheesecloth-lined strainer.
5. Refrigerate hazelnut milk and enjoy!