5 Surprising Ways To Use Coffee In Your Beauty Routine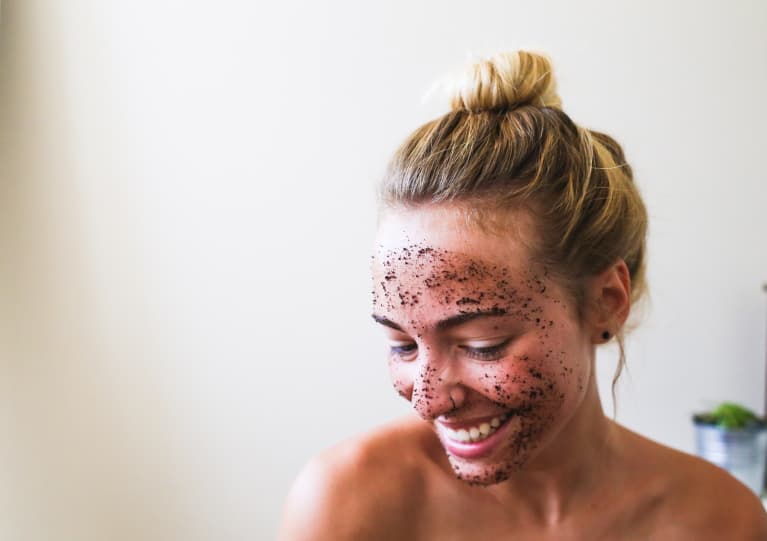 Happy International Coffee Day! To celebrate, we're giving you the scoop on one of the most buzzed about natural skin care ingredients. You guessed it, coffee.
Your fave morning brew does a lot more than just give you a jolt of energy in the a.m. When applied topically, java delivers a double shot of beautifying benefits. It's chock-full of more free-radical-fighting, skin-protecting, and youth-boosting antioxidants than any other substance on earth. Coffee's not-so-secret weapon, caffeine, stimulates circulation and perks up tired complexions. It's also a potent anti-inflammatory, making it super soothing for irritated skin. And the grounds are a great natural exfoliator.
There are plenty of ways to incorporate coffee into your skin care routine that don't require a trip to Starbucks. Keep scrolling for our fave caffeinated product picks. Coffee-lovers, rejoice!
Coffee grounds are an eco-friendly replacement for earth-polluting microbeads and synthetic scrubs. Perk up your shower (and your skin) with Java Body Bar Soap. Antioxidant-rich cold-pressed green coffee extract, skin-smoothing artisan roasted coffee, and uplifting sweet orange blossom essential oil gently exfoliate, cleanse, and soften skin. ($9)
Natural beauties in-the-know turn to coffee body scrubs to stimulate circulation, lymphatic drainage, and reduce water retention while caffeine delivers skin-tightening benefits. If you're a fan of peppermint mocha, you'll love Skinvolve Peppymint Phoenician Secret Scrub. This cool twist on a classic body scrub is infused with fair trade coffee, Mediterranean sea salt, and crushed peppermint helps smooth those telltale dimples and wakes up skin. ($25)
The eyes are the windows to your soul ... and your age. There's a reason caffeine is the star ingredient in many anti-aging eye treatments. It works to constrict blood vessels under the skin, increase circulation, and ease inflammation. More specifically, caffeine helps alleviate puffiness and dark circles. 100% Pure Coffee Bean Caffeine Eye Cream harnesses the power of caffeine-rich coffee seed and green tea extracts and nourishing rosehip oil to give peepers an instant pick-me-up — no matter how much (or little) sleep you actually got. ($25)
A cup of joe has the same pH as your skin, so it helps maintain moisture levels. S.W. Basics Oil Serum is like a balanced diet for your skin. This four-ingredient formula — coffee, avocado, geranium, and turmeric oils — packs a powerful punch of essential fatty acids, phytosterols, antioxidants, and nutrients. The result is a totally covetable, healthy complexion. ($29)
A coffee facial scrub sloughs off dead skin cells — with the added benefit of unclogging congested pores and purging toxins — for brighter, clearer skin. Frank Body Creamy Face Scrub is gritty yet gentle, so it's great for even the fussiest faces. Freshly ground and roasted robusta coffee (coffea arabica seed powder) buffs away dull skin while a trifecta of coconut, almond, and grapeseed oils naturally nourish to reveal a healthy glow. ($21.95)
Related reads: