Here's How You Can Use Yoga To Transform Suffering Into Compassion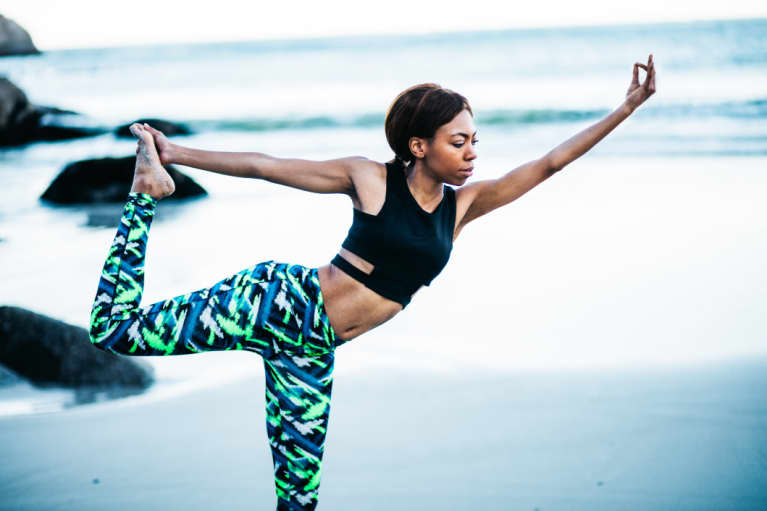 There has always been suffering in this world, but with faster and broader access to information, we are bombarded with it to a degree like never before. As a result, some people stick their heads in the sand, others suffer greatly with overwhelming empathy and mounting anxiety, while still others meet it with spiritual kindness and courageous activism.
In order to tolerate, integrate, and use this planet's pain to cultivate love and kindness, we must follow three steps: acknowledge, accept, and respond with compassionate action.
Here's how to do that:
Yogic philosophy teaches us that the further we disconnect from our essential human nature, the more pain and suffering we cause ourselves and those around us. During this difficult age, it is impossible to ignore this truth at every level—from our individual health and the environmental crisis to political confusion, devastating human rights issues, and terrible wars. Reality is a difficult pill to swallow but is the first step toward personal and global transformation.
It's one thing to become aware of today's issues while quite another to stay open to the hurt, sadness, anger, and fear that accompanies them. We must be willing to feel our pain, along with each other's and learn how to digest such difficult truths. While many yogic practices can be helpful in doing this, one of the best ways to tolerate global suffering is to seek out community (satsang) where we can give voice to our feelings and be received by like-hearted individuals. In doing so, we not only connect to others with care and understanding but also begin to build positive alliances and purposeful relationships that can inspire and support change.
3. Take compassionate action.
From a yogic perspective, the most important step to building universal love and peace is to begin with the self. As Gandhi said, "Be the change you wish to see in the world." Working on our own capacity for patience, nonjudgment, kindness, and compassion can spread far and wide in just one person's lifetime and inspire others to do the same.
Oftentimes we are then moved toward karma yoga, or the action of paying it forward. For some people, this ushers in lifelong, tireless, and admirable endeavors. Even the smallest acts of kindness can have profound ripple effects in the world.
Responding to the planet's pain and suffering with wisdom, love, and integrity teaches us to open our hearts and accept things as they are while working toward a better life for all. Lokah Samastah Sukhino Bhavantu—may all beings everywhere be happy and free.