7 Ways To Actually "Make It" As A Yoga Teacher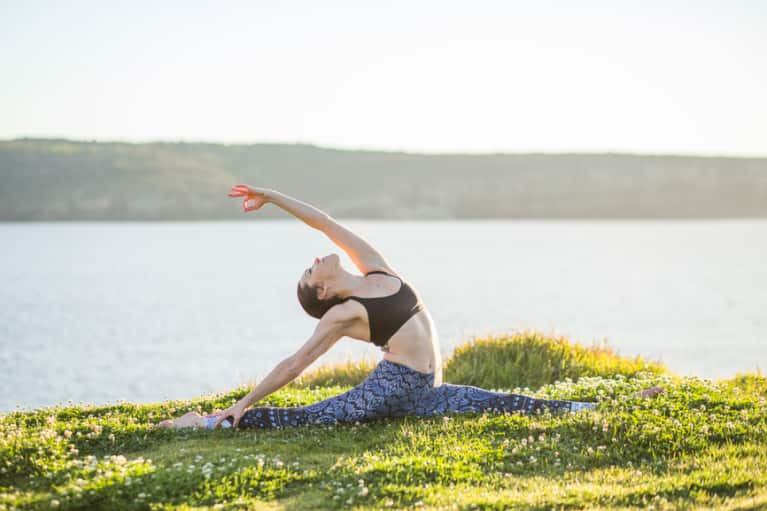 I live in Los Angeles, where every waitress or bartender has a screenplay to sell you, a professional headshot, and a 200-hour yoga certification. Teaching yoga is one thing, but making a living as a yoga teacher is something completely different. I can now say that in less than three years from the date of my teacher training graduation, I am now completely supporting myself teaching yoga and meditation in one of the most expensive and competitive places in the world.
Of course, getting there didn't come without hard work and some serious strategic thinking. Here are 7 ways to make it happen.
1. Work at yoga studios that are also well-run businesses.
This is a hard one because, let's be honest, a lot of the most soulful yoga studios, run by beautiful beings, are not well-run businesses. Spirituality and commerce are tough to balance. It is harder to build a 6 p.m. slot at a poorly run business than it is to build a 6 a.m. slot with a company that is constantly bringing new people in the door.
2. Find an up-and-coming teacher and start taking a lot of their classes.
If your mentor is Annie Carpenter, that is fantastic. But you're not going to be subbing for her anytime soon. Find someone who is a few years ahead of you, and shadow them. You'll flatter the teacher with your admiration, plus you'll be able to learn from someone who is a few steps ahead of you versus already on top of the mountain.
3. Teach as much as you possibly can.
A new teacher looking to make a living as a yoga instructor should probably be teaching 10 to 15 public classes per week. Teach, teach, teach.
4. Stop taking teacher trainings, and get out into the world.
Do your training, and then jump in. The more you "know," the more afraid you'll be to get out into the real world, and you'll run the risk of being a permanent yoga teacher training student.
5. Teach the best class you can, every single time.
Constantly work to get better at SERVING the students. Show up, be a team player, do your best, be on time, don't sub out at the last minute, and keep your drama at home.
6. Meditate, meditate, meditate.
Being a yoga teacher who can teach meditation makes you a double threat. We have too many yoga teachers already, but what we need more of is a yoga teacher who actually meditates EVERY DAY and can teach this to others. There is not just a spiritual demand for this but also a massive economic demand. Plus, your meditation practice will give you something to teach that goes way beyond the alignment of warrior I.
7. Get your face out of your phone. Instagram and Facebook are supplemental tools.
I know so many teachers with massive followings on Instagram that can't fill a room full with bodies. Having a huge following is great, but what's more important is that you're teaching great classes as much as possible.
Good luck out there!