4 Natural Paleo Candy Recipes For Kids & Adults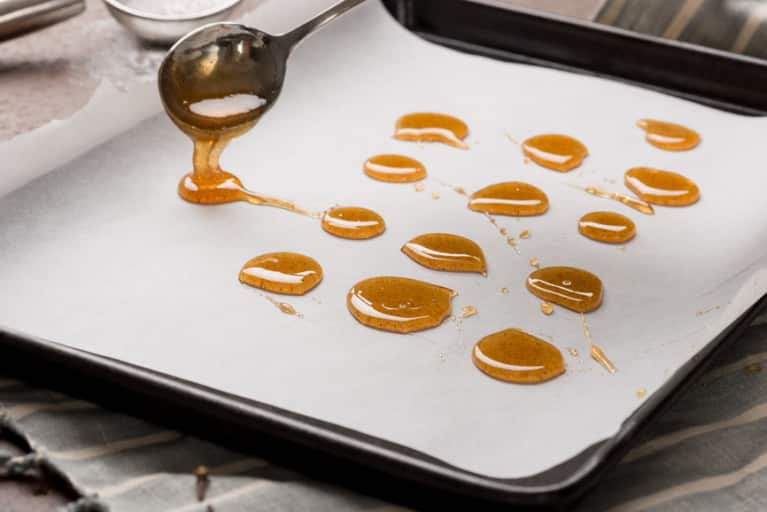 Our editors have independently chosen the products listed on this page. If you purchase something mentioned in this article, we may
earn a small commission
.
According to the National Confectioners Association, 20 million pounds of candy corn (or 158 trillion individual candy corn kernels) are purchased a year.
In an attempt at finding some healthier options, we sought out a few healthy candy recipes from The Paleo Kids Cookbook: For a Lifetime of Healthy Eating that are nutritious and delicious.
These gluten-free, nut-free, soy-free, and dairy-free Halloween candy alternatives use ingredients like fresh ginger, cranberry juice, and honey instead of corn syrup and cane sugar.
Besides, who wants to spend time in long lines at the grocery store? The kiddies won't even know the difference, but you might—if only because you'll feel so much better after eating these versions.
Happy Halloween!
Why these squiggly invertebrates ever became a desired treat is beyond me, but we all know kids are fans in the biggest way! And if you've ever read the label on these squirmies, it likely made you squirm too!
I have made them here with only fruit-sweetened juice and grass-fed gelatin, so you can let the wriggly feast begin and not have a worry in the world (except maybe finding one of these strategically placed to freak you out)!
Serves 2 to 3
Ingredients
2 cups (480 mL) tart 100 percent fruit juice (this will also be the color of your worms)
3 tablespoons (21 grams) grass-fed gelatin (must be able to congeal versus collagen, which does not)
Preparation
1. Start by combining the fruit juice and gelatin in a small saucepan over low/medium heat, stirring well to combine. This usually takes only a minute or so until the gelatin is dissolved completely. Remove the warm mixture from the stovetop.
2. Group 20 to 30 wide-mouth straws in a bunch, securing them with the rubber bands until they cannot move. In a large glass or jar, pour about 2 to 3 tablespoons (30 to 45 mL) of the juice mixture into the bottom. Now place the banded straws into the Mason jar so the juice mixture can fill the very bottoms of the inserted straws. Make sure the straws are vertical or the "plugs" will not form in the bottom of the straws—this is a necessary step before moving forward.
3. Now refrigerate the straws and Mason jar until the bottom gelatin is set, anywhere from 10 to 20 minutes. Place the remaining juice back onto a warm burner so it does not set in the saucepan.
4. Pour the remaining juice mixture into the straws, distributing evenly. You will want to leave a little space at the top of each straw to allow for easier removal. Refrigerate once more for about 30 minutes (sometimes longer).
5. Pull the straws out of the rubber bands and briefly run them under warm water. Pinch the straw from the end with the space and begin squeezing the "worms" out the other end.
To store, place them in an airtight container like a resealable bag so that they are not exposed to air (or they will dry out). The worms can last up to a week refrigerated.
For little hands: While supervised, your child can help whisk the gelatin into the juice and pour the mixture into the straws.
Ginger is a longtime naturally sourced aid for settling upset tummies. While raw ginger may be a bit strong for younger taste buds, these homemade ginger chews are naturally sweetened and much more palatable!
Serves 20
Ingredients
1 cup (96 g) peeled, thinly sliced fresh ginger root
1 cup (240 mL) local honey
1 cup (240 mL) water
½ cup (96 g) maple sugar or coconut palm sugar
Preparation
1. Combine the first 3 ingredients in a small saucepan. Turn the heat to medium-high and bring the mixture to a boil. Stir to make sure the honey and water are fully combined. Allow the ginger to simmer for about 30 minutes.
2. Pour the maple sugar into a bowl and set aside. Remove the cooked ginger from the saucepan using a slotted spoon, leaving the excess thickened honey syrup behind. Roll the ginger slices in the maple sugar to coat them, shaking off the excess. Store the ginger chews in the fridge in an airtight container and use as needed.
For little hands: Allow your child to dredge the ginger slices in the maple sugar. If older, your child may help peel or slice the ginger root while supervised.
Homemade gummies are just as fun as can be, and with all of the easy-to-order silicone molds out there, you can basically gummify anything these days! The best part is these are made with only the best ingredients, so you don't have to worry about all the garbage in the store-bought ones!
Serves 3
Ingredients
1 cup (240 mL) organic grape juice
¼ cup (28 g) grass-fed gelatin
1 teaspoon 100 percent maple syrup
2 teaspoons (10 mL) apple cider vinegar (or more)
Preparation
1. Combine all ingredients in a small saucepan over medium heat, whisking until heated through, about 2 minutes.
2. Quickly remove from heat and carefully pour into silicone candy molds. Refrigerate for an hour or until firmed and then remove from the molds. Store these in the refrigerator in an airtight container for up to a week.
Note: You can cut the setting time by freezing, but keep an eye on them or they can freeze solid!
For little hands: Allow your child to help whisk the ingredients while supervised. Older helpers may assist in pouring the hot mixture into the molds as well.
While the flu doesn't actually have a season, it tends to peak in winter months when stress is higher, diets are less clean, and vitamin D deficiencies surge with the absence of the sunny days of summer.
These Flu Season Gummies sneak in some good stuff to help keep immune systems strong and able to fight off the yucks! Elderberry syrup is known to help reduce flu symptoms and severity and to provide immune support. It also may have antiviral/anti-properties. Omit if you have a known sensitivity.
Vitamin C helps keep immune systems operating at top levels by increasing white blood cells, and vitamin D is important for overall immune health and disease prevention. Local raw honey is immune supportive and may have antibacterial and antiviral properties. Cranberries have been shown to reduce the severity and longevity of flu symptoms, it boosts NK (natural killer) cells, and has been shown to be immune supportive.
Serves 10 or more
Ingredients
1 cup (240 mL) organic cranberry juice blend 100 percent juice, no sugar added
1 tablespoon (15 mL) pure elderberry syrup, no sugar added
¼ cup (28 g) grass-fed gelatin (the kind that congeals)
3 drops vitamin D3 (3,000 IU total)
1 teaspoon vitamin C crystals (4,000 mg vitamin C)
1 tablespoon (15 mL) local raw honey
Optional: Echinacea drops (not advised for use if you have an autoimmune disorder)
Preparation
1. Combine juice and elderberry syrup in a small saucepan. Turn heat on medium/high and add in gelatin. Stir well to combine, leaving no gelatin lumps behind; this should take a minute or two. You'll want to heat it thoroughly, but it is not necessary to boil as long as the gelatin is combined well.
2. Add in the vitamin D drops and vitamin C powder. Remove from heat at once and stir in your honey. Pour the mixture into molds and refrigerate or freeze until set; this usually takes about half an hour or less if frozen.
One gummy has 67 IU vitamin D and 89 mg vitamin C.
For little hands: Have your wee one help stir the ingredients together in the saucepan or help pour the mixture (supervised as it's hot) into the molds. After they've set, your helper can pop them out of the molds too.