How Eating Meat Again Helped Me Break My Sugar Addiction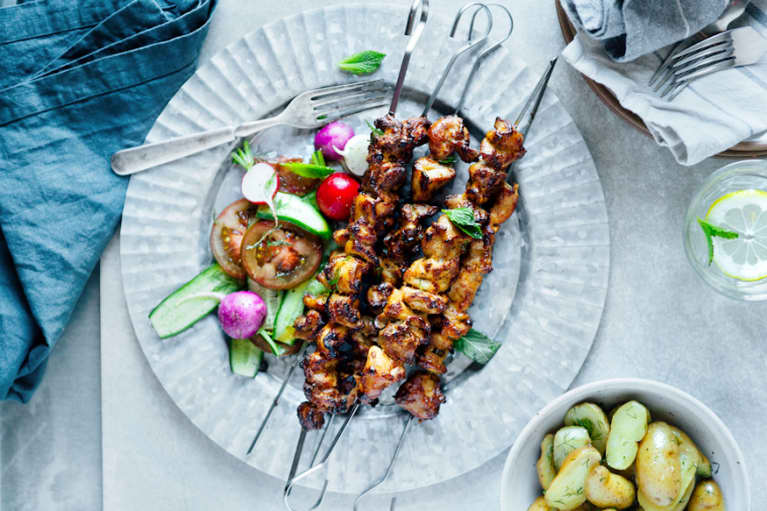 I never planned on becoming a vegetarian until one day when I woke up and didn't eat meat again for eight straight years.
I was 17 and the decision was completely intuitive, mindful, and actually good for me. I suffered regular seasonal allergy symptoms, and my immune system was out of whack for years resulting in a recurring virus infection in spring and winter, which ended with a course of antibiotics.
The year after going meat-free all these symptoms disappeared, and there was a long period in which I barely caught a cold.
Fast-forward six years. After digging deep into the vegan movement and lifestyle, I found myself malnourished, fatigued, always hungry, and developing various alarming symptoms.
My skin and hair were fragile; I had low energy, low productivity, and a scattered mind I bombed with sugar when I needed to get things done. Even though I ate a mostly whole-food plant-based diet, I felt like there was something I was missing.
This wasn't necessarily because of the vegan diet (I realized that a low-fat diet is actually not suitable for me long term) but rather the sugar addiction I had unnoticeably nurtured during this low-protein, low-fat, and high-carb diet that I just couldn't get out of.
At this time I just perceived myself as a sweet-tooth kind of person and I had to live with that. It wasn't until I decided I wanted to know more about nutrition and jumped into nutritional therapy education that I realized what the missing pieces were.
I learned about why healthy fats were so important and what an important role proteins have in various body systems. The moment I started to incorporate more healthy fats like ripe and delicious avocados, coconut oil, ghee, and butter, I saw immediate changes in my energy levels, sleep, skin, and well-being.
The more I knew about essential fats, the more I connected the dots and learned about what my own body needs to sustain itself.
I found a great positive change in my life, yet I still wasn't completely off the hook with sugar. I thought about it, I craved it, and from time to time, I indulged in it mindlessly. It just felt so hard to break the circle and stop the cravings.
I knew there was a psychological pattern behind it, and that's where my psychology degree came in handy. For those of you who aren't familiar with mental disorders, addiction is one of the toughest areas in psychotherapy, along with eating disorders and depression.
It's the hardest to transform and usually takes years to get to the root cause, so I knew that in order to spread the message of healthy eating and be of service to the people around me, I had to address this issue and stand face to face with my addiction. Right now.
But instead of pointing straight at the problem, I decided to embrace a milder, more delicate way of transformation. Along with my nutrition and psychology background I let my body guide me through the process. I called it a period of self-exploration and limitless possibilities. You know, when people with addiction restrict themselves from their desires and cravings a countereffect occurs. Therefore, I felt an intuitive need to experiment with whatever my body felt may heal it.
That's when my appetite for meat started to rise. If that had happened years ago I would probably have quickly put down these thoughts and verified my current views with reading and data about the disastrous environmental effects of meat production.
But this time I decided to lean on this curiosity and follow my gut. Within four months of adapting my lifestyle and perspective, I was ready and I made a totally mindful and conscious decision to try pastured meat. I liked it.
It not only tasted good, but it finally gave me the satiation I needed to stop craving a dessert after every single lunch. It momentarily transformed my sugar cravings, and in three weeks' time I didn't even think about sweet anymore.
I felt much more grounded, more productive, and I discovered a whole new world of tastes that I could experiment and be creative with. Now I feel much more confident with my relationship with sugar, and I get to decide when to enjoy a piece of homemade cake with the utmost intention and mindfulness.
My experiment served me well because I trusted my body and inner guidance system instead of intellectualizing external data and disconnecting from myself.
Now, I know this isn't the case for everyone. And I'm the last person to proclaim that eating meat is always the healthiest option. I don't even know if I will eat meat for my entire life; I just know that including meat in my diet at this specific point in my life helped me beat the sugar circle that robbed me of my energy.
I let myself break the rules in my head and open my mind to a different perspective. In fact, both cutting meat out of my diet and reintroducing it back in had a positive impact on my life and health.
Our bodies constantly change throughout the course of our lives, and so should our way of living, working, and eating.
Mindlessly following popular eating patterns and disregarding our own inner wisdom can have deteriorating effects on us both physically and mentally. It's time to tune more carefully into our individual selves, allowing them to be heard and nurtured with love.