How To Handle Pregnancy With Grace (Even When People Rub Your Belly)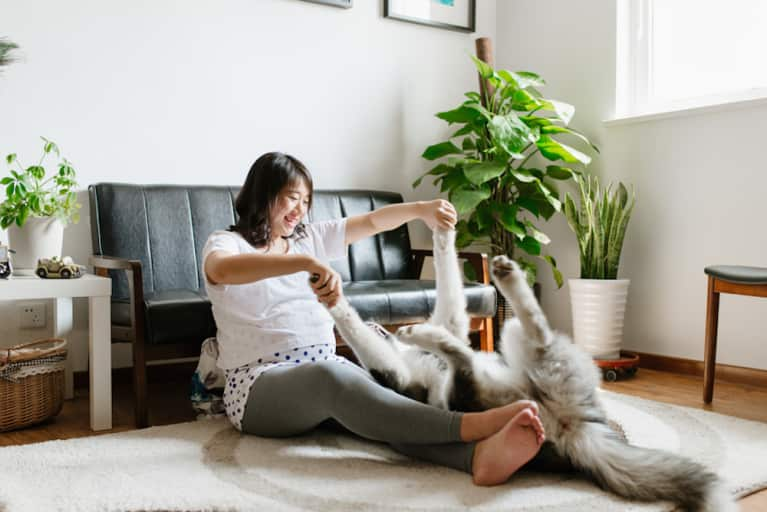 In art, pregnant women are positioned as serene, even Madonna-like. Our societal expectations of pregnancy may in fact be influenced by this idealistic portrayal. Of course, there are many pregnant women who do indeed simply radiate. But there are probably just as many who would rather roll their eyes at the next person who asks about the gender of the baby.
Pregnancy is challenging and asks a lot of the body. It's uncomfortable, there are many unexpected physical symptoms, parts of your body might be popping out all over, it is difficult to get a good night's sleep, and many people—for whatever reason—consider a pregnant woman to be community property. Getting unsolicited advice, baby name suggestions, and belly touches are par for the course.
It's totally OK to feel like you're "over it." But rather than feeling upset or ashamed, maybe it makes more sense to congratulate yourself for not feeling irritable more of the time. The pressures of pregnancy are no joke, but here's a list of questions to ask yourself next time you're feeling less than great.
This may sound obvious, but many pregnant women feel unsettled simply because they are hungry. And sometimes nausea masks true hunger pangs. Make sure to have food available to you at all times. Nibble frequently rather than consuming full meals.
Another big contributor to a bad mood is fatigue, which can feel overwhelming during parts of the pregnancy, especially the first trimester. You might well be missing your frequent preconception trips for mocha grandes, so consider having a cup of tea instead. Do what you can to get a better night's sleep, including going to bed far earlier than you used to.
3. Is your partner in tune?
The next time your partner ticks you off, take a moment to consider his/her point of view. Unless one has been pregnant, it is hard to imagine what it is like. So-called morning sickness is nothing like a hangover, but that might be their only perspective. Needing to eat right now or heading off to bed at 8 p.m. might make no sense because they have never had that experience. Make sure you are effectively communicating your needs. Be explicit. And specific.
4. Are your friends envious or just having a different experience?
Think carefully about what you are expecting from your friends. Where are they coming from? Your single friends may well be envious that you have a partner and are building a family, so in effect are two steps ahead of them, which can be challenging to any friendship. Your partnered-friends who don't have children might also be envious for a variety of reasons. Their partner might not want kids and they do. They might be trying and are experiencing infertility. They might be ambivalent about having children and are resentful that you weren't. And your pregnant friends might be anxious about symptoms they are having that you aren't, or that they are bigger or smaller than you, or that they are fighting more with their partner than you are. Be aware of their points of view.
5. Have you set boundaries with your parents and/or in-laws?
I don't know if I have ever had a patient who was completely satisfied with the behavior of the grandparents-to-be. They have a tendency to be too involved or not involved enough. They might insist on helping you pick names, or schedule a vacation two weeks after your due date. They might be too excited or have hardly acknowledged your pregnancy. The fact is you can't change them. Don't compare them to the behavior of your friends' parents and be aware that the current generation of impending grandparents tend to be more focused on enjoying their own lives. And if not, make sure you and your partner set limits you both agree on.
6. Are you giving yourself permission to feel "off" without reason?
Hey, it happens. You could have had a satisfying meal, slept well the night before, your partner and friends might be just as happy about your pregnancy as you are, but you still might feel like you want some alone time. Go with it. Sometimes we feel totally unsettled for no reason. A good remedy is to put pen to paper. Write about your feelings, describe your emotions, and you might stumble on some helpful insights. And if you don't, be aware that feelings come and go, especially during pregnancy, and you are likely to feel more like yourself tomorrow.
The take-home message here is that irritability is just another symptom of pregnancy. There are things that make it worse, and there are things that make it better. The trick is to learn how to tune in, identify your own triggers, and take steps to avoid them if you can—and if not, try to find some alone time to pursue activities that calm and soothe you.